The Evening Campaign Update
When I first saw this, I thought it must be a typo. But this is no mistake or joke: While more than half the states in the U.S. have now lifted stay-at-home orders, the people of Oregon will remain imprisoned within their homes for another two solid months, thanks to their stupid decision to elect Democrat Kate Brown as their governor. Gov. Brown announced on Friday that she was extending her order through … wait for it … July 6!
Here is the text of the order:
Office of the Governor
State of Oregon

EXECUTIVE ORDER NO. 20-24 

EXTENDING THE COVID-19 DECLARATION OF EMERGENCY (EXECUTIVE ORDER NO. 20-03) FOR AN ADDITIONAL 60 DAYS, THROUGH JULY 6, 2020 

Executive Order 20-03, declaring a state of emergency due to the COVID-19 outbreak in Oregon, was issued on March 8, 2020, and declared a statewide emergency for 60 days, through May 7, 2020.

Pursuant to ORS 401.165 and ORS 401.204, I find that the novel infectious coronavirus (COVID-19) continues to threaten public health and safety, and remains a statewide emergency under ORS 401.025. Accordingly, I am extending t​he state of emergency for an additional 60 days, through July 6, 2020. Executive Order 20-03 shall remain in effect through July 6, 2020, unless extended or terminated earlier by the Governor.

Done at Salem, Oregon, this 1st day of May, 2020.

________________________________________________

Kate Brown

GOVERNOR

[End]
Unreal.
The state of 4 million residents ranks 40th out of the 50 states in total number of cases diagnosed with just over 2,500, and has seen a total of 104 deaths from the Wuhan Virus, with 51 of those having taken place in more than 40 nursing homes around the state. Note that the number of cases diagnosed is about the same as South Dakota has seen, but the number of deaths is 5 times South Dakota's total.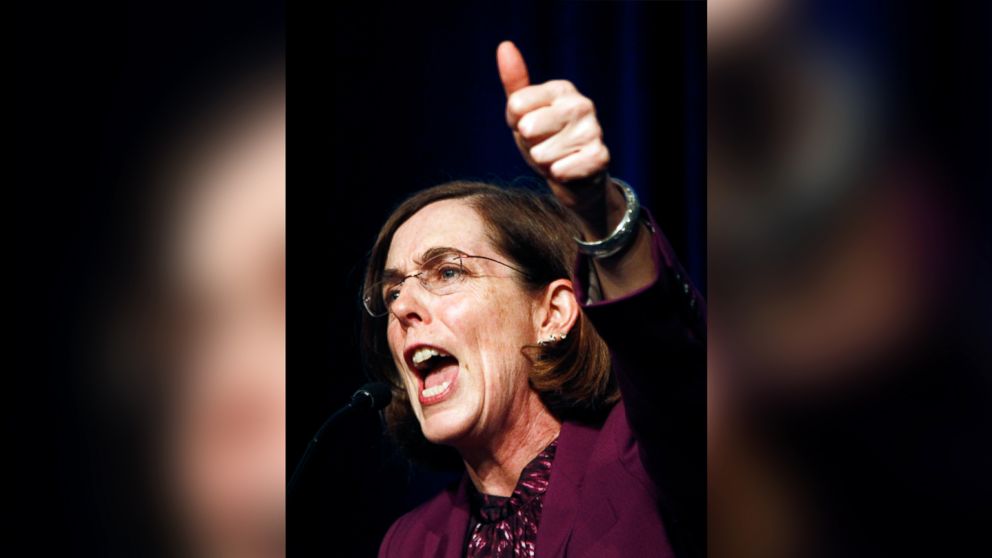 Obviously, Oregon's main problem is poorly-run nursing homes housing elderly patients who are particularly vulnerable to this Chinese plague. But instead of attempting to intelligently address the heart of the problem in a strategic manner that protects the constitutional rights of the citizenry, this fascist Governor chooses to imprison her entire population for another two solid months.
As I discussed in this morning's Campaign Update, we have a distressing and growing dichotomy in our country now between Free states and Prison states, one that breaks down almost exclusively along party lines. States with conservative Republican governors are by and large the Free states, and states with leftist/fascist Democrat governors are by and large Prison states.
Fox News displayed this map of states that were reopening parts of their economies on May 1:
The states reopening are appropriately shown in red, the color typically used for states that vote Republican in presidential elections. Note that this map does not show states that never had shut-in orders like South Dakota and Arkansas in red, nor does it include South Carolina, which had already moved to reopen much of its economy weeks ago. All of those states also have Republican governors.
The inclusion of Illinois, Maine and Nevada on this map is highly misleading. While the Democrat governors in those states did allow some very limited business openings on May 1, their states remain under heavy-handed restrictions and stay-at-home orders.
The political motivations for many of these ongoing statewide lock-downs are blatantly obvious at this point. There is absolutely no reason whatsoever for Oregon's 4 million citizens to remain under a lock-down order, with hundreds of thousands out of work and thousands of businesses lost, other than raw partisan politics.
Democrat governors all over the nation are playing at a very dangerous and despicable game right now, destroying people's businesses and livelihoods and denying their constitutional freedoms in an attempt to try to impact the November elections. If the voters of this country reward them for this act of depravity, our nation may never recover from the blow.
That is all.
Today's news moves at a faster pace than ever. Whatfinger.com is my go-to source for keeping up with all the latest events in real time.