The New York Post nails another one. – "Black Lives Manors" reads the headline at the New York Post in an expose of the recent high-dollar real estate-buying binge by the "Marxist" leader of the Black Lives Matter movment, Patrisse Khan Cullors. The BLM founder and leader recently purchase no fewer than four new homes with a combined value of roughly $3 million, including a $1.4 million barndominium in Topanga Canyon, California.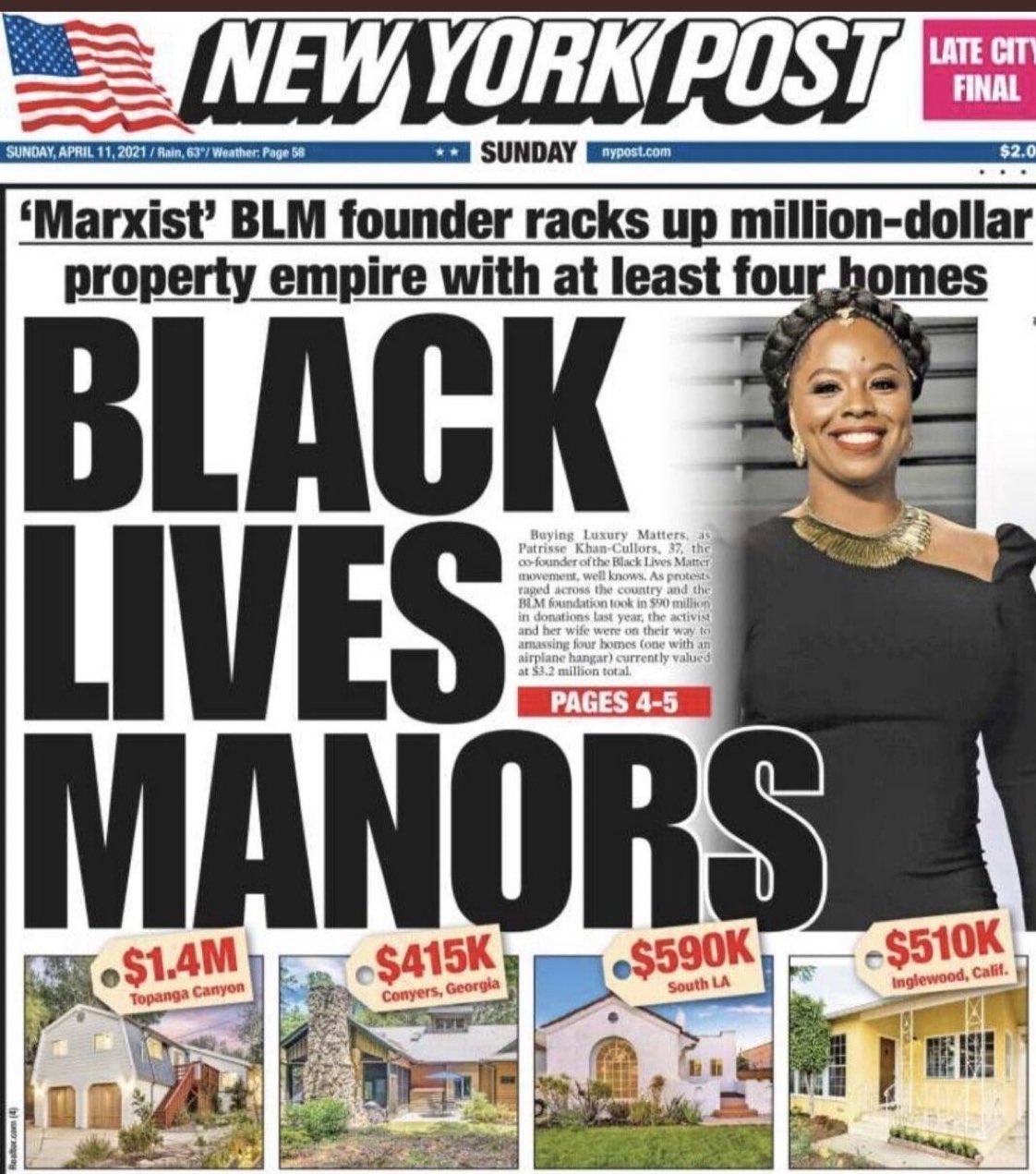 It turns out that some of the other "Marxist" leaders of the domestic terror wing of the Democrat Party aren't real happy about Ms. Cullors' conspicuous displays of wealth, with at least one demanding an investigation into exactly how she has been spending the terror group's money.
From the story at the Post:
As protests broke out across the country in the name of Black Lives Matter, the group's co-founder went on a real estate-buying binge, snagging four high-end homes for $3.2 million in the US alone, according to property records.

Patrisse Khan-Cullors, 37, also eyed property in the Bahamas at an ultra-exclusive resort where Justin Timberlake and Tiger Woods both have homes, The Post has learned. Luxury apartments and townhouses at the beachfront Albany resort outside Nassau are priced between $5 million and $20 million, according to a local agent.

The self-described Marxist last month purchased a $1.4 million home on a secluded road a short drive from Malibu in Los Angeles, according to a report. The 2,370 square-foot property features "soaring ceilings, skylights and plenty of windows" with canyon views. The Topanga Canyon homestead, which includes two houses on a quarter acre, is just one of three homes Khan-Cullors owns in the Los Angeles area, public records show.

Some fellow activists were taken aback by the real estate revelations.

Hawk Newsome, the head of Black Lives Matter Greater New York City, called for "an independent investigation" to find out how the global network spends its money.

"If you go around calling yourself a socialist, you have to ask how much of her own personal money is going to charitable causes," he said. "It's really sad because it makes people doubt the validity of the movement and overlook the fact that it's the people that carry this movement."

Last year, Khan-Cullors and spouse Janaya Khan ventured to Georgia to acquire a fourth home — a "custom ranch" on 3.2 rural acres in Conyers featuring a private airplane hangar with a studio apartment above it, and the use of a 2,500-foot "paved/grass" community runway that can accommodate small airplanes.

Patrisse Khan-Cullors' spouse and BLM Canada co-founder Janaya Khan.

Cindy Ord/Getty Images for COACH

The three-bedroom, two-bath house, about 30 minutes from Atlanta, has an indoor swimming pool and a separate "RV shop" that can accommodate the repair of a mobile home or small aircraft, according to the real estate listing.

The Peach State retreat was purchased in January 2020 for $415,000, two years after the publication of Khan-Cullors' best-selling memoir, "When They Call You a Terrorist."

In October, the activist signed "a multi-platform" deal with Warner Bros. Television Group to help produce content for "black voices who have been historically marginalized," she said in a statement.

It is not known how much Khan-Cullors received in compensation in either deal.

[End]
For a communist, Ms. Cullors sure does engage in a lot of capitalism. Hilarious.
I've been warning you about this for more than a year now. – CNN is now even writing about it overtly. That is the inevitable effort by Democrats to not let a good crisis go to waste, and to use the COVID-19 pandemic as an opening to force the nation down the path towards the Party goal of becoming a communist paradise.
Now that they have their shiny new Sock Puppet-in-Chief safely installed into the White House, the Democrats are putting their project to transform the nation into full gear, knowing that China Joe is incapable of throwing up any resistance, even on the off-chance he figured out what was going on. Which he isn't capable of doing, and we all know it.
In a story published at its website on Sunday, CNN glowingly lays out how the "progressives", i.e., communists in the White House are going about transforming the country and there's not a damn thing any of us can do about it.
From the story:
As they chart the country's tentative economic recovery, White House officials see possibility in the wake of the pandemic — an opportunity to dive full bore into pursuing the most transformative progressive policies in decades.

Holed up in offices in the cavernous Eisenhower Executive Office Building, top White House economic officials are combing through reams of data from the dramatic emergency measures deployed to address the dual economic and public health crises created by the pandemic, the kind of real-time information progressive economists have only been able to dream about during past economic downturns.

They contend that data shows their policy priorities are having a tangible effect — and that it helps make the case for doubling down in the form of a massive infrastructure and jobs package, even if Republicans aren't on board.

It's not just that the series of unprecedented measures implemented over the course of the last year, punctuated by President Joe Biden $1.9 trillion Covid relief package, are helping to address the pandemic, though that's what the numbers show, said Charlie Anderson, director of economic policy and budget for Biden's Covid-19 response team.

"But (it) also sets in place the foundation for us to do what we should've been doing all along," Anderson said in an interview with CNN.

The result is an administration that is hardly running from the GOP attack that they are going too big, several White House officials told CNN over the past several weeks. Biden and his team say it's a moment that cannot be missed, one that should be driven by addressing what they view as long-standing structural deficiencies in the economy.

[End]
Here's the great irony in that last part: The "longstanding structural deficiencies in the economy" that these communists want to address are the remaining parts of it that they don't control. You know, like the ability of "Marxist" leaders of their party's domestic terrorist group BLM being able to invest in high-dollar real estate and capitalist stuff like that.
You can read through the rest of CNN's drivel and not find a word about how Biden's policies have already created the highest gasoline prices in 3 years, have driven up the prices of food at the local supermarket by 20% in just a few months or have created a major humanitarian catastrophe on the southern border. This is all just about 1,000 words of typical state-run media cheerleader drivel, exactly what you would expect from CNN if you've been paying a shred of attention in recent years.
What the Biden people in the White House are doing is taking our country on a rapid lurch towards becoming Venezuela, and they're using COVID-19 as their platform for doing it.
That's the truth, and we shouldn't be shy about saying it.
That is all.
Today's news moves at a faster pace than ever before. Whatfinger.com is the only real conservative alternative to Drudge. It's the tool I use to help keep up with all the day's events, and it should be your tool, too.