Today's Campaign Update, Part II
(Because The Campaign Never Ends)
Garbage newspaper gonna put out garbage news: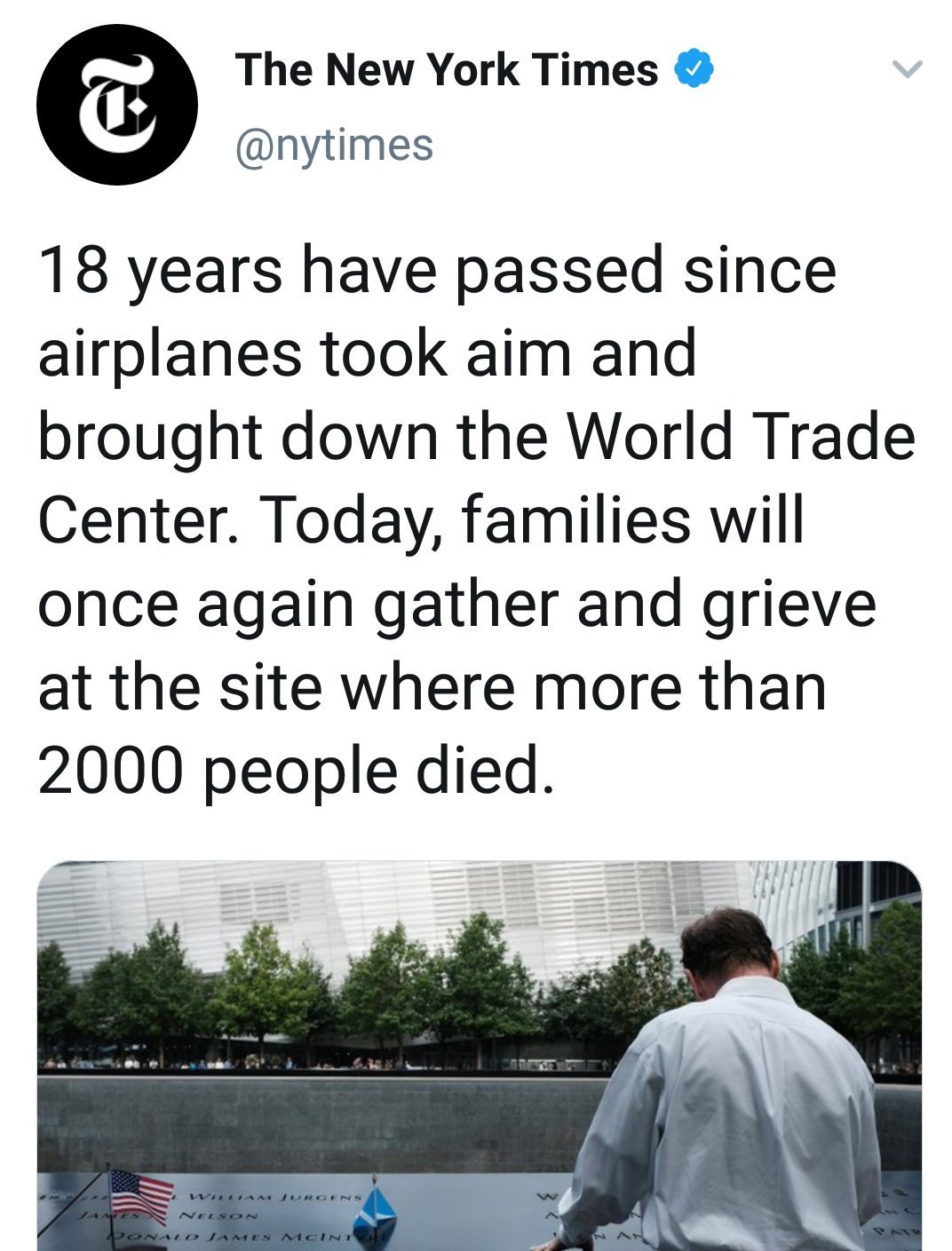 So, just as they do in the debate over gun control, our fake news media parrots the DNC-approved narrative that the inanimate objects – the "airplanes" – were the bad things here, not the radical Islamic terrorists who flew those airplanes into the World Trade Center and the Pentagon.
What a disgrace.
After the perpetual outrage crowd on social media blew up over the tweet, the Times changed the wording in a subsequent tweet to read "Eighteen years have passed since terrorists commandeered airplanes to take aim at the World Trade Center and bring them down."
So, at least the Times staff is capable of being shamed into grudgingly writing the word "terrorist," which I suppose is progress given that the weasels at the DNC most likely didn't even want them going that far. But what kind of "terrorists" were those people that day? What was their motivation for committing the atrocities that murdered 3,000 people?
This is a national illness, folks. This national illness that prevents our fake news media, one of our major political parties and even many Republicans from properly identifying freedom's existential enemy of modern times has led directly to multiple supporters of that enemy – radical Islam – now representing congressional districts from Minnesota and Michigan. That national illness, this refusal to properly identify and appropriately deal with that enemy in the harshest of ways is why our soldiers remain stuck serving in faraway lands 18 years later, with some coming back in body bags every year.
Many Americans, however, still retain clear eyes despite the media/Democrat onslaught of distraction tactics and messaging over the last 18 years. Here is one of them:
?WOW?

Man Who Lost Mom on 9/11 Destroys @IlhanMN:

"Some people did something? Why the confusion? 19 Islamic terrorists killed 3000 people. Is that clear? I was attacked. Our Constitution was attacked. Our Judeo-Christian founding was attacked. That's what some people did!" pic.twitter.com/pZ6aDX0YQC

— Benny (@bennyjohnson) September 11, 2019
We have an enemy. The enemy's identity remains crystal clear all these years later. If we cannot as a nation properly identify that enemy, we can never hope to defeat it.
The people at the New York Times know that, and don't care. They are a big part of the problem. They were enemies of the people 18 years ago, and they remain enemies of the people today. Don't kid yourselves otherwise.
That is all.
Today's news moves at a faster pace than ever. Whatfinger.com is my go-to source for keeping up with all the latest events in real time.