Austin is destined to become the San Francisco of Texas. – Hell, it already is, in part, with homeless encampments lining the sidewalks of its downtown area and piles of homeless-generated trash and human refuse stacked under its freeway overpasses. 30 years of uninterrupted Democrat stewardship will do that to any city.
On Friday, Democrat leaders in Austin took the next step towards total destruction, "reallocating" 95 police jobs in ways that will ensure the city's crime rate will continue to skyrocket. The move comes after a new study finds that Austin already has seen the most rapid increase in murders of any American city this year:
The details of the reassignments of 95 officers from "specialty" duties to simple patrol functions are stunning. They will effectively disband units assigned to police gang activities, DWIs and park-related crimes, thus ensuring the level of chaos in the city will only continue to grow.
From a report at KXAN TV in Austin:
The Austin Police Department plans to move 95 officers from specialty units — including Park Patrol, Narcotics, DWI Enforcement, Organized Crime, and Gangs — to patrol as part of its adjustment to budget cuts imposed by the Austin City Council, according to KXAN sources and an internal document detailing the transition.

APD posted an unlisted YouTube video on Thursday in which Chief Brian Manley outlined the upcoming changes. The process to move some specialty unit officers to patrol takes effect on Jan. 17, 2021, though some will begin back-filling patrol positions on Sept. 27 as part of a plan an APD spokesperson said is unrelated to the reorganization.

…

The Austin City Council approved a 2020-21 city budget that will move $150 million from APD to other areas of public health and safety over the course of the next year. Canceled cadet classes, cuts to overtime, and the elimination of unfilled positions accounted for $20 million.

[End]
This is madness, brought to you by the Texas Democrat Party. It is not a coincidence that Austin has experienced a huge influx of immigrants from California over the last 30 years as it has become a hub for high-tech companies and jobs. It is any wonder, then, that this once-great Texas city is fast on its way to becoming a mirror image of San Francisco?
News you most definitely will not see on CNN or MSNBC. – The corrupt news media spent the early part of last week obsessing over a "recording" of President Trump's sister that had been fed to them by Trump's deranged niece, Mary Trump. In that recording, the supposed voice of Trump's sister, Maryanne Trump Barry, makes all kinds of disparaging remarks about the President.
The only problem is that the recording is fake. You don't have to believe me, just take the word of Maryanne Trump Barry:
My niece, Mary Trump hired a voice actor to impersonate me and get "my voice" on audio bashing my brother – without my knowledge or consent. All of the Trump family with the exception of my disgruntled niece couldn't be more proud of my wonderful brother and the job he's doing.

— Maryanne Trump Barry (@MaryanneTBarry) August 29, 2020
My niece altered my voice and used it without my consent to defame my brother. She will be sued in court… and she will be sued BIG LEAGUE!

— Maryanne Trump Barry (@MaryanneTBarry) August 30, 2020
I was a federal judge. Do you think I'm stupid enough to say those things to a sociopath like my niece Mary? Hell no. Fake tapes!

— Maryanne Trump Barry (@MaryanneTBarry) August 30, 2020
You're damn right I'm voting for my brother on November 3rd. I love you! @realDonaldTrump

— Maryanne Trump Barry (@MaryanneTBarry) August 30, 2020
I hope my niece gets a nice cell right next to Obama in the big house when this is all said and done. If there's one type of person you don't mess with it's a federal judge.

— Maryanne Trump Barry (@MaryanneTBarry) August 30, 2020
Oh.
The only appropriate response to this letter begins with the letter "F" and ends with "you." – With President Trump planning to visit Kenosha, Wisconsin on Tuesday, thus putting a spotlight on all the rampant destruction the city has suffered at the hands of Democrat Party-funded domestic terrorists over the past 10 days, communist Democrat Governor Tony Evers sent this nasty letter to the President, urging him to stay away: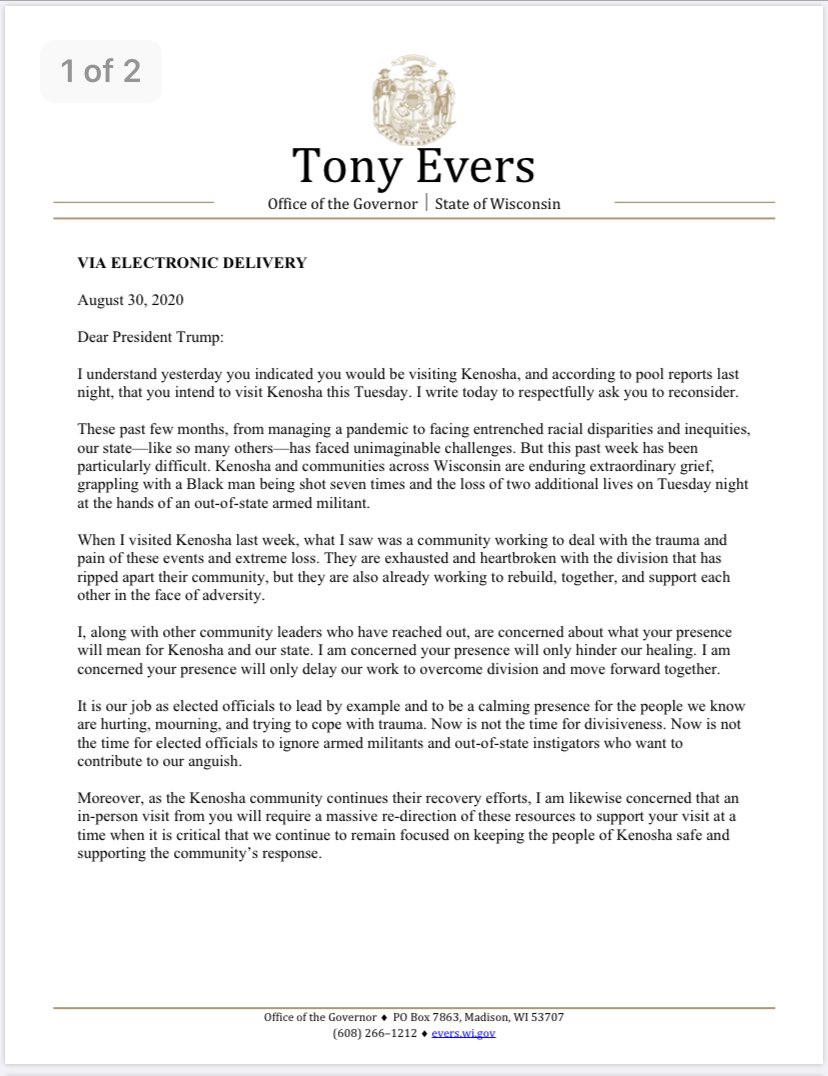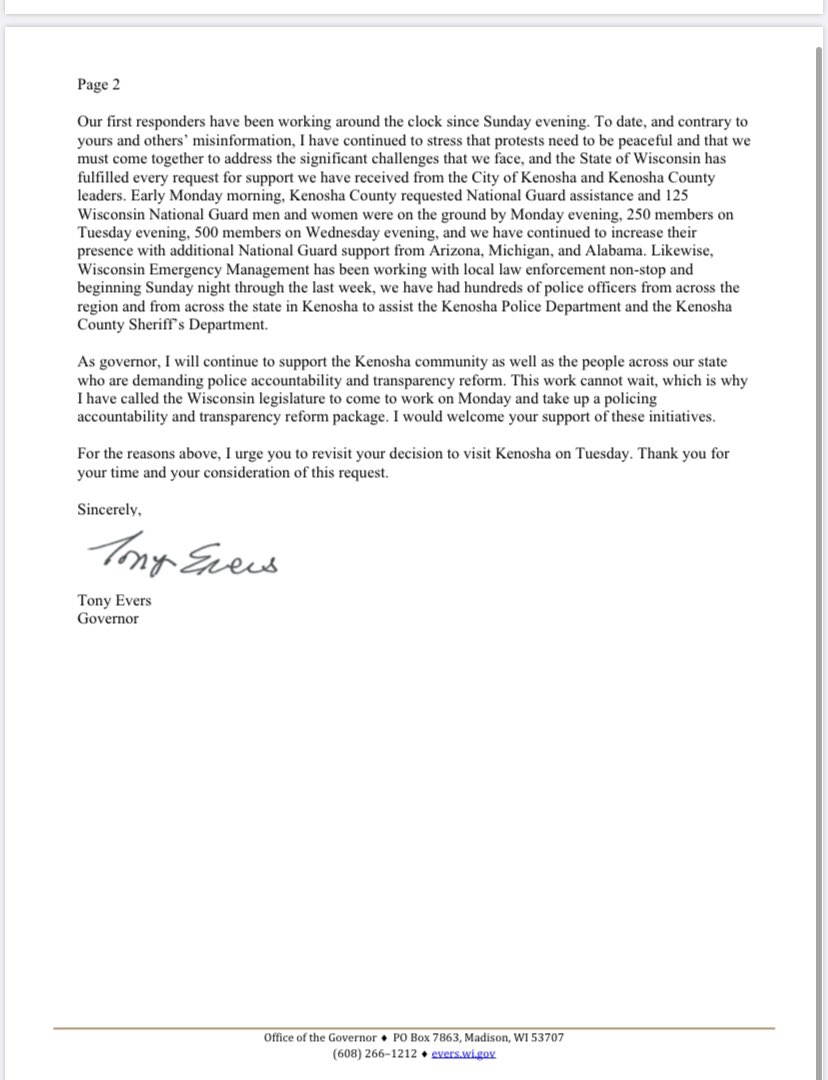 Late Sunday, a White House press spokesman responded by saying,
The President himself has yet to respond, but no doubt will at some point today. The only proper response to send would be something along the lines of "I'll be in Kenosha on Tuesday. You are welcome to join me if you'd like, but won't be missed if you don't."
No doubt some of Trump's advisors will urge him to accede to Evers' wishes. He should ignore them. The nation must witness what the Democrat Party has done to Kenosha.
***UPDATE*** – President Trump responded to Evers' craven letter this morning in the following tweet:
If I didn't INSIST on having the National Guard activate and go into Kenosha, Wisconsin, there would be no Kenosha right now. Also, there would have been great death and injury. I want to thank Law Enforcement and the National Guard. I will see you on Tuesday!

— Donald J. Trump (@realDonaldTrump) August 31, 2020
Glorious.
More De-classification to come. – During the course of his interview with Maria Bartiromo on Fox's "Sunday Morning Futures" on Sunday, stellar DNI John Ratcliffe told the host that he is working with prosecutor John Durham on the declassification of even more incriminating documents related to Spygate and Obamagate.
From a report at the Washington Examiner:
Ratcliffe, who has overseen the nation's 17 intelligence agencies since taking over the role in May, shed a bit of light on how the Office of the Director of National Intelligence is assisting in the "investigation of the investigators" investigation during an interview with Maria Bartiromo on Sunday Morning Futures on Fox News and insisted he is working to ensure that any intelligence documents he releases don't "prejudice" Durham's inquiry.

"We've actually, for several months, been coordinating with his team of folks to make sure that he has access to all of the intelligence community documents that he needs," Ratcliffe said of Durham. "He's looking at the same, some of the same documents that I am, and so our work is running on parallel paths. Now, his is a criminal investigation, and he's not sharing his findings or the work that he's doing, but I'm coordinating with him to make sure that he has the intelligence documents that he needs to do his work, and what I don't want to do is declassify something that might prejudice his work, so we're going to have to coordinate as we go forward the completion of his work with my ability to declassify documents, and so we've communicated along those lines."

[End]
Stay tuned.
Meanwhile, in Portland, Oregon… – The riots and violence raged on for a 96th consecutive night as communist Democrat Mayor Ted Wheeler attempted to deflect the blame onto President Trump.
The #antifa investigated for shooting the Portland Trump supporter is Michael Reinoehl. Last month he was arrested at another antifa riot for illegally carrying a loaded gun. He was let go. He then went on to allegedly kill Aaron Danielson.

My latest:https://t.co/r6rFxqjZ4P

— Andy Ngô (@MrAndyNgo) August 31, 2020
Portland Shooting Suspect ID'd by His Sister from Videos. Arrested 7 weeks ago for possessing firearm at riots. DA never charged.https://t.co/AgTzNlCTBf

— shipwreckedcrew (@shipwreckedcrew) August 31, 2020
"I think it's inevitable that something terrible will happen…"

Just before the homicide of the Trump supporter in Portland, Reason released a great analysis of the city's current riot crisis by @NancyRomm. I highly recommend you watch: pic.twitter.com/O7jq0DSAgR

— Andy Ngô (@MrAndyNgo) August 30, 2020
More violence tonight as antifa attack the SE police building. They're being ordered to leave and they refuse. #PortlandRiots https://t.co/r1vfH0vDjp

— Andy Ngô (@MrAndyNgo) August 31, 2020
This local fake news reporter is horrified that the Portland police suddenly try to do their jobs:
Officers beat a man who they arrested. Another officer forced his head into the ground and wouldn't let up. pic.twitter.com/2ns1DdcpLk

— Griffin – Live from Portland (@GriffinMalone6) August 31, 2020
Meanwhile, Antifa/BLM continue raising money from deluded dupes so that they can create more havoc in the days to come:
In response to the killing of the Trump supporter in downtown Portland, antifa accounts are soliciting for donations to buy more riot gear. They just received a shipment of bulletproof vests & want more.

They crowdfund on @CashApp & @venmo. pic.twitter.com/k7jGs9cZjX

— Andy Ngô (@MrAndyNgo) August 30, 2020
This the Portland the Democrat Party has wrought. It is the chaos they want to bring soon to your city. If you don't want the chaos, stop voting for these creeps. It really is that simple.
That is all.
Today's news moves at a faster pace than ever. Whatfinger.com is my go-to source for keeping up with all the latest events in real time.