Today's Campaign Update (Because the Campaign Never Ends)
"This the workplace, not a social justice seminar on campus." – That's what Arkansas Senator Tom Cotton said to Maria Bartiromo on Sunday Morning Futures yesterday. He was telling her what he would say to the pathetic, childish, snowflake staff at the New York Times after they had staged a hissy-fit rebellion against the fake newspaper's editorial page editor for publishing Cotton's op/ed piece last Monday.
The problem with Sen. Cotton's argument there is that today's staff at the Times is in fact a social justice seminar. It's just that the university campuses on which they all were brainwashed to become SJW's have been transferred into the NYTimes Building in Manhattan. The same transition has taken place at newspapers and other media outlets all over the country, the natural progression of college learnings coming into the workplace. Why would Mr. Cotton or anyone else expect any other outcome?
The nation's news media used to merely be biased, with its editors and reporters slanting their reporting to fit their own world view while giving a basic level of lip service to impartiality and balance. Today's media outlets are different: They are not merely biased in what they do, they are rigidly intolerant of any viewpoint but their own.
And so it was that later in the day on Sunday, the Times announced that it had allowed editorial page editor James Bennet to "resign," corporate speak for they fired his ass. They fired him for no valid reason and simply because their childish, brainwashed staff demanded it.
The @nytimes announced today that James Bennet, Editorial Page Editor since May 2016, is resigning effective immediately. Katie Kingsbury, who joined The Times in 2017, has been named as acting Editorial Page Editor through the November election. https://t.co/84QX4OrrcG

— NYTimes Communications (@NYTimesPR) June 7, 2020
Today's national news media is not merely biased and corrupt and 98% fake, it is actively fascist in it nature, led by the newspaper of record itself. If you trust a word they have to say without independent verification, you are part of the problem.
*sigh* Ok, so, we're back to de-funding the police again? – We told you on Friday how the Democrats in Minneapolis – including pitiful Mayor Jacob Frey – had suddenly backed off the whole "de-fund the police" thing after Morning Consult released a poll showing just 16% support for that idiotic, society-destroying move.
But the radical leftist goons who populate the Minneapolis city council just will not be diverted from their desire to make their city ultimately look like Warsaw after Hitler's invasion of Poland. They want the whole thing to just burn to the ground, and the first step to creating utter chaos in the streets is removing all notion of public safety.
Thus it was that yesterday afternoon, a "veto-proof majority" on the Minneapolis city council sent out this notice: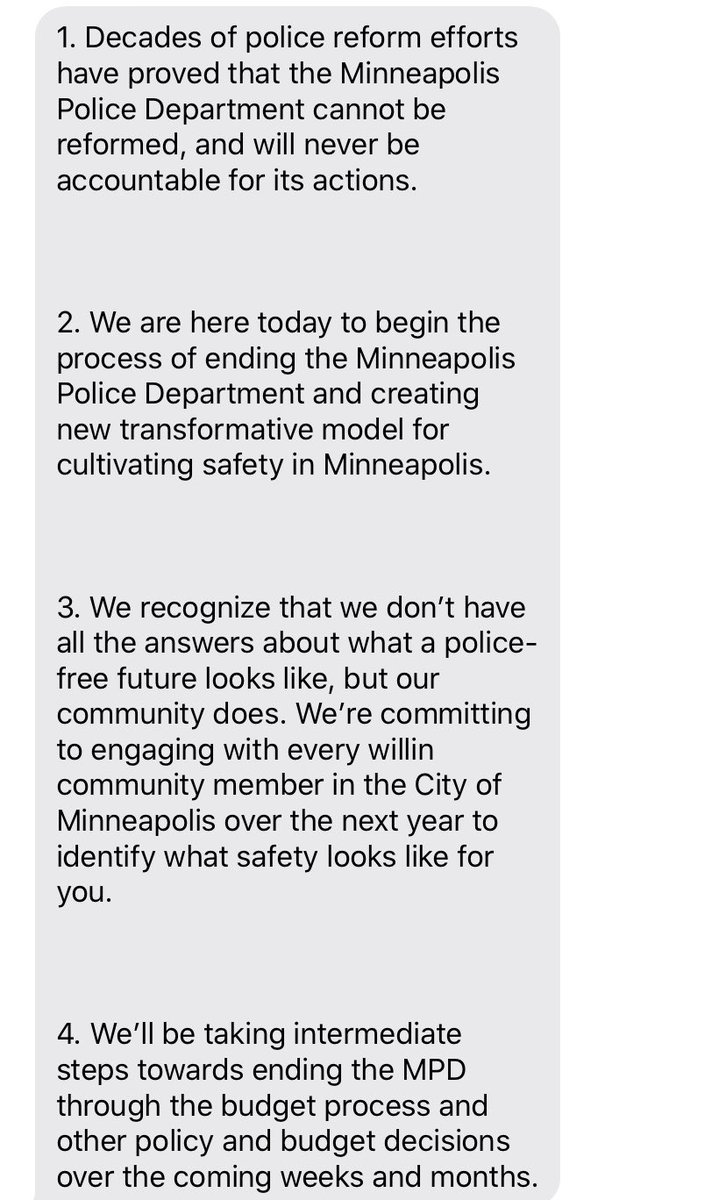 If you are a law-abiding citizen in Minneapolis and you have the means to do so, you should be packing up your things and getting the hell out of there before it is too late. This is municipal suicide, plain and simple, all brought to you by your stupid, mindless votes for Democrats.
Here is the carnival freak show that is in the process of destroying a great American city: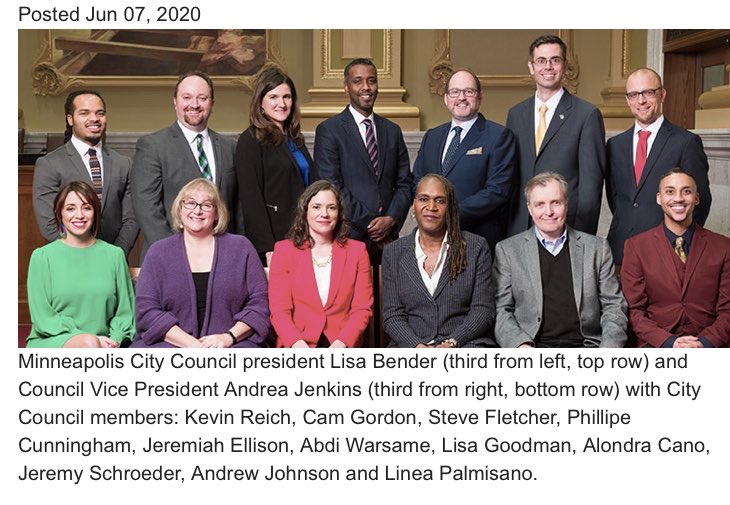 Remember their faces and names.
Run to the hills! Run to the woods! The Hollywood tough guy mob is coming for you! – I swear to you that I am not making this up. This is a real, actual tweet put up by drug-addled failed actor and even more failed comedian Tom Arnold on Sunday [Language warning]:
2nd Amendment is for everyone including black men with long guns but it's fucking time for us white liberal men to stand up for our brothers & sisters. Borrow our dad's hunting rifles & go nose to nose with Trump's gang of misfit tools. Let's do it @robreiner #BlackLivesMatter https://t.co/KIf5OFAp3r

— Tom Arnold (@TomArnold) June 7, 2020
Yes, friends and neighbors and all you other Trump supporters out here in Flyover Country where Hollywood leftists fear to tread: Tom Arnold, a 61 year-old grown man, is gonna go borrow his daddy's rifle and come after you. And even more fearful, he's inviting 73 year-old Rob Reiner to go borrow a rifle from his 98 year-old daddy Carl Reiner so he can join in the assault on the nation's heartland.
Seriously, how pathetic is it to a) be 61 years-old and publicly admit that, in order to arm yourself, you have to go borrow a gun from your nonagenarian daddy, and b) to be so pathetically lacking in self-awareness that you don't realize how silly making that public admission makes you look to the rest of the world?
You could never make these people up if they didn't already exist. And if you still doubt me when I tell you that leftists hate you and want you dead, I really don't know what else to tell you after this.
Speaking of ineffectual gangs, the RINOs are coming! The RINOs are coming! – The corrupt, fascist news media made a very big deal yesterday about the talk that Donald Trump will not be getting the votes in November of … wait for it … ex-President George W. Bush, Senator Mitt Romney and Colin Powell! Oh, noes! What will Trump do????
This non-story dominated the "news" all day long, despite the following facts:
None of these globalists supported Trump in 2016, either;
Romney voted to impeach the President, and we're supposed to be surprised by this?; and
Colin Powell is a life-long Democrat who has never supported any Republican whose name was not Bush.
But here's the thing: This is just the next step in the deep state propaganda campaign to throw everything against the wall at Trump and hope something sticks. This year alone, the impeachment failed to do the trick; the Wuhan Virus and its Democrat-driven shutdowns failed to do the trick; and this massive propaganda effort over the George Floyd murder is not doing the trick either.
So, yesterday's obviously coordinated revelations among those three globalists was just the next page in the playbook. There will be something else today, and each and every day through November 3. And when Trump is re-elected, it will only become even more intense than it has been thus far.
This will never end as long as any non-deep state captive resides at 1600 Pennsylvania Avenue.
And this is the Deep State's goal:
Eight out of 10 voters, an overwhelming majority, say things are out of control in the country, according to a NBC News/Wall Street Journal poll https://t.co/1H5m3bdHCT

— POLITICO (@politico) June 7, 2020
They want you afraid. They want you unsettled. They want you to be constantly on edge. Because a fearful and cowed public is much easier to control and far more likely to be willing to surrender its rights and freedoms in exchange for a fool's notion of "security." The result of that poll is obviously due to all the rioting, and once the rioting goes away, the number will go away with it.
But be fully aware that these riots are not the end game for the Democrat/Deep State/Corrupt media Axis of Disinformation. Something else will be coming soon, and it will probably be even worse.
Protect yourself.
Protect your family.
Stay alert to your surroundings.
Because the next thing will inevitably come.
These people will never stop until they are stopped.
That is all.
Today's news moves at a faster pace than ever. Whatfinger.com is my go-to source for keeping up with all the latest events in real time.