Today's Campaign Update
(Because The Campaign Never Ends)
With any luck at all, this will be the last time the Campaign Update ever pens a word about the Texas charlatan, Irish Bob O'Rourke, or, as we love to call him around our house, el Pendejo Grande. His friends  call him "Beto," but as the new USA Today/Suffolk poll released on Friday clearly shows, Irish Bob's "friends" have all gone away now.
O'Rourke came in at ZERO in that poll, after the last handful of fawning fake journalists at Vanity Fair and the Houston Chronicle finally turned their amorous eyes towards Preacher Pete Buttigieg, and it seems that may have been the final straw. At about 4:30 Central Time Friday afternoon, the gesticulating furry from El Paso finally did what anyone paying any real attention has known was the inevitable conclusion to his absurdly incompetent campaign, and called it quits. Hilariously, this is what he said in the tweet that ended it all:
Our campaign has always been about seeing clearly, speaking honestly, and acting decisively.

In that spirit: I am announcing that my service to the country will not be as a candidate or as the nominee. https://t.co/8jrBPGuX4t

— Beto O'Rourke (@BetoORourke) November 1, 2019
The best part of that is the whole "acting decisively" nonsense. As the Campaign Update pointed out waaaaayyyyy back in February, Irish Bob essentially killed any chance he had of becoming the 2020 Democrat nominee by indecisively farting around for three solid months before finally announcing his candidacy. A truly decisive person would have acted within a week after his fairly close loss to Ted Cruz in the 2018 senate race.
The day after that election loss, Irish Bob O'Rourke was the "precious Beto" to every fake journalist in the Texas and national news media. Sure, he was a looooooooser, but he was their loser, and he was handsome and cute and furry and fluffy and cursed a lot and kind of sort of looked more like a Kennedy than the current crop of actual Kennedys do. Plus, he could ride a skateboard and livestream his dental appointments and play a guitar and used to do a lot of drugs and had a police record and lied as easily and convincingly as Bill Clinton.
What more could a fake reporter and demented Democrat voter ask for in a candidate?
From early November 2018 through early January, every feature writer at every fake newspaper and magazine in the country longed to grab their date with their precious Beto so they could write their fawning, 4,000 word features using words like "Kennedyesque," "rural," "dusty," and "border town." New Yorkers and even Austinites at the Texas Tribune rarely get such opportunities, after all. I mean, you can't  use any of those words to describe Elizabeth Warren or Bernie Sanders, for crying out loud.
But precious Beto just couldn't make up his damn mind. He fooled around for three solid months, at one point basically disappearing from view for a couple of weeks while he supposedly drove around aimlessly trying to "find" himself.  Meanwhile, all of those prospective journalist and leftwing activist dates to the presidential primary prom got irritated with their indecisive beau and started looking around for other cute, date-able prospects like Preacher Pete and Corey Booker and that oh-so-handsome Bill DeBlasio.
By the time Irish Bob finally got around to formally announcing his campaign, his campaign was essentially over. His entire political reason for being had been built around constant, fawning free media coverage from all of those fake media outlets, and they'd all moved on to find more reliable dates who could be relied on to actually show up on time and competently dance the political cha-cha with them.
In the end, O'Rourke became so desperate to recapture the fake media magic that had led him to become a close loooooser in 2018 that he ended up running one of the most despicably craven, utterly failed campaigns in American history. When a tragic mass shooting took place in his home town of El Paso in August, O'Rourke chose to use it not as a chance to show leadership within his community, but as a prop for some of the most disgusting racial rhetoric in U.S. history.
He used that tragedy as a prop to accuse the President of the United States and anyone who supports him of being "white supremacists," he used it as a prop to run around the country talking about implementing a Nazi-like gun confiscation program complete with jack-booted thugs pounding on your door in the middle of the night, he used it as a prop to whine on and on and on about his own "white privilege," and much, much more.
In the end, the desperate O'Rourke decided to base his entire campaign on racism. He found racism everywhere: In our criminal justice system, in our education system, in our healthcare system and probably in the way cereal and toys are marketed to children. He repeated over and over and over again that "this country was founded on white supremacy." He resorted to these craven tactics and many, many more, all as a means of desperately grasping to recapture that fawning free media coverage he had received in such preposterous plenty throughout 2018.
As Tucker Carlson summed up in a terrific obituary for the O'Rourke campaign Friday evening:
Has there ever been a more sanctimonious candidate for anything in this country? He pretended to hate himself, but that's always just a cover for hating you.

He fought to stay in the race with a very simple tactic: On every issue that came up, he took the most leftwing position you could take.

Beto O'Rourke was in fact the unshackled Id of the Democratic Party. He was what Democratic primary voters would choose if nobody else was voting.

In the end, Beto's campaign was exactly what you'd expect it to be: It was a constellation of shallow, fragile, dumb people talking to themselves.
Here's the full clip for your viewing pleasure:
WOW@TuckerCarlson gave Beto O'Rourke's failed campaign a harsher obituary than the Washington Post gave to the Leader of ISIS. pic.twitter.com/3SyqLbtiXq

— Benny (@bennyjohnson) November 2, 2019
Irish Bob assured everyone that he has no plans to challenge Texas Senator John Cornyn for his seat next year. That probably came as crushing news to Texas Democrat party leaders, since they just love to field sure looooooosers in these senate races. The filing deadline is coming up in December for that race, so we will know for sure soon enough whether we will still have the lanky looooooser to kick around here at the Campaign Update.
In the end, the vain candidate who vainly told Vanity Fair he was just "born to be in it" was never actually in it at all. All his doomed-from-the-start candidacy ended up producing was the standard Democrat by-products of envy, hate and division, meaning that the once-beloved precious Beto was never anything special.
Adios, el Pendejo Grande!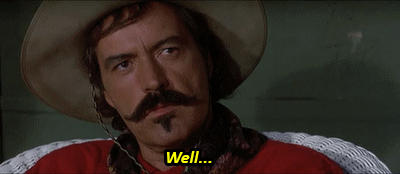 That is all.
Today's news moves at a faster pace than ever. Whatfinger.com is my go-to source for keeping up with all the latest events in real time.