Today's Campaign Update
(Because The Campaign Never Ends)
Here's your Week in Review:  While the Democrats were back home frightening most Americans half to death with the insanity of their televised debates, and the Party's terrorist wing, Antifa, was assaulting and sending a reporter to the hospital during a riot in Portland, Oregon, America's Daddy was over in Japan and Korea making history and winning for America.
First came the meeting with Chinese President Xi Jinping, an obviously successful meeting that results in the re-start of U.S./China trade negotiations and which will set the stock markets afire come Monday. Here are the President's tweets summarizing the meeting:
I had a great meeting with President Xi of China yesterday, far better than expected. I agreed not to increase the already existing Tariffs that we charge China while we continue to negotiate. China has agreed that, during the negotiation, they will begin purchasing large…..

— Donald J. Trump (@realDonaldTrump) June 29, 2019
….again with China as our relationship with them continues to be a very good one. The quality of the transaction is far more important to me than speed. I am in no hurry, but things look very good! There will be no reduction in the Tariffs currently being charged to China.

— Donald J. Trump (@realDonaldTrump) June 29, 2019
About 10 hours later, the President was in South Korea, toasting a key new trade deal with South Korean President Moon Jae-in.:
I am in South Korea now. President Moon and I have "toasted" our new Trade Deal, a far better one for us than that which it replaced. Today I will visit with, and speak to, our Troops – and also go to the the DMZ (long planned). My meeting with President Moon went very well!

— Donald J. Trump (@realDonaldTrump) June 29, 2019
Seven hours after that, President Donald J. Trump became the first sitting U.S. president to set foot in North Korea, as he met Kim Jong Un at the demilitarized zone that has separated the two Koreas for more than 65 years.: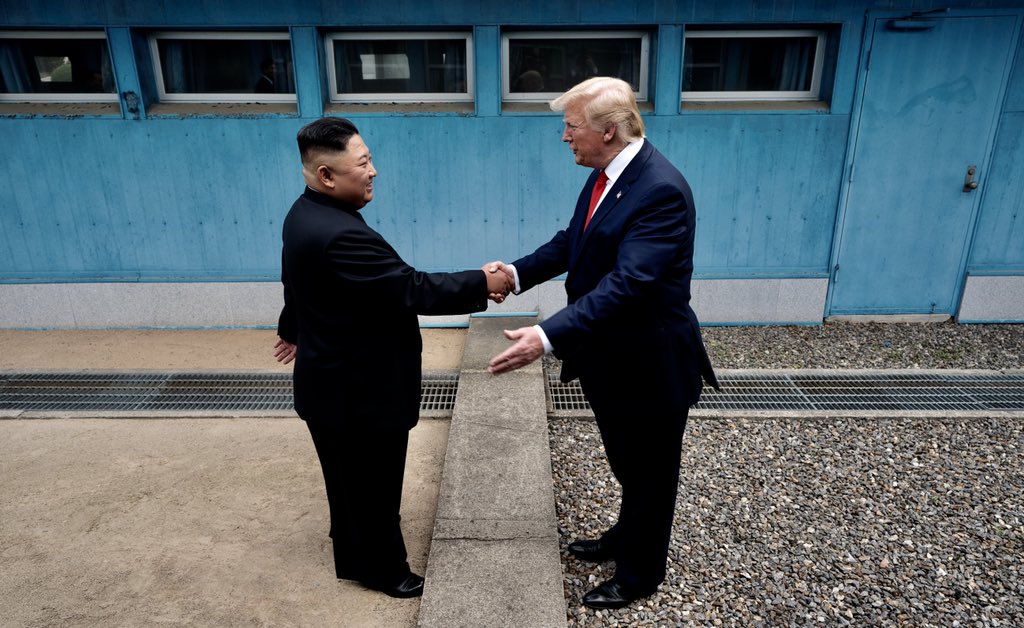 We cannot overestimate the symbolic importance of the meeting with Kim, or its interrelationship with President Trump's just-concluded meeting with Xi Jinping. Because this meeting, timed as it was, very likely tells the world that Kim has been given the nod by Xi to negotiate a deal with the U.S. and the rest of the world to de-nuclearize the Korean peninsula. It also symbolically tells the world that both Trump and Xi believe they will soon successfully conclude a comprehensive trade deal between the two most powerful economies on earth.
You have to remember that North Korea has long been and remains a client state of China. There is no way on God's green earth that Kim would have had the audacity to hold this symbolic meeting with a U.S. President had he not gotten the go-ahead from President Xi, and that go-ahead depended entirely on the outcome of Xi's meeting with President Trump.
For all the fake media bluster about how Donald Trump is some sort of mad man, an out-of-control man-child in need of mental care, what we have seen this historic week is the nation's Daddy traveling around the world doing deals to ensure the security and prosperity of his family while the spoiled children mis-behaved back home.
This is #WINNING, bigly, for America, and no, I will never get tired of it.
That is all.
Follow me on Twitter at @GDBlackmon
Today's news moves at a faster pace than ever. Whatfinger.com is my go-to source for keeping up with all the latest events in real time.