This seems to pretty well sum up the essence of the Oprah Winfrey interview with Prince Harry the Meager: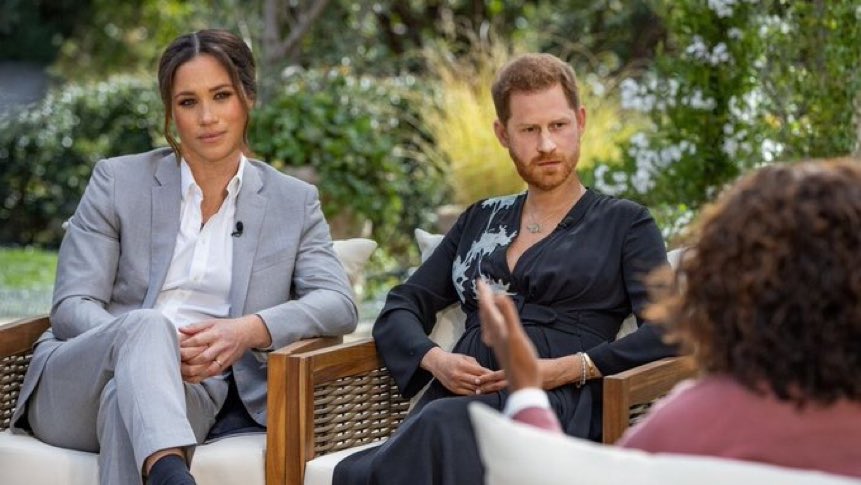 Or perhaps this:
Oh, by the way, President Donald Trump predicted Harry's future life a couple of years ago when this creepy, attention-mad couple detached themselves from the Royal Family:
He predicted the future. Again.
Watch Trump wishing Prince Harry "luck" with Meghan Markle "He's going to need it." pic.twitter.com/tMLk3w3iSN

— Rising serpent 🇺🇸 (@rising_serpent) March 8, 2021
Ok, now, understand this: This interview featured a thoroughly untalented and extremely wealthy Hollywood actress and a human mediocrity who happened to be born into massive wealth and privilege whining to a billionaire TV personality about how terrible their lives together are. And somehow in our utterly perverse popular culture here in America, they are by and large considered to be "victims."
Holy crap.
But enough about this pair of whiney clowns.
Time to re-think that shopping trip to Bath and Body Works:
Bath and Body Works employees beat up a customers for apparently not wearing a mask.

Time for this woman to lawyer up and sue them for every penny they have!!! pic.twitter.com/QO76WoRfIa

— Art TakingBack 🇺🇸 (@ArtValley818_) March 8, 2021
This is what happens when a completely ineffective "health" measure becomes a deity to a rapidly growing religious cult.
Oh, hey, you remember that Biden Gas Premium? – Yeah, it's about to go higher, after Houthi rebels backed by – guess who? – Iran staged another attack on Saudi oil facilities on Sunday.
Brent crude hovers just under $70 after Saudi oil facilities attacked https://t.co/NL3pLw6J1D

— MarketWatch (@MarketWatch) March 8, 2021
From the story at Marketwatch:
Warplanes from a Saudi-led coalition dropped bombs on Yemen's rebel-held capital Sanaa on Sunday, following attacks on Saudi Arabia's oil and military facilities. The coalition blamed the administration of President Joe Biden for the attacks by Iran-backed Houthi rebels after a decision to remove them from U.S. terror lists.

"Possible damage at Ras Tanura in particular is generating concern on the oil market, as this is home to Saudi Arabia's biggest oil storage facility and oil export terminal," said Eugen Weinberg, head of commodity research at Commerzbank, in a note to clients.

"The news fell on fertile ground as Brent had already increased to $70 per barrel on Friday," due to OPEC's surprise move to not step up production for now, said Weinberg.

"It seems that OPEC is focusing on price control at present, and that it wants to completely eradicate any surplus stock by the autumn in readiness for the possible return to the market of Iranian oil exports in the event that agreement is reached with the U.S. on the nuclear dispute," he added.

[End]
The Biden Gas Premium voted into your lives by your Democrat "friends" currently stands at about $.58 per gallon since Election Day. You should expect it to approach $.70 per gallon by the end of this month, and then you'll be able to watch it rise to a dollar or so as summer driving season approaches, and refiners are forced to change over to making the more expensive summer blends in the coming weeks by the EPA.
Remember, Democrats, no whining at the gas station. You voted for this.
Meanwhile, here is what your friendly BLM/Antifa terrorists were doing in Louisville, Kentucky over the weekend:
Antifa guys armed semiautomatic rifles showed up with the Black Lives Matter activists to harass children who were going to a cheer competition in Louisville. Terrorists. pic.twitter.com/euOLXSSZ9Q

— Ian Miles Cheong (@stillgray) March 7, 2021
Amazingly, the Louisville police actually showed up and arrested some of the thugs who were assaulting teen and pre-teen girls and boys participating in a cheerleading competition.
I've never been a fan of open carry laws, and this is why. Police should not be faced with domestic terrorists carrying AR-15s on a sling. Neither should 10 year-old cheerleaders.
The $1.9 trillion Biden Debt Building Bill passed the senate over the weekend, and it essentially destroys the value of work as a foundational principle of our country. – As the Wall Street Journal editorial board points out in a new editorial, the bill effectively establishes a guaranteed federal income that is "unlinked to work." Among other elements, the bill extends enhanced unemployment benefits through the end of September, enhances the child care credit and earned income credit and sends a $1400 check to individuals with incomes of up to $75,000 ($2,800 for couples with $150,000 income) plus $1,400 per dependent.
Oh, and best of all for the layabout class: Nancy Pelosi, Chuck Schumer and other prominent Democrats are promising to immediately start working on another massive payoff bill to replace this one come October.
Here's an excerpt from the Wall Street Journal piece:
• The bill sends another $1,400 to individuals earning up to $75,000 ($2,800 for couples with $150,000 income) plus $1,400 per dependent including kids in college. This follows the $1,200 for individuals and $500 per dependent in the Cares Act and $600 for each in the December relief bill. In total, most non-affluent families of four will get $11,400 in direct payments.

Republicans pushed to lower the individual income threshold to $50,000, which is about as much as the average production-level worker makes. But Democrats refused because it would exclude many government workers, especially those in blue states with higher salaries. Oregon Sen. Ron Wyden wants to put these payments on autopilot so they don't lapse until unemployment falls below a certain level.

• Households will also get a $3,600 fully refundable tax credit for each child under age 6 and $3,000 for those up to age 17. The current $2,000 child tax credit is only partly refundable, meaning people who pay little or no taxes don't receive the full benefit. But now people could collect more from the child tax credit than they pay in taxes and even earn in wages.

• Parents would also benefit from a larger and fully refundable dependent care tax credit. The bill boosts the maximum tax credit to $4,000 for one child and $8,000 for two or more from $1,050 and $2,100, respectively. Since teachers unions have kept thousands of schools closed, Democrats now want to make it up to parents by paying their child care expenses.

• Health insurance plans on the ObamaCare exchanges have long been unattractive for those who earn too much to qualify for premium subsidies and young adults with low health expenses. The bill tries to lure more people to the exchanges by sweetening subsidies through 2022, and Democrats will vote to make them permanent in the midterm election year.

Households making above 400% of the poverty line—$106,000 for a family of four—would qualify for subsidies with their premiums capped at 8.5% of their income. Premium subsidies for lower-income households would also increase on a sliding scale. Most unemployed wouldn't have to pay a penny toward their premiums, which will be another disincentive to return to work.

• Democrats are also turning the earned income tax credit (EITC) into an unearned income tax credit. The EITC was originally intended to increase the incentive for lower earners to work, but complicated rules have turned it into one more income transfer. Now Democrats are making it so that even the unemployed can get the credit.

Individuals next year will be able to use their 2019 income as the base for determining their credit size if it's higher than their income for 2021. The maximum benefit for single adults will triple and the threshold for disqualifying investment income will increase to $10,000 from $3,650, a boon for day-trading millennials.

• Democrats say all these income transfers are needed to ensure people don't go hungry or become homeless. But their bill would also extend last year's 15% food stamp boost through September and provide another $27 billion in rental and utility assistance, on top of the $25 billion in the December relief bill to cover back rent for nonpaying tenants.

All of this arrives when the Covid vaccine rollout is accelerating, the economy is recovering at a rapid pace, and the national jobless rate is already down to 6.2%. The goal of this Democratic program isn't Covid relief. The point is to expand and solidify the role of government as the guarantor of every American's income unlinked to any obligation to work.

[End]
Exactly. Liberals in our country have been conditioned by Democrat politicians and their loyal toadies in the corrupt news media to worship the federal government as their secular god. With this bill, Democrats in congress hope to satisfy their supplicants for the next six months, at which time they will have another debt-funded monstrosity already in the hopper to pass around like manna from heaven.
Combine this atrocity with HR1, the "for the people" act, and you have the recipe to fully institutionalize a permanent form of fascist/socialist government in the former constitutional Republic that was America.
That is all.
Today's news moves at a faster pace than ever before. Whatfinger.com is the only real conservative alternative to Drudge. It's the tool I use to help keep up with all the day's events, and it should be your tool, too.