When most of us hear the term "coyote" used in the context of illegal immigration across our southern border with Mexico, we think about human traffickers who extort huge amounts of money from poor Mexicans and other Latin Americans to smuggle them across the border.
As it turns out, all of the blue-check media wonders on Twitter who have spent the last five years sagely pontificating about the evils of limiting illegal immigration think the term means this: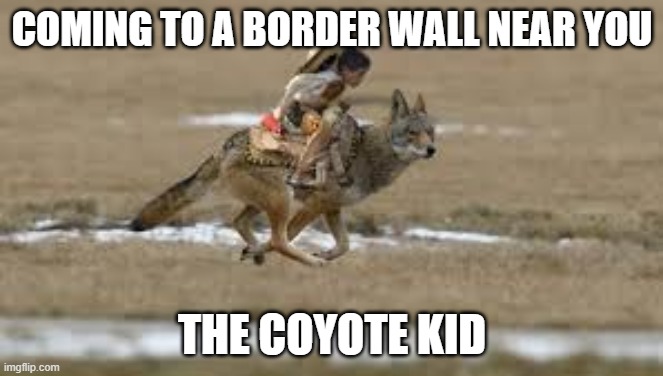 No, I'm not kidding. When President Trump made a negative reference to Coyotes and their human trafficking efforts – during which an extremely high percentage of female travelers are raped – media blue check wonders like Maggie Haberman reacted with outrage, thinking that the President was either referring to the parents of children or to actual coyotes. I swear I do not make this stuff up.
Here's Tucker Carlson having a great old time ridiculing these morons on his show last night:
LMAO Tucker Carlson Dunking On Dopey Liberals On Twitter Over Their "Coyotes" Confusion

"What a lot of prominent Trump haters heard was that huge feral canines were dragging children across the Sonoran Desert." pic.twitter.com/lMPFB7j9cX

— The Columbia Bugle ?? (@ColumbiaBugle) October 24, 2020
Thus we see that the very people who have been lecturing the rest of America about illegal immigration for all these years are in fact the rank ignoramuses we always suspected they must be in order to express such stupid opinions on the subject.
Good to know.
Speaking of the corrupt national news media, here's an actual shot from a Biden Crime Family strategy meeting:
Ok, that's just a meme, but it might as well be real.
And speaking of illegal immigration, take a gander at these numbers. – DHS Chief Chad Wolf reported this week that the Trump Administration has made incredible strides in halting the flow of illegal immigrants across our southern border, but warns that a new surge of illegals is building.
From a report at Breitbart since the rest of the media is blacking out the story:
President Donald Trump slashed the inflow of southern migrants from 400,000 in 2019 to just 14,000 in 2020, according to acting homeland security chief Chad Wolf.

The coronavirus crash is creating a new surge of migrants up to the U.S. border, Wolf warned in his October 21 speech. "Should our critics be successful and repeal the [Centers for Disease Control and Prevention] CDC order, we would face an unimaginable public health crisis," Wolf said in a Phoenix, Arizona, speech, adding:

The only reason today's crossings have not reached a crisis level is because of the policies and procedures the Department has put in place during the past four years. If these critical tools are removed or overturned, then the Department—and you, our frontline partners—would be imperiled by another immigration crisis.

.@DHS_Wolf: "Today, @ICEgov no longer exempts any removable aliens from having our laws enforced on them. If you break our laws, you will be arrested and removed from our country." pic.twitter.com/pq7wEec3Ro

— Homeland Security (@DHSgov) October 22, 2020

Wolf described the administration's huge and successful efforts to curb the southern migration into U.S. blue-collar workplaces. Prior Presidents did little or nothing, but Trump's hard-fought upgrades have helped push up wages and opportunities for tens of millions of Americans — including blue-collar blacks and Latinos. Trump's effort also protected many millions of Americans from losing their jobs amid relentless Wall Street pressure for corporate cost-cutting.

"In perhaps no area did the Washington special interests try harder to stop us than on my policy of pro-American immigration," Trump said in his August 28 acceptance speech.

Wolf also touted the agency's efforts to start shielding all Americans from the trillion-dollar economic threat caused by the legal and illegal migration of white-collar workers.
That's a stunning success any way you look at it.
What is it with these Democrat politicians and dressing up as despicable historic figures for costume parties? – Yesterday, Patrick Howley revealed a high school annual photo of Democrat Arizona Senate candidate Mark Kelly dressed up as Adolph Hitler at some costume party:
What is up with this, seriously? It is as if every damn Democrat politician in America spent his or her youth longing for the days of the KKK and Nazi Germany. We all make mistakes in our misspent youths – that's just part of growing up – but it seems that the current generation of Democrat politicians had a very ugly recurring theme running running through their culture back in the '60s, '70s and '80s.
Kelly of course denies the person in the photo is him, but no one really believes him, mainly because the person in the photo is quite obviously a young Mark Kelly. Same jawline, same ears, same nose, same mouth, same body posture, etc.
The unearthing of this photo comes at a very inopportune time as he is now slightly trailing incumbent Republican Martha McSally in the most recent polls taken in the race. Oof.
Couldn't happen to a nicer guy.
Don't look now, but the leftwing media and pundits are now starting the process of hedging their bets. – After months of pretending that Joe Biden was about to win the election in a landslide, the corrupt news media and pundits like Nate Silver have started the process of hedging their bets so they can claim to have been "right" when President Trump ends up winning a handy re-election.
Here's Nate Silver, suddenly setting up a strawman scenario to explain why he completely whiffed on accurately projecting this election, just as he did in 2016:
One way to think about Trump's chances: if the polls move toward Trump in the closing days rather than Biden (50/50 chance) *and* there's a polling error in Trump's favor (50/50 chance) then he's 50/50 to win. That gets you to his 1 in 8 odds in our current forecast.

— Nate Silver (@NateSilver538) October 23, 2020
Oh. You don't sayyyyyyy. Now, when he is brought on MSNBC on Election Night to explain how he missed the Trump comeback, Silver will be able to point to this tweet and say, "hey, I warned you guys about this 11 days ago!"
Hilarious.
Here's what Politico put out on Friday:
Whether he is defeated in 11 days or leaves office in four years, Trump and Trumpism will still be with us, for decades to comehttps://t.co/wzo6amTqlV

— POLITICO (@politico) October 24, 2020
Here's an excerpt:
Whether he is defeated in 11 days or leaves office in four years, Trump and Trumpism will still be with us, for decades to come.

The most obvious sign of that is the Senate's all but certain confirmation Monday of Amy Coney Barrett to the U.S. Supreme Court — Trump's third justice.

But it's way more than a 6-3 majority on the Supreme Court. Democrats complain about the lasting effects of ignoring climate change for four years. They say the nation's image abroad has eroded, as has confidence in democracy at home. For the duration of his presidency, Trump has insisted elections are "rigged." No surprise, many voters aren't confident that American elections are conducted in a fair and equal way.

After watching the chaotic presidential debate three weeks ago, the teenage son of Ken Martin, the chairman of Minnesota's Democratic-Farmer-Labor Party, asked Martin how he could stomach a life in politics, his chosen profession.

"It's just sad, sad all around," Martin said. "We're going to be living with Donald Trump's impact on politics for the next couple of generations." He went on to say: "My concern here, win or lose, is that we have essentially changed the norms of politics to a place where you don't have civil discourse anymore. The idea of working together just becomes so far off in the distance that how does anything get done in government anymore?"

For Democrats who feel like they are on the cusp of victory in this election, there is a sense of grief for what they have already lost.
It's 2016 all over again, folks. These people are utterly and completely incapable of learning. They had four full years to do some research and work to get to know who Trump supporters really are and try to gain an understanding of why he creates such an incredible level of loyalty out here in Flyover Country, and chose to just lazily spend those years vilifying us instead.
They can all feel what's coming now, but cannot ever bring themselves to admit they might have been wrong. So, they'll all spend the next 10 days putting out bet-hedging pieces like this one and issuing fake polls showing Trump "closing the gap" that never really existed and all the other face-saving tactics in which they engaged in the leadup to Election Day 2016. Having set themselves up with this false sense of security, it's too late now to do anything but try to save some shred of dignity and credibility to which they can desperately cling when the world comes crashing down around them one more time.
Glorious.
That is all.
Today's news moves at a faster pace than ever. Whatfinger.com is the only real conservative alternative to Drudge, and deserves to become everyone's go-to source for keeping up with all the latest events in real time.