Today's Campaign Update (Because the Campaign Never Ends)
The damn thing should just be imploded after this. – What does one say about the people who run the Kennedy Center, other than they all need to have their sorry butts kicked? Let's review the timeline of that national disgrace over the last 10 days:
– Nancy Pelosi single-handedly holds up a $2 Trillion stimulus bill for a week – thus delaying for a week any benefits going to ordinary people who really needed the money as fast as possible – in part so she can lard it up with a $25 million bailout for the creeps at the Kennedy Center.
– That bill finally passed early afternoon on Friday.
– About 90 minutes after it passed the House of Representatives, the Kennedy Center management sends out a memo notifying all of their contract musicians that they have been laid off.
– On Tuesday, just three days later, Kennedy Center management sends out another memo notifying all of the support staff for the National Symphony Orchestra that they have also been laid off.
This is a national disgrace, and everyone involved should be fired and replace by human beings who actually possess souls.
Meanwhile, at the FBI… – It normally takes DOJ Inspector General Michael Horowitz about 14 months to tie his shoelaces. This is the single most plodding, delaying, not-in-any-hurry-to-get-anything-done man in a city that is just filled with men and women with that same attitude towards their work.
Normally, nothing phases this guy. The DOJ/FBI cabal during the Obama era illegally spied on the Trump campaign and transition team? No biggie. Let's take our sweet time looking into that one.
That same cabal frames General Mike Flynn and tries to do the same to President Donald Trump? Ah, what's the big deal? Let's spend 2 years looking into that one.
Peter Strzok, Andrew McCabe and James Comey all committed multiple counts of perjury, and Comey and McCabe were sharing national secrets with the New York Times and Washington Post? Yawn. We'll get to that one next year.
Let's put it this way: Mr. Horowitz does not understand the concept of swift and timely justice, nor his own role in making sure that such a thing takes place in our society. He has spent the last 3 years doing little other than gumming up the works at DOJ, doing his best to ensure the passage of time dims public memories about all the rampant corruption at that Department, especially within the FBI.
Thus, it came as a bit of surprise that Mr. Horowitz chose to rush out a new, unexpected report this week, in which he found that FBI agents of all shapes and sizes and in locations all over America casually violated the FISA law in all 29 applications his team audited from 2014 through 2019.
Every. Damn. One. Of. Them.
From a report at National Review:
The Justice Department inspector general said it does "not have confidence" in the FBI's FISA application process following an audit that found the Bureau was not sufficiently transparent with the court in 29 applications from 2014 to 2019, all of which included "apparent errors or inadequately supported facts."

Inspector General Michael Horowitz released a report in December which found that the FBI included "at least 17 significant errors or omissions in the Carter Page FISA applications and many errors in the Woods Procedures" during its Crossfire Hurricane investigation of the 2016 Trump campaign. After releasing the report, Horowitz said that he would conduct a further investigation to see if the errors identified in the Page application were widespread.

…

Horowitz's office said in a report released Tuesday that of the 29 applications — all of which involved U.S. citizens – that were pulled from "8 FBI field offices of varying sizes," the FBI could not find Woods Files for four of the applications, while the other 25 all had "apparent errors or inadequately supported facts."

[End]
Note the key fact in this passage: That Horowitz's audit included cases that were pulled from FBI field offices all over the damn country, and thus involved FBI agents of all ranks and positions.
The next time you hear the increasingly irritating Sean Hannity tell you how wonderful and non-corrupt the FBI's "rank and file" are, turn off your radio or change channels on your television, because you are being lied to.
Attorney General William Barr naturally responded to this latest Horowitz report with a feckless, meaningless statement touting the "reforms" that worthless bureaucrat FBI Director Christopher Wray has supposedly implemented in the agency's approach to the FISA process: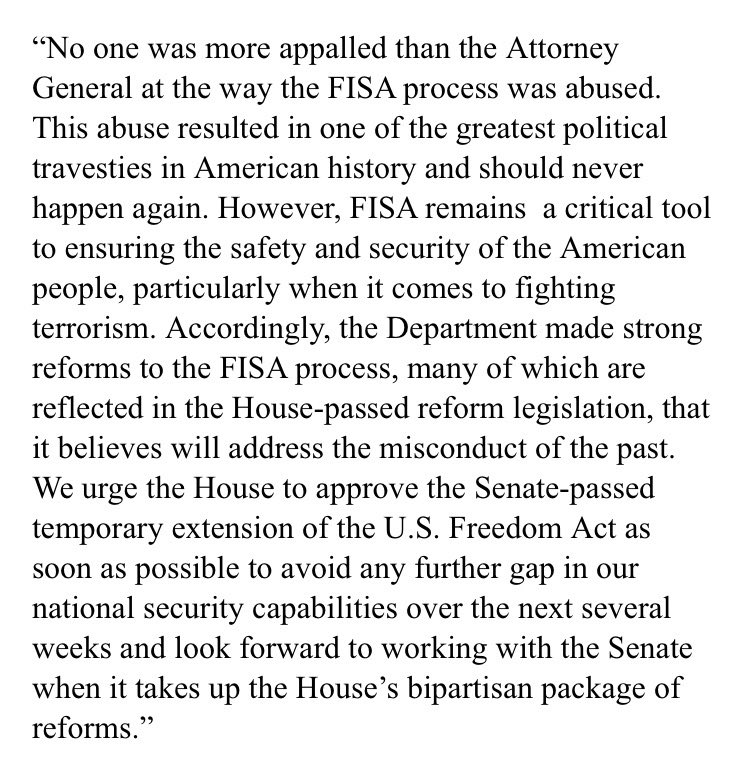 It's important to note that the FISA law, which expired on March 15, has still not been renewed, thanks to congress's attention being focused solely on dealing with its various stimulus bills. While AG Barr still hopes to have it renewed with no changes to the statute, this new report from Horowitz is going to make that outcome extremely unlikely to come about.
Finally, at long last, Mr. Horowitz has done a real and timely public service.
As for the FBI, the only way to really fix that steaming cesspit of corruption is to completely disband it and reconstitute a new federal investigative agency. The roots of the Bush/Obama, Mueller/Comey-era corruption there are just too firmly and deeply embedded in the muck to ever really be cleaned up.
That is all.
Today's news moves at a faster pace than ever. Whatfinger.com is my go-to source for keeping up with all the latest events in real time.