Is Fredo Cuomo in trouble at CNN? Don't bet on it. – President Trump issued this tweet targeting brother of mass-murdering Governor Andrew Cuomo, Fredo Cuomo this morning:
Will Fredo be fired by Fake News @CNN? He speaks with great disrespect about women, and it will only get worse. Fredo's Ratings are bad, so this is the time. Always terrible to speak to sleazebags, especially when you are being recorded. CNN has no choice, Fredo must go! https://t.co/veVwg7G1YF

— Donald J. Trump (@realDonaldTrump) September 2, 2020
The President is referring to a segment on Tucker Carlson Tonight last night, in which Carlson aired a part of a recorded conversation between Fredo and his very good friend, former Trump lawyer Michael Cohen. In that recording, Cuomo profanely complains about constant harassment from reporters about allegations of sexual harassment lodged against him by fellow employees at CNN and in his prior position at ABC:
Tucker Carlson aired a tape recording between CNN's Chris Cuomo and Michael Cohen on his show tonight. In it, Cuomo complains about media questioning him over sexual misconduct allegations. pic.twitter.com/Gj4Pj8GlJn

— Daily Caller (@DailyCaller) September 2, 2020
I won't do a transcript of this since I try to keep this blog rated PG-13, but the basic plot here isn't really all that incriminating for Cuomo. He doesn't admit to actually being a serial harasser of women; he just complains that women he works with are apparently constantly complaining about him being a serial harasser of women.
I spent 40 years in the corporate world without ever having a single co-worker lodge any such complaint against me. Those of you who have spent time in the corporate world will know that the men you have seen on the receiving end of such complaints are exactly the men you would have expected to see on the receiving end of such complaints. Sexual harassment allegations are seldom any big surprise to the people in the office.
But no one should expect CNN to have the organizational integrity to even properly investigate Fredo, much less level any disciplinary action against him. CNN is, after all, nothing more than a Nazi-style propaganda operation, and the Nazis never were real big on protecting women's rights.
Speaking of secret recordings… – Here is leaked video of Queen Nancy during her illegal visit to a shuttered hair salon on Sunday:
More video surfaces of Nancy Pelosi at the hair salon. https://t.co/Zncd3O2IzQ

— Catturd ™ (@catturd2) September 1, 2020
This is why it was imperative for President Trump to visit Kenosha, Wisconsin. – President Trump flew to Kenosha on Tuesday, and all the corrupt news media could find to hyperventilate about was the fact that he did not pay a visit to the family of Jacob Blake, the career woman-abusing criminal who was justifiably shot by the Kenosha police a couple of weeks ago. The President said he had attempted to reach out to the family, but backed off when they said they would not meet with him without their money-grubbing lawyer present.
But visiting Jacob Blake's family – who are pursuing every angle to profit from the incident – was not in any way the purpose of the President's visit. The purpose of the visit was far more intelligently focused than that. By having the TV cameras follow him around the city, the President forced the corrupt news media to capture images of the utter devastation visited on the town by Democrat-paid rioters who came into Kenosha from all over the country to loot and burn it.
Images like this one: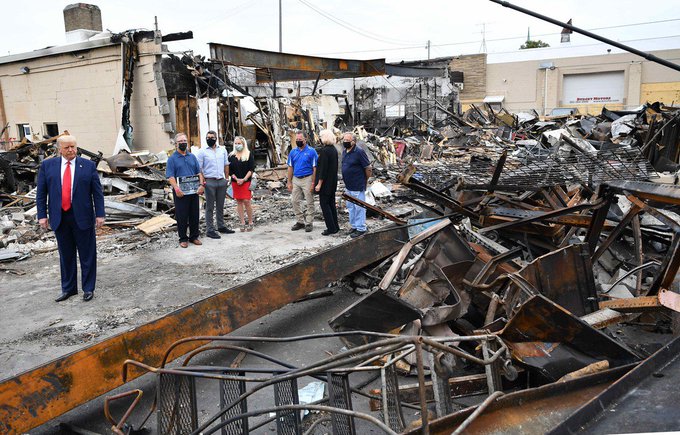 And this one: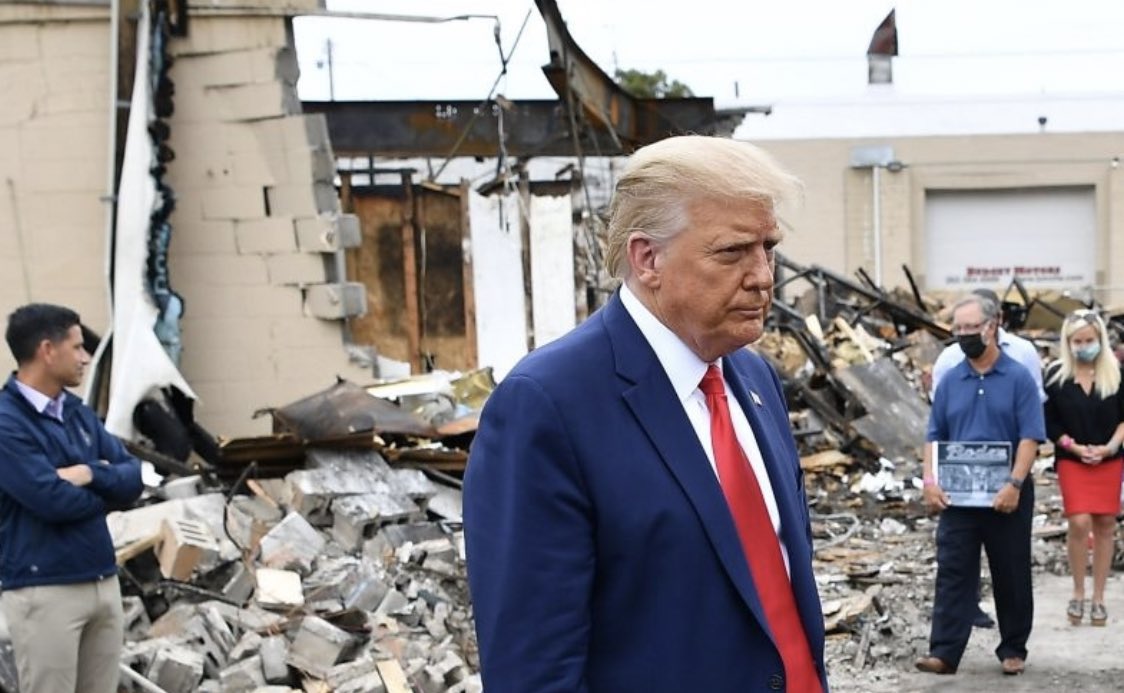 And this one: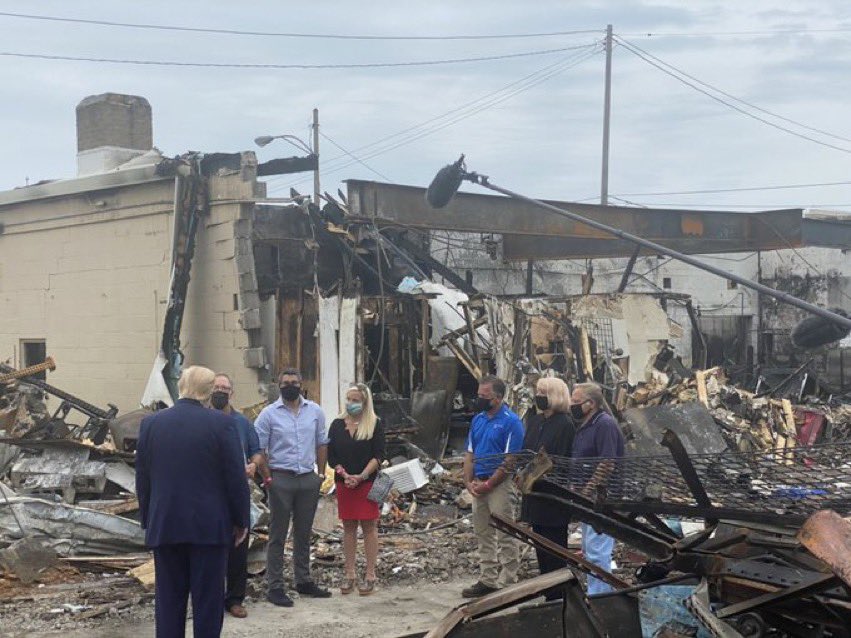 By taking the time to take the corrupt reporters on a tour of the city, Trump forced them to show their audiences conclusively that vast swaths of Kenosha now resemble Dresden, Germany after the fire bombings of WWII. It was the only way any images like this would ever air on CBS, NBC or ABC.
Oregon law enforcement officials push back on communist Gov. Kate Brown. – In case you missed it, communist Democrat Oregon Gov. Kate Brown released her fancy new plan for dealing with the 98-night-long riots in Portland on Sunday. That plan is as, well, stupid as the despicable Governor herself, which, when you think about it, is exactly what you'd expect.
Comrade Kate's big idea is to take sheriff's deputies and other law enforcement personnel from  Washington and Clackamas counties and the city of Gresham and send them into the increasingly violent, out of control fray that she and her comrade Mayor Ted Wheeler have allowed to build in the state's largest city over the past three+ months.
The reaction from law enforcement officials in those other jurisdiction was entirely predictable and appropriate. From a story at The Blaze:
In no uncertain terms, the sheriffs slammed the plan and said they would not send their officers to Portland.

Clackamas Sheriff Craig Roberts advised Brown that more resources will not solve the problem in Portland — only policy change can provide the desperately needed solution.

According to Roberts, Brown never contacted him about sending his deputies to Portland.

"I was surprised to read that the Clackamas County Sheriff's Office was part of the plan since the Governor's Office never contacted me," Roberts explained. "Had Governor Brown discussed her plan with my office, I would have told her it's about changing policy not adding resources. Increasing law enforcement resources in Portland will not solve the nightly violence and now, murder. The only way to make Portland safe again, is to support a policy that holds offenders accountable for their destruction and violence."

[End]
Although Brown and her fellow communist Democrat governors around the country think they are dictators with absolute authority, they aren't. You shouldn't expect to see Comrade Brown's plan put into action anytime soon, or ever.
Meanwhile, the Portland riots rage on. – Democrat-sponsored rioters continued their efforts to destroy Portland for the 98th consecutive night, as Comrade Wheeler apparently told his police to stand down again.
Here are some of the lowlights, courtesy of real journalist Andy Ngo:
The @7eleven in downtown Portland that has been the scene of multiple assaults related to the BLM protests was again the site of another late night fight. Even though this is close to the central police precinct, officers don't patrol the area anymore. pic.twitter.com/Rp732pmGNm

— Andy Ngô (@MrAndyNgo) September 2, 2020
The rioters congregated at Comrade Wheeler's condo building again on Tuesday, at one point setting a fire in the lobby. This has the communist Democrat contemplating a relocation: