Tired of all this WINNING yet? – Despite the best efforts of the corrupt news media and its Democrat masters to keep the economy shut down, America had another blowout jobs month in June. The U.S. economy added 4.8 million new jobs during the month, again humiliating all the "experts" who had projected about 2.5 million would be added.
That is almost 10 million net new jobs added during May and June, despite the best efforts by Democrat governors in big states like New York, California, Michigan and New Jersey to slow-play their reopenings. In total, 17.8 million American workers remain unemployed thanks to our insane response to all the COVID-19 panic porn, but that number is vastly lower than the 30-50 million all the "experts" were predicting just a few weeks ago.
In response to this latest good employement news, all the markets were up, and the NASDAQ set yet another new all-time record high.
God Bless America.
Another domestic terrorist goes down. – Federal authorities arrested and charged the ringleader of the mob that attempted to tear down the statue of Andrew Jackson in Lafayette Square across from the White House on June 22. The domestic terrorist's name is Jason Charter, a clown who has bragged on Twitter and other social media about his ties to Antifa.
From a Fox News story:
"They were very organized," a federal law enforcement official said. "Charter was on top of the statue and directing people … they had acid, chisels, straps and a human chain preventing police from getting to the statue."

The FBI's criminal complaint against Charter attaches screengrabs of local news videos and accuses him of also being involved in the destruction of the Albert Pike Historical Statue in Washington this month.

Citing local news video, the FBI alleges that Charter is seen "standing over the toppled Pike Statue, pouring an unknown liquid onto the statue."

The complaint said: "He is then observed waving others away from the statue, and squatting down behind the statue where his hands are not visible. Seconds later, the statue catches fire. Charter is seen standing over the flames as it burns."

As for the events at Lafayette Park, the complaint says, "At the Jackson Statue incident, Charter is additionally seen wearing a red set of ski goggles and a yellow ventilator mask. Charter's face is clearly visible at different times during each incident."

The complaint also cites a tweet from a Twitter account with the name Jason Charter that says, "Tearing down statues of traitors to the nation is a service to this nation not a crime."

[End]
So, not exactly the brightest bulb in the light fixture. Just another sad white Millennial nerd with an all-consuming sense of entitlement and zero sense of self-awareness.
Here he is in all his glory: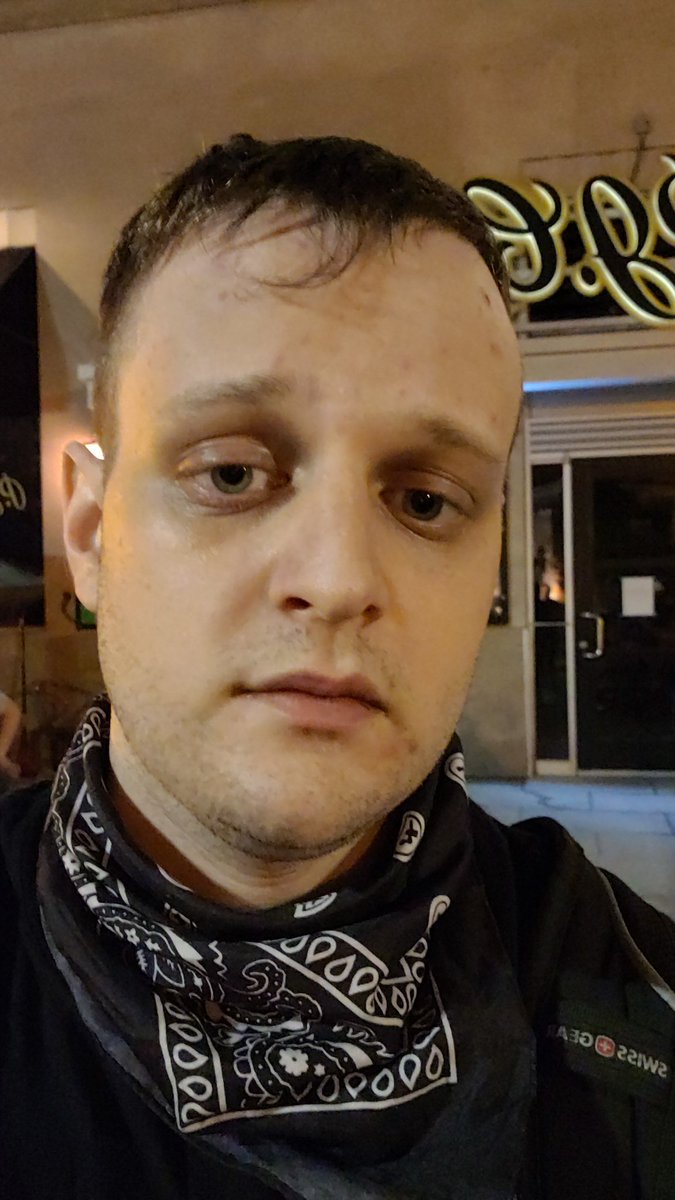 Another of the ringleaders of the attack on the Jackson statue, a 37 year-old child name Graham Lloyd, turned himself in to Portland authorities on Wednesday. A federal judge there ordered Lloyd's case transferred to Washington, DC for trial.
In case you've forgotten it already amid all of the COVID-19 panic porn spread by the corrupt news media, these and dozens of other arrests of Antifa/BLM terrorists in recent days come in the wake of President Donald Trump's signing an executive order designed to protect national monuments and exacting long prison terms for such acts.
Cause, meet effect.
Good question, sir. – After the arrest of long-time Jeffrey Epstein associate and procurer Ghislaine Maxwell by the FBI yesterday, one Twitter user posed this question:
PEDOPHILES and traffickers arrested and charged under the Trump administration:

Anthony Weiner, Allison Mack, Keith Raniere, Harvey Weinstein, Jeffrey Epstein, George Nader, and Ghislaine Maxwell.

How many pedophiles were charged under the previous three admins?

— Michael James Coudrey (@MichaelCoudrey) July 3, 2020
Mr. Coudrey names just a handful of the most famous of the many thousands of pedophiles and sex traffickers this Administration has arrested and prosecuted, but it's a very valid question. Because when you look at that list you see that everyone on it other than Allison Mack was active during the Bush years, and Mack was active throughout the Obama years. So, it's an interesting question that neither Obama nor Bush want anyone trying to answer.
But here's another very interesting aspect of that list: Of the seven named there, four have very strong and well-known ties to Bill and Hillary Clinton.
– Anthony Weiner is married to Hillary's longtime companion, Human Abedin.
– Harvey Weinstein raised hundreds of thousands of dollars for various Clinton campaigns and their crime family fake foundation.
– Bill Clinton is listed on the flight logs of Epstein's Lolita Express jet more than 30 times.
– Ghislaine Maxwell was so close to Bill that she was actually invited and attended Chelsea Clinton's wedding. As we can see, she was even awarded a prime aisle seat:
Aren't all of these "coincidences" rather amazing? Think about it: How many sex traffickers and pedophiles have you be-friended, employed or invited to parties and weddings in your own life?
But it's all a "conspiracy theory," right?
*sigh*
You don't saaaaayyyyyyyyyyyy… – Marxist Democrat Los Angeles Mayor Eric Garcetti had a rare moment of temporary honesty this week. In reponse to a question by a Breitbart reporter about the cause of the state's recent spike in COVID-19 "cases," Garcetti said that "Some of the spread did come from our protests."
Obviously, it's notable when any Democrat politician actually admits that their pet cause – the riots – led to a spike in COVID cases. But Garcetti's use of language in describing the protests is even more interesting to me. Note that he does not refer to them as "the" protests, but "our" protests. Wow.
But wait, there's more. Breitbart quotes Garcetti has further saying that, "I want to see march for racial justice continue," he said. "I don't want to let up, I don't want to see us just disappear." Not "them" or "the protests," but "us."
We have known all along that these riots were staged events, carefully planned and organized by Antifa and BLM, who serve as the domestic terrorist arms of the Democrat Party, but it is a rare Democrat politician indeed who is so self-unaware that he willingly admits his ownership of them in public.
That is all.
Today's news moves at a faster pace than ever. Whatfinger.com is my go-to source for keeping up with all the latest events in real time.