Today's Campaign Update
(Because The Campaign Never Ends)
The assisted living senators are not dealing well with these long hours. – The U.S. Senate has, more than at any other time in its history, become a home for elderly citizens during the 21st Century. This is in large part due to the fact that it has also more and more become a place to accumulate massive amounts of wealth at the expense of the U.S. taxpayer in recent decades. No one wants to voluntarily leave the gig when there's always so much more wealth to be grafted.
Thus, this ongoing Kabuki dance of an impeachment trial takes place in what is basically an incredibly wealthy assisted living center. It is becoming increasingly obvious that the long days and late nights are already beginning to take a toll as the silliness enters its third day today. California's 86 year-old Senator Dianne Feinstein decided she'd had enough of the nonsense as Bug-eyed Adam Schiff droned on late last night, and just got up and left a full hour before the Senate was adjourned:
Virginia Senator Mark Warner, kind of a Senate kindergartener at age 66, was reported to have fallen asleep during Schiff's lie-filled monologue: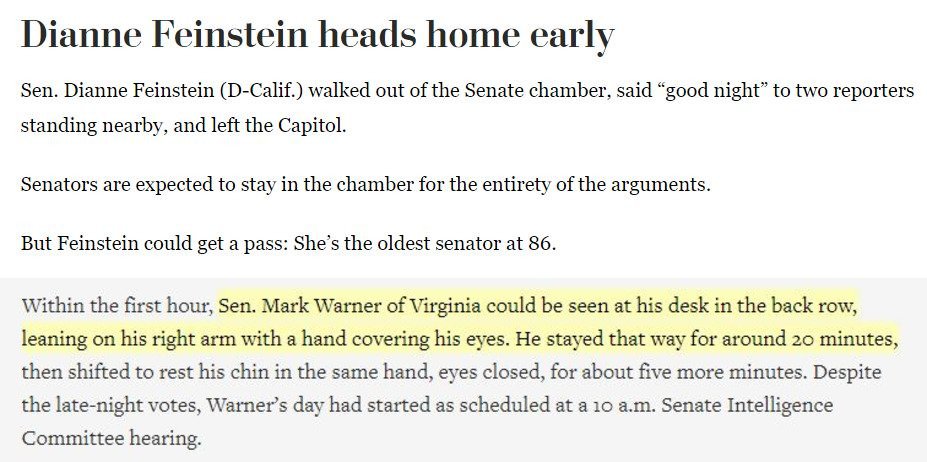 Senate Minority leader Chuck Schumer – a veritable spring chicken of the Democrat caucus at age 69 – has begun exhibiting clear signs of not being all there mentally. Watch as he shooos an imaginary person out of his chair as he returns from a bathroom break:
I have a question, is this Chuck Schumer and did he tell an invisible person to get off his chair?

I zoomed in so you guys could see better. Look at the blonde lady behind him, she looks confused. ? pic.twitter.com/HasrZjFibl

— ?? Grenni ?? (@Graenni) January 22, 2020
Seriously, you can't make this stuff up. Think about this: These are the people who are governing this country right now. Frightening.
But hey, even though the Senators were having a hard time holding their eyes open or avoiding twice-hourly potty breaks during Schiff's hours of bleating, the guy who bills himself on Twitter as a "national security correspondent" for the Washington Post developed a clear man crush on ol' Bugeyes:
Adam Schiff might be the most underestimated politician California has produced. Many in GOP dismiss him as bland/partisan. But the way he has handled impeachment will leave a mark on history, exceeding nearly all contemporaries.

— Greg Miller (@gregpmiller) January 23, 2020
Can't wait to hear Greg Miller's true feelings about Jabba the Nadler or Patrick Leahy. Maybe Netflix will turn the "national security correspondent's" diary into a 10-episode mini-series.
Of course, the subject matter being considered in this impeachment scam is so utterly and moronically trivial that it's no wonder the Senators can't keep their eyes open or hold their bowels. My wife and I are spending this week on a cruise ship filled with people from all over the world, and all I have been able to think about as we have interacted with folks from various other nations is how picayunish this absurd spectacle truly is.
For example, in chatting with our waiter last night, we learned he is a Kurd. He put on a happy face because he is really good at his job, but think about what someone who spends 10 of his 12 months each year working night and day on a gigantic ship and worrying about what might be happening to his family back home must think about how utterly superficial American politics have become.
Before dinner, we spent time in a bar talking with a wonderful group of citizens of Trinidad and Tobago. We talked about current events in their country, which is really struggling economically right now, as well as the collapse of Venezuela and the massive recent oil discoveries off the coasts of nearby Suriname and Guyana, which they are all hoping might positively impact their own island nation.
On this cruise, we have met people from France, where the massive "yellow vest" protests have now been ongoing for 55 weeks, and largely ignored by the U.S. news media. There are similar protest movements taking place all over Europe and South America and Asia right now, and the "national security correspondent" for the WaPo is Tweeting out his love for a pathological liar who has had our own politics tied up hyper-analyzing an innocuous 20-minute phone call that happened 7 months ago.
On this cruise, we have met people from Russia and Croatia and the Phillipines and Hong Kong, all places in the throes of real human struggles of paramount importance, and our corrupt news media is focused on providing maximum exposure for an impeachment that's like an episode of "Seinfeld," a show about nothing.
Miller's right about one thing: Schiff's conduct of this impeachment scam will indeed leave a mark on history. That mark will be in the form of an indelible black ink stain on our nation's legacy that can never be gotten out.
What an incredibly shallow society we have become.
That is all.
Today's news moves at a faster pace than ever. Whatfinger.com is my go-to source for keeping up with all the latest events in real time.