In his Easter message on Sunday, China Joe Biden did not mention Christianity or Jesus Christ one time, but mentioned COVID-19, the Democrat Party's new religion, 7 times. That's all you need to know about that.
Meanwhile, Georgia's new senator, the "Reverend" Raphael Warnock, issued a wholly blasphemous tweet on Easter Sunday, and then thought better of it and deleted it: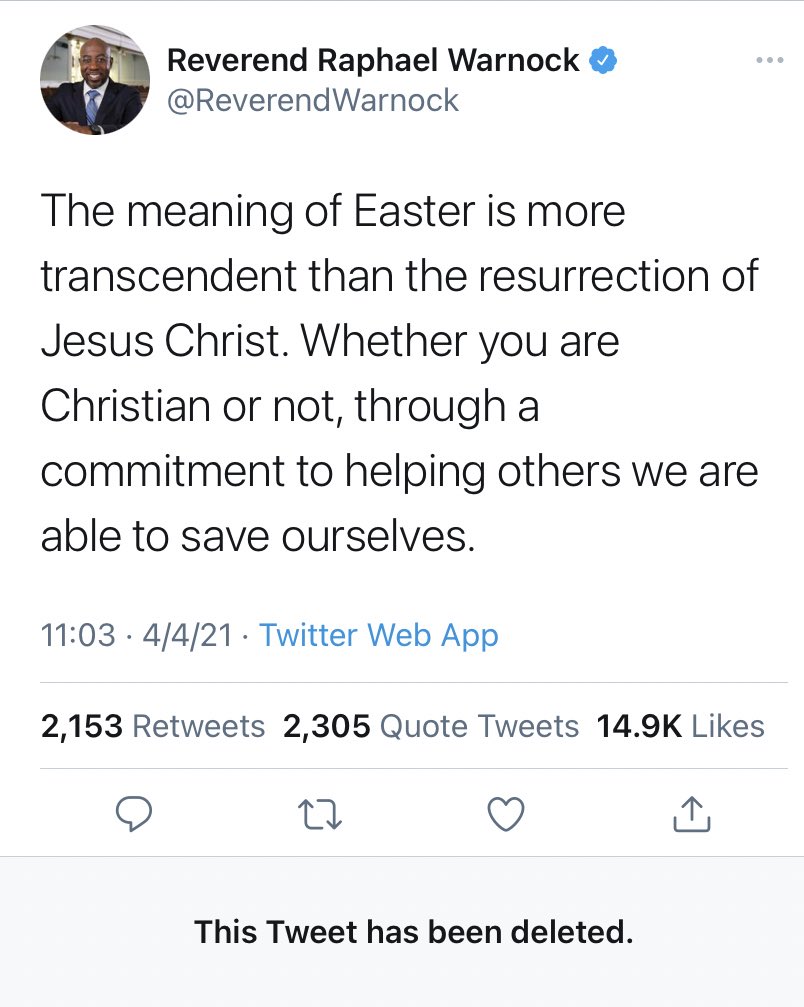 Hey, at least he didn't mention the viral gift from China, so we got that going for us.
Over on ABC [fake] News, former New Jersey Governor Chris Christie basically caused a lying Democrat activist to go into convulsions on set when he repeatedly corrected her lies defending the lies China Joe has been spreading about the Georgia voting law.
'He Is Lying To Cause Racial Divisions': Chris Christie Unloads On Joe Bidenhttps://t.co/6Jv9iJXGSC

— Daily Caller (@DailyCaller) April 5, 2021
From the story at the Daily Caller:
Former Republican New Jersey Gov. Chris Christie lashed out at President Joe Biden during a Sunday morning appearance on ABC's "This Week."

Christie and former Democratic Chicago Mayor Rahm Emanuel butted heads during a panel discussion over Georgia's election law, and Christie accused Biden of doing the same things he had accused former President Donald Trump of doing.

Emanuel responded to the law first, claiming that it was an unnecessary effort to find a solution to a problem that did not actually exist and arguing that it was an end run around elections that would allow the state legislature to overrule a secretary of state if the majority did not like the results of an election.

"If Donald Trump won Georgia, there would be no change in the law," Emanuel said.

[End]
Before we go on with this, note the argument Emanuel just used there, that this law would allow the state legislature to determine voting processes in the state. Guess what? The Constitution unambiguously states that voting processes in any state are to be determined by the… wait for it…state legislature!
This is now where the Democrats have come on this: Having had their blatant lies about the content of the law fully exposed, they now have circled around to claiming it is somehow unnecessary, and somehow a novel concept in that it puts the legislature in charge of determining voting procedures, which is what the Constitution requires.
Despicable people. Horrible human beings. Ghouls.
The article continues:
Fellow panelist Sarah Isgur Flores interrupted, saying that the Biden administration had claimed the new law would end early voting, which it did not.

Christie pushed back as well, claiming that the Biden administration had intentionally mischaracterized what was actually in the law.

"It expands early voting, George, and the president said it ended it. Listen, here's what Joe Biden's got to live with when he wakes up this morning on Easter morning. He is doing exactly what he sat around in the campaign and the transition and accused Donald Trump of doing," Christie said. "He is lying to cause racial divisions in this country. That's what he accused Donald Trump of doing and he's a liar and a hypocrite."

[End]
Why yes, yes he is.
As pointed out in another piece by Redstate.com this morning, Christie went on to pants a third corrupt Democrat toady who Stephanopoulous had stacked his panel with:
ABC News "This Week" anchor George Stephanopoulos had a panel of guests on this morning to discuss "the latest fallout" from the law including the MLB caving to woke mobs and pulling the game. One of his guests was former New Jersey Gov. Chris Christie, who was clearly incensed by what Biden was doing and set about to point out some inconvenient truths during the segment.

When asked by Stephanopoulos if the MLB "made the right move" with their decision, Christie instead took direct aim at Biden for being a raging hypocrite who promised unity and healing but instead was delivering needless division:

And I hate to come in here this morning to say this because I sat here and listened to the president's inaugural address. And I just want a couple of real quick points from it.

"Politics need not be a raging fire that destroys everything in its path. Every disagreement doesn't have to be a cause for total war, and we must reject a culture in which facts themselves are manipulated or made up."

And Joe Biden's broken his own rule, 84 days. And now, he's lying to the American people, George. He's lying about this bill. He's lying to the American people about it to cause the raging fire he said he was going to put out. I'm very disappointed.

Stephanopoulos then turned to Democracy for America CEO Yvette Simpson, who proclaimed the 17 days that the Georgia bill allowed for early voting was not enough. "I think that, you know, what do we need to do to make sure early voting gets expanded. Seventeen days is not enough early voting," she said

If that's the case, Christie wondered, then why was Stacey Abrams praising New Jersey Gov. Phil Murphy (D) for allowing 9 days of early voting in his state at the same time she called Georgia's law "Jim Crow 2.0"?

Well, Stacey Abrams, by the way, Stacey Abrams was in New Jersey, in my state, praising Phil Murphy this week for a voting law where New Jersey early voting is nine days. Half, half of what Georgia is.

Yet she's on TV in New Jersey — I saw it myself — saying that this is one of the greatest voting expansion bills we've ever seen, but this is Jim Crow? I'm sorry, George.

Watch:

https://twitter.com/RNCResearch/status/1378725992970268676
[End]
I don't generally have much use for Chris Christie, but he did a bangup job on Sunday. He does have his moments.
Meanwhile, down here in Texas… – the numbers of COVID cases and deaths just continue to plummet since Governor Greg Abbott ended his useless mask mandate, much to the chagrin of the Biden/Harris Harris/Biden administration's evil minions:
The "experts" predicted doom after @GregAbbott_TX reopened Texas and lifted the mask mandate.

The state hit a record low for COVID-19 cases three weeks after the restrictions were removed.
https://t.co/a1mPKRUSAe

— Washington Examiner (@dcexaminer) April 4, 2021
From the story at the Washington Examiner:
The state of Texas hit a record low for COVID-19 cases three weeks after Gov. Greg Abbott lifted the state's virus restrictions and mask mandate.

"Today the 7-day Covid positivity rate dropped to a new recorded low: 4.95%," Abbott announced on Twitter, while also noting that hospitalization had also dropped to a "6 months low."

"This week we have 1 million 1st vaccines available," Abbott continued. "Everyone now qualifies for a shot. They are highly recommended to prevent getting Covid but always voluntary."

The news comes just three weeks after Abbott made the controversial move to lift most of the state's pandemic restrictions, allowing businesses to operate at 100% capacity. The Republican governor also lifted the state's mask mandate, though businesses could still require customers to wear masks voluntarily.

"I just announced Texas is OPEN 100%," Abbott tweeted earlier this month. "EVERYTHING. I also ended the statewide mask mandate."

Abbot's move to completely open the state was controversial, with politicians and some health experts warning that the state could be heading for disaster.

[End]
Yes, Democrat politicians like Joaquin Castro and health "experts" like the Little Menace to Society Anthony Fauci did line up to issue dire warnings predicting impending doom when the Governor lifted his order, because they all have a vested interest in seeing ordinary Americans losing their constitutional rights into perpetuity. What has happened instead has been exactly the opposite of what they all, to a person, predicted would happen.
There is an object lesson in there somewhere. Wonder what it could be?
Speaking of lying Democrat politicians… – You may remember that China Joe and weirdo wife, Si Se Pwadwe Jill warned us all not to travel over the Easter weekend to be with your families for fear of DYING AND KILLING EVERYONE ELSE YOU COME INTO CONTACT WITH! AAAAHHHHHHHHHH!!!!
Ok, maybe they didn't use all-caps, but the message was there, wasn't it? Sure it was.
So, what did China Joe and his weirdo wife, Si Se Pwadwe Jill do over the weekend? Why, they traveled. To Camp David. To spend the Holiday with their family:
Biden Getting Together With Family For Easter, Despite Urging Against Gatherings Until July https://t.co/Co6Xr8girL

— RedState (@RedState) April 4, 2021
From the story at Redstate.com:
Rules for thee but not for me.

As many people are celebrating Easter today, Joe Biden had been urging against gatherings, saying in March that his goal would be for people to get together for "small family gatherings" perhaps by the Fourth of July to hold barbecues and normal celebrations.

"By July the Fourth there's a good chance you, your families and friends will be able to get together in your backyard or in your neighborhood and have a cookout or a barbecue and celebrate Independence Day," Biden said.

"That doesn't mean large events with lots of people together, but it does mean small groups will be able to get together. After this long hard year, it will make this Independence Day something truly special, where we not only mark our independence as a nation, but we begin to mark our independence from this virus."

He reiterated that on April 2.

So reporters naturally asked Jen Psaki who would Biden be getting together with at Camp David?

Her response was curt and dismissive.

"He obviously has a wife he's been married to for some time. He has a couple of grandkids who he sees when he goes to Delaware. But it's a limited group, and certainly not the big Irish Biden clan that many of you have seen throughout the course of his time in public office."

[End]
But wait, there's more !
It gets even better. Check this out:
She was asked if all his immediate family had been vaccinated and she refused to answer the question saying she doesn't have any more updates about his family. She doesn't actually define whether it's just immediate family or not. He had been going back to Delaware most weekends so far and visiting family there.

Biden even used his "Easter message" to push getting vaccinated, inserting a government message in a purportedly religious wish.

[End]
The word "hypocrite" does not even begin to describe these people. They are the worst people in our society. What's the word for that?
That is all.
Today's news moves at a faster pace than ever before. Whatfinger.com is the only real conservative alternative to Drudge. It's the tool I use to help keep up with all the day's events, and it should be your tool, too.