Former long-time Dodgers Manager and one of the all-time great baseball personalities Tommy Lasorda passed away late last night. Although I grew up in Texas, I'm a lifelong Dodgers fan, and just wanted to share a couple of stories here.
Although I'm a lifelong Dodgers fan, the first time I ever became aware of Tommy Lasorda was in, I believe, 1975, when he was the 3rd base coach and the Dodgers were making a run at the World Series. The game was on NBC with Kubek and Garagiola calling it, and they had Lasorda miked up in the coach's box.
Lasorda chattered non-stop while the Dodgers were batting, and every time 3B Ron Cey came up, he talked about how hot Cey was at the plate. Cey hit 3 homers in that game, and Lasorda called every one of them. Twice, Cey hit the homer on the very next pitch after Lasorda predicted it. The third one took two pitches. It was the only game in which Cey hit 3 homers during his career.
It was one of the most remarkable moments I've ever witnessed in any sporting event.
Shortly after that day, Lasorda's name came up in an episode of "Welcome Back, Kotter":
Arnold Horshack : Well, we gotta go. See ya later.
Freddie 'Boom Boom' Washington : Take it easy.
Juan Epstein : Hasta la vista.
Vinnie Barbarino : Tommy Lasorda.
When my kids were very young, I would use that comeback anytime someone said "hasta la vista" to me, which in Texas happened quite often. They quickly caught onto it, and it's been a running gag in our family ever since. A few years ago, my then-2 year-old granddaughter tried to mimic it, but came back with "stormy novito!" instead, so now that's the running gag in our family.
The Dodgers played their NLCS and World Series games in Arlington, Texas this year due to all the COVID stuff, and Lasorda lived in a hotel nearby for a month so he could attend the games. That no doubt took a lot out of him, but I'm sure he'd have given anything to see the Dodgers win it all one more time. He went into the hospital shortly following the last game of the World Series, and was only able to return to his home around the first of the year. He died there last night, at the age of 93.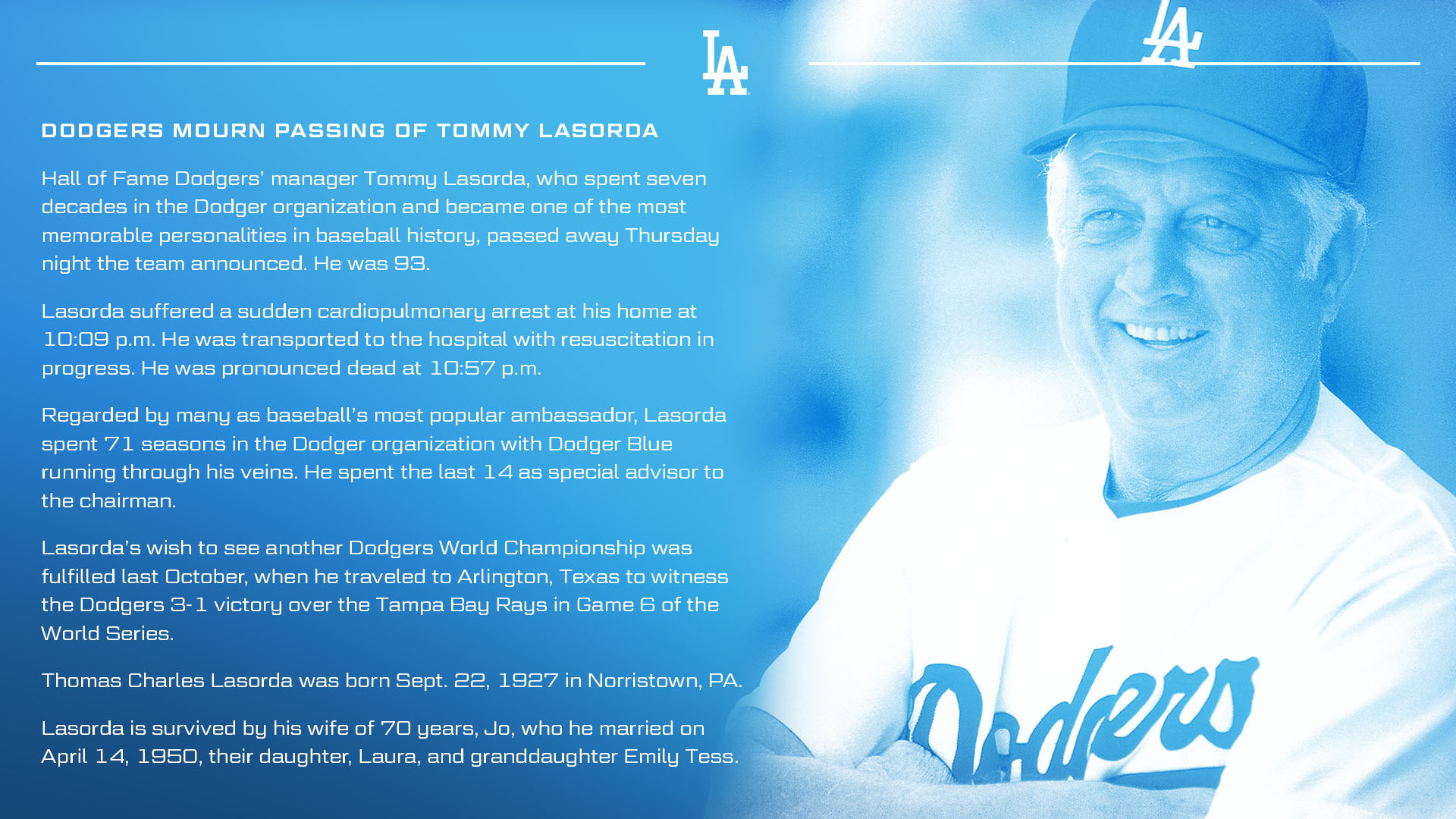 A fantastic manager and just one of the all-time great baseball personalities, and one of the game's great ambassadors.
RIP, Tommy Lasorda.
That is all.
Today's news moves at a faster pace than ever before. Whatfinger.com is the only real conservative alternative to Drudge. It's the tool I use to help keep up with all the day's events, and it should be your tool, too.