A very interesting piece at Axios today by writer Bethany Allen Ebrahimian, detailing how how Hollywood, in its zeal to appeal to the Chinese market since 2012, has systematically discriminated against Black and other dark-skinned actors in favor of those with fairer skin:
Chinese audiences prefer lighter-skinned actors. Hollywood complied.

An academic study has found that since 2012, when China began allowing more foreign films into the country, Hollywood movies have cast more light-skinned actors in starring roles.https://t.co/C7nY6yacNf

— B. Allen-Ebrahimian (@BethanyAllenEbr) September 8, 2020
Note that she says that an academic study "has found" that what its authors call "colorism" has been taking place since China's communist government began allowing more U.S. films to come into its gigantic market. Note what she doesn't say in this tweet: That this study was published way back in 2017.
Here's an excerpt from her piece at Axios:
Details: The study, published in October 2017, examined more than 3,000 films from between 2009 and 2015 and found that films made after 2012 demonstrated an 8% increase in the number of "very light-skinned" actors in starring roles.

The 8% shift meant that "for 1 of every 3 films in this category, the film went from having 2 out of 3 as very light-skinned actors, to having 3 out of 3 very light-skinned actors."
The study's co-authors called this phenomenon a "light-skin shift."

The light-skin shift only occurred in film genres that the Chinese government typically permits into the Chinese market, such as action movies and big summer blockbusters. U.S. studios increasingly create these films from start to finish with the Chinese market in mind.

Film categories that aren't typically created with the Chinese market in mind, such as horror and comedy, did not show this "light-skin shift."
It also didn't occur among voice actors for animated films, which are popular in China and thus are otherwise often shaped by the Chinese market.

[End]
Got all of that? Here are several really damning conclusions to be drawn from this:
Hollywood is fine with racism so long as it is racism that creates profits for its studios. This should come as no surprise to anyone, since anyone who has studied Hollywood history knows it has been an utterly and unabashedly racist institution and community since its beginning. After all, Hollywood's first blockbuster film was D.W. Griffith's "Birth of a Nation," a film that glorified none other than the Ku Klux Klan.
Hollywood studios are so committed to this racist practice that they have fine-tuned it to exist only in the genres of films that appeal to the Chinese market.
And here's the biggest damning conclusion to draw: Black Lives Matter and its supporters in the Democrat Party do not care about this blatantly racist, anti-Black practice coming out of the leftist Hollywood community.
Think about it: This study has been out in the public domain for three long years now. Have you seen anyone from BLM condemning Hollywood as a result? Have you seen a single Democrat speaking out against this rank racism being employed by their Hollywood benefactors?
Even more to the point given the events of this past summer: Why haven't the Marxist leaders of BLM gone to Hollywood to stage a riot over this? We all know the answer, don't we?
Here is a graphic illustration of how this Hollywood racism works: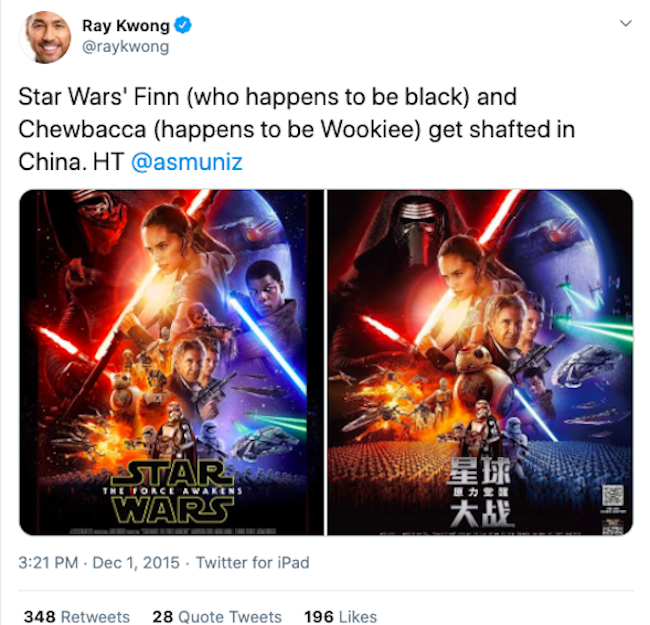 Note how the Black actor and even the dark-skinned Chewbacca are either minimized or disappeared altogether from the poster used in China.
In this excerpt, the author of the 2017 study, Manuel Hermosilla, performs some mental gymnastics to try to distinguish this practice that he calls "colorism" from the rank, smelly racism it truly is:
While it's tempting to place the light-skin shift within the context of racism in Hollywood, Hermosilla warned against that.

"Colorism does not equate to racism," he and his co-authors wrote. "There may be significant variation in skin tones within races, and colorism may manifest within individuals of the same race."
Look at that poster again and tell me what the practical effect of "colorism" actually is. Again, the Black actor is singled out for minimization, and the dark-skinned Wookie is eliminated altogether. No doubt Disney would have re-cast the role played by the Black actor altogether for a separate Chinese version of the film if the studio honchos thought they could get away with it.
That isn't racism? My goodness.
Hollywood always has been and remains a blatantly racist community, and nobody at Black Lives Matter or in the Democrat Party cares.
That's the truth.
That is all.
Today's news moves at a faster pace than ever. Whatfinger.com is my go-to source for keeping up with all the latest events in real time.