PSA for Today: How "concerned" is Susan Collins? – Maine RINO Senator Susan Collins is "concerned" this morning. She's "concerned" that communist Democrat Bernie Sanders is holding up the senate's effort to override President Trump's veto of the massive Defense bill, and she's "concerned" that the bill that would amp up the COVID relief payout from $600 to $2,000 doesn't phase the money out fast enough in order to deny any of the payments going to the taxpayers who actually fund 80% of the damn government.
That's what Susan Collins is "concerned" about this morning. But how "concerned" is Susan Collins? One Twitter user was kind enough to produce this graphic showing the Senator's facial expressions depending on the magnitude of her "concern" to make it easier for us to understand just exactly how "concerned" she really is: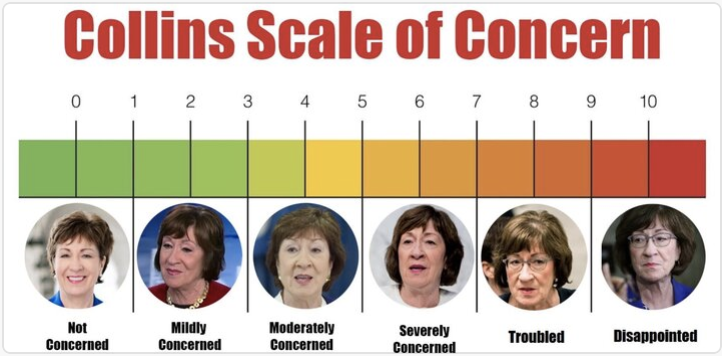 And that, friends, is your public service announcement for today.
Speaking of that Defense Authorization Bill… – Although Sen. Collins chose to focus her "concern" on him, Sen. Bernie Sanders is not the only member of the U.S. Senate holding it up. Republican Josh Hawley also let it be known that he would not agree to unanimous consent on the vetoed bill until the Senate has moved to approve the higher COVID payments:
I will not consent to a vote on the bad defense bill – which should stay vetoed – unless the Senate votes on $2k #covid relief for working people

— Josh Hawley (@HawleyMO) December 29, 2020
Hawley is right: The Defense bill should indeed remain vetoed until it is amended to include repeal of Section 230 of the Communications Decency Act, or both houses of Congress act to approve the COVID Relief legislation introduced late yesterday by Mitch McConnell, which does include a repeal provision. McConnell had killed a stand-alone relief bill earlier in the day, setting off predictable howls of outrage from all sectors of the DC Swamp.
The Swamp hates McConnell's bill because the Swamp, which has become a wholly-0wned subsidiary of Big Tech and the ChiComs, loves Section 230, and it also detests the provision in McConnell's bill that would establish a commission to "study" voter fraud during the 2020 elections. My goodness, does the Swamp hate that stuff.
McConnell, on the other hand, doesn't give a tinker's damn if any of this stuff is passed into law. He couldn't care less personally about COVID relief; is himself firmly in the pocket of Big Tech; and has not uttered a word of concern over the past two months about the blatantly stolen presidential election. McConnell also dearly wants the Defense Authorization Act (DAA) to pass into law, and thus will never agree to attach Section 230 repeal to it.
And there's the other thing to understand about McConnell: He knows most of the members of the U.S. Senate hate at least two of the three provisions contained in his bill and will never vote to approve them in stand-alone legislation. So, what better way to kill higher COVID payments and Section 230 repeal than to combine them in a package with this commission on voter fraud, and use his position as Senate Majority Leader to ensure that this is the only bill containing any of these provisions that the Senate will consider.
He is banking on the calculation that his combined bill will go down in flames and leave members like Hawley, a pro-Defense conservative, little choice but to approve the DAA over President Trump's veto or put the Pentagon in a bind.
So, if you spent most of yesterday wondering just what in the hell McConnell was doing, well, now you know the method to his madness. Whether you approve of him or not, Cocaine Mitch is a pure genius at using Senate process to his advantage.
But, but, but… what about the Georgia runoff elections? – The other thing you have to understand about McConnell is that he really doesn't give much of a damn if he is in the majority or the minority. He's going to make his money either way, and he only has to work half as hard to do that if he is in the minority.
Thus, Cocaine Mitch had a deaf ear to all those screams from conservatives that his machinations in the Senate would undermine the ability of Republicans Kelly Loeffler and David Perdue to win their runoff elections and preserve the GOP's Senate majority. Mitch just doesn't much care about that. He has been the Majority Leader multiple times now, and he has also been the Minority Leader multiple times now. He just doesn't really care which it is – just point him to which palatial office he gets to occupy in the Capitol Building for the next two years come January, and he will adjust his scheming accordingly.
Again, you don't have to approve of what McConnell does and how he operates – I certainly don't. But to do have to understand why he does what he does in order to understand what is really happening in the Senate on any given day. It may be evil genius, but it is pure genius.
Today's Required Reading – Today's Required Reading is a piece by Glenn Greenwald at Substack titled "The Threat of Authoritarianism in the U.S. is Very Real, and Has Nothing To Do With Trump".
Greenwald, who is a nominal liberal but only in the traditional sense of that word, brilliantly lays out the scope and magnitude of the threat that Big Tech represents to the survival of our Republic. Here's an excerpt from the long-ish piece just to whet your whistle.:
Asserting that Donald Trump is a fascist-like dictator threatening the previously sturdy foundations of U.S. democracy has been a virtual requirement over the last four years to obtain entrance to cable news Green Rooms, sinecures as mainstream newspaper columnists, and popularity in faculty lounges. Yet it has proven to be a preposterous farce.

In 2020 alone, Trump had two perfectly crafted opportunities to seize authoritarian power — a global health pandemic and sprawling protests and sustained riots throughout American cities — and yet did virtually nothing to exploit those opportunities. Actual would-be despots such as Hungary's Viktor Orbán quickly seized on the virus to declare martial law, while even prior U.S. presidents, to say nothing of foreign tyrants, have used the pretext of much less civil unrest than what we saw this summer to deploy the military in the streets to pacify their own citizenry.

But early in the pandemic, Trump was criticized, especially by Democrats, for failing to assert the draconian powers he had, such as commandeering the means of industrial production under the Defense Production Act of 1950, invoked by Truman to force industry to produce materials needed for the Korean War. In March, The Washington Post reported that "Governors, Democrats in Congress and some Senate Republicans have been urging Trump for at least a week to invoke the act, and his potential 2020 opponent, Joe Biden, came out in favor of it, too," yet "Trump [gave] a variety of reasons for not doing so." Rejecting demands to exploit a public health pandemic to assert extraordinary powers is not exactly what one expects from a striving dictator.

A similar dynamic prevailed during the sustained protests and riots that erupted after the killing of George Floyd. While conservatives such as Sen. Tom Cotton (R-AK), in his controversial New York Times op-ed, urged the mass deployment of the military to quell the protesters, and while Trump threatened to deploy them if governors failed to pacify the riots, Trump failed to order anything more than a few isolated, symbolic gestures such as having troops use tear gas to clear out protesters from Lafayette Park for his now-notorious walk to a church, provoking harsh criticism from the right, including Fox News, for failing to use more aggressive force to restore order.

[End]
Go take the 10 minutes or so required to read the rest of it. You'll be frightened, but better educated for taking the time.
That is all.
Today's news moves at a faster pace than ever before. Whatfinger.com is the only real conservative alternative to Drudge. It's the tool I use to help keep up with all the day's events, and it should be your tool, too.