On Sunday, the U.S suffered its fewest Wuhan Virus-related deaths since March 23. If you get your news from CNN, MSNBC, the New York Times or any of the other corrupt major U.S. media outlets, you did not know that.
But it's true: Across the entire United States, just 267 people had their deaths listed as being "COVID-19 Related", a categorization that everyone know is grossly inflated. Take a look at this chart compiled from CDC data if you don't believe me:
The country has been on the downside of that curve since April 18, more than two months ago, during which time the number of daily deaths has consistently and dramatically fallen. That has happened despite the fact that most states began re-opening their economies around that exact same time, despite the dire predictions from the professional purveyors of panic porn that we would see a dramatic spike in hospitalizations and deaths as the economy began to come back.
None of that happened. And because none of it happened, the media and their Democrat masters shifted focus to wailing about the rising number of "cases" as testing for the viral gift from China ramped up and hospitals and doctor's offices began once again treating patients for non-emergency problems. These days, even Fox news focuses almost solely on the number of "cases," for the simple reason that that is the only COVID-19 related number that is still rising.
[By the way, that word, "cases," was intentionally and carefully chosen by the corrupt news media over what it had previously referred to as "positive tests." Do you understand why? It's because the term "cases" implies that a person who tests positive has had to be hospitalized, which is the disinformation they want you to believe, even though the vast majority of those testing positive never have to set foot in a hospital. Joseph Goebbels would be beaming with pride over this little trick.]
BUT WHAT ABOUT FLORIDA!!!!! you scream, since the corrupt reporters you watch and read have been screaming that at you for the past two weeks.
Well, there is this from Alex Berenson this morning:
From a reader who has tracked daily Florida hospital/ICU bed data for months. I have checked it myself enough to vouch for it. Of note, since late May Florida has had NO overall decline in ICU/general hospital bed capacity. POSITIVE TESTS HAVE SPIKED. NOTHING ELSE. @johncassidy pic.twitter.com/clSBHOiVlO

— Alex Berenson (@AlexBerenson) June 21, 2020
See? The only thing that has spiked in Florida is positive tests, i.e., "cases." Because the number of people being tested every day in Florida has risen dramatically in recent weeks, just like it has everywhere else.
BUT WHAT ABOUT THE SHORTAGES OF HOSPITAL ROOMS AND ICU BEDS!!!! you scream for the same reasons. Again, that's not happening, not even remotely:
"hospitals are about to be swamped again" has been a frequent claim of late

because it appears that no one else will, i'd like to share some good news:

the number of covid patients in US hospitals dropped by 635 yesterday and ICU census made a new low. pic.twitter.com/ykRbpFZo90

— el gato malo (@boriquagato) June 21, 2020
BUT…BUT…BUT WHAT ABOUT TEXAS!!!!! you scream because one of your panicked friends misunderstood what Gov. Abbott said last week and sent you a panicked text
Well, there's this: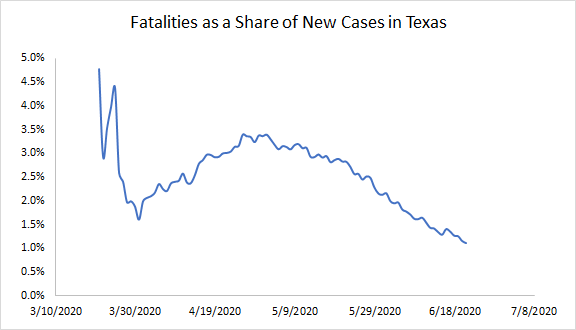 Oh.
BUT HOW CAN THAT BE WHEN CASES ARE GOING UP!!!!! you scream because Jake Tapper told you to.
The answer to that is simple: The vast majority of people who contract this virus either never display symptoms or the symptoms they do display are so mild they do not require a visit to the hospital.
Since Day 1 that this pandemic became widely known in the United States, millions of Americans have been walking around with it in their systems but not displaying symptoms. But we did not have the ability to perform widespread testing for it until mid-April, so no one had any real idea of just how widespread that phenomenon is. As testing has risen and the massive number of new "cases" has risen along with it, we are getting some idea.
The main idea we are getting that really matters is that this flu virus has a death rate that is going to end up being lower than that of the common flu once all the testing has been done and the true extent of the infected population becomes firmly known.
Here are other things we now know that we did not know just two months ago:
There are multiple treatment regimes that are highly effective in attacking this virus, and more are being developed every day;
We know who the truly vulnerable segments of our population are to this virus, and know far more about how to protect them;
We know that anyone under the age of 45 or so who is not grossly overweight and does not have pre-existing lung or heart conditions is virtually impregnable to this virus;
We know that the way in which we attacked this pandemic, by issuing blanket stay-at-home orders and shutting down the vast majority of the economy, was tragically and disastrously wrong; and finally
We know that literally nothing Drs. Fauci and Birx told us about this virus back in March was correct. Not one word.
So, there you go – a collection of the news about the Wuhan Virus that you will not see reported today in the mainstream, corrupt news media.
That is all.
Today's news moves at a faster pace than ever. Whatfinger.com is my go-to source for keeping up with all the latest events in real time.