If Brennan's not a target for Durham, who is? – Former Obama CIA Director John Brennan was interviewed by John Durham and his investigators for 8 full hours on Friday as a part of Durham's investigation into the SpyGate/ObamaGate election fixing/coup d'etat effort of 2016 – 2018.
No one really knows what was discussed during those 8 hours, but Brennan, through a spokesman, came out of it claiming to not be a target of the investigation, at least at this time. Here's the statement: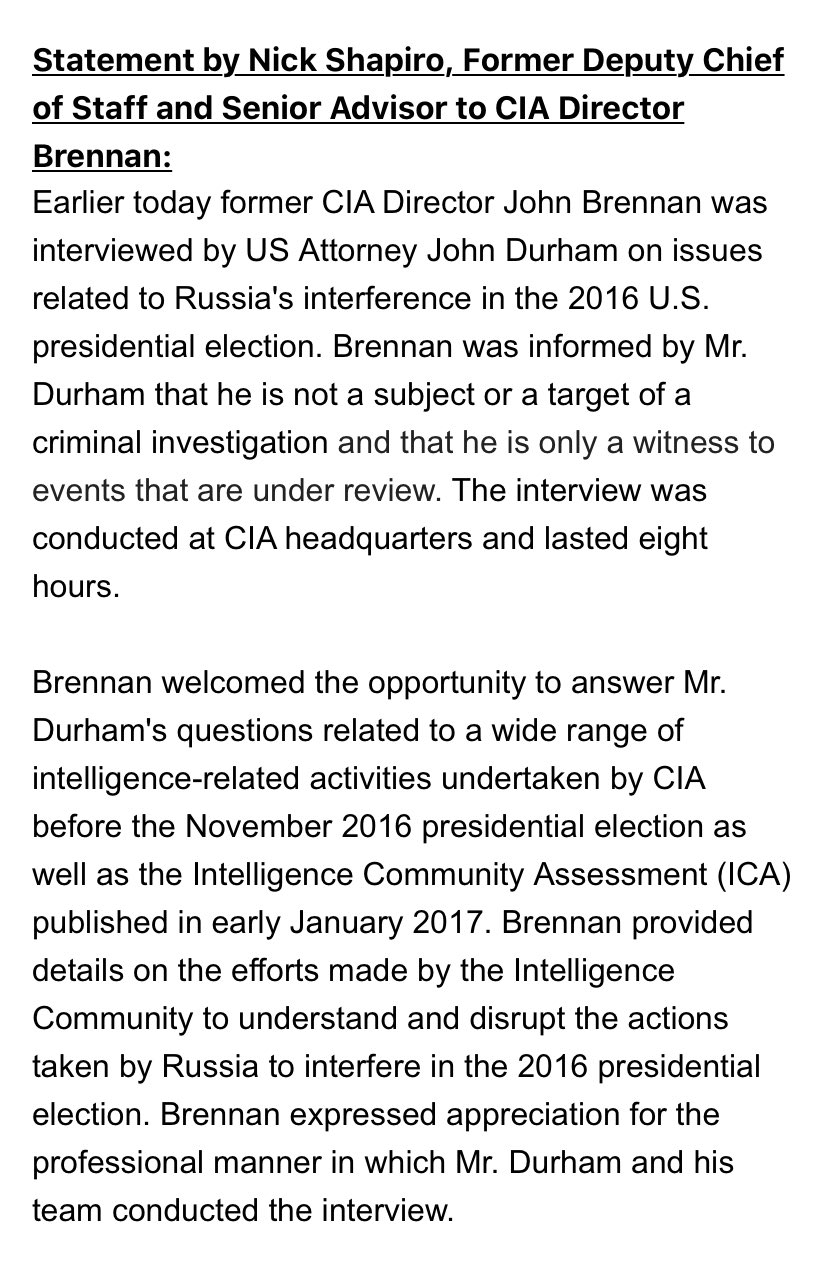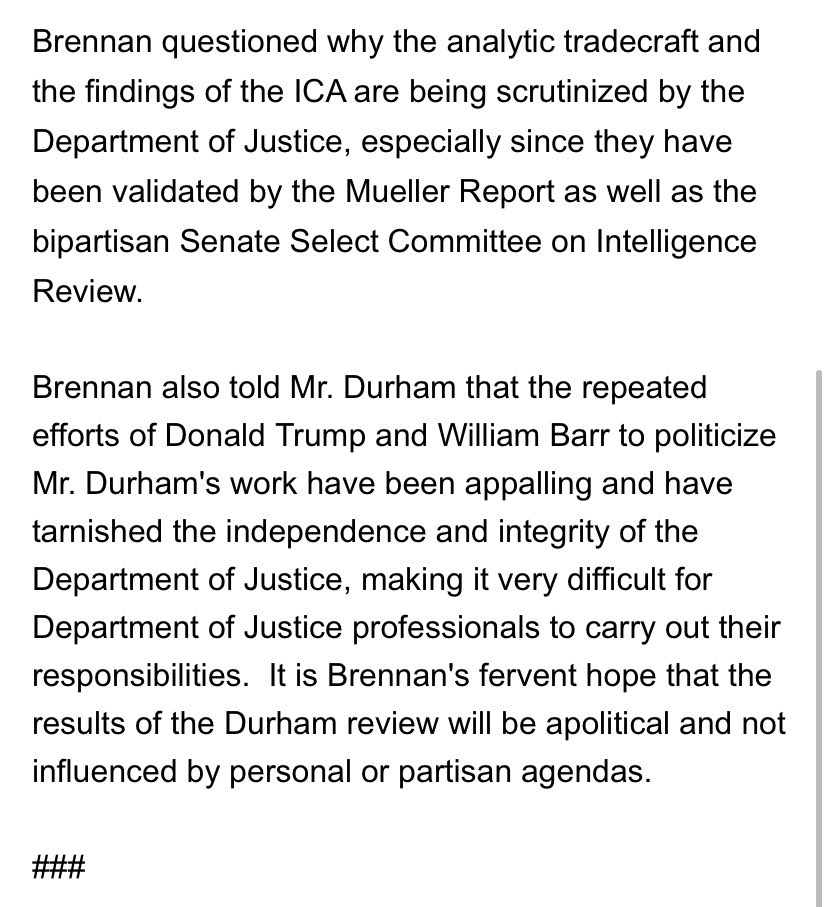 As has been the case throughout the course of his investigation, Durham and his team had no comment about the day's activities. Thus, the public is left to make of the Brennan statement what it will.
Some will think it's Brennan giving his pals in the corrupt news media a narrative to follow. Brennan has been a professional liar throughout his entire adult life – no word how he spent his childhood, but it was probably mainly spent lying to his parents, teachers, friends and family – and there is no reason to think he would have suddenly changed that mode of operation on Friday. This is certainly a valid line of thought.
Others will take Brennan at his word and conclude Durham is just another worthless smoke screen being placed before the public by a do-nothing Department of Justice at the behest of William Barr. Given the paltry results that Durham has produced thus far, it's hard to say that is not a fair assessment. We certainly have no evidence otherwise, other than this week's guilty plea by corrupt ex-FBI lawyer Kevin Clinesmith, who was let off with a very light sentence.
Personally, I think the truth lies somewhere in the middle. Durham is going to target individual conspirators against whom he and Barr determine they are likely to obtain a guilty sentence from a jury in Washington, DC. Given that the District of Columbia population is roughly 96% Democrat, doing that will require them accumulating evidence that is completely irrefutable. There simply cannot be any holes in the case for the defense to exploit in order to provide the jurors with a "reasonable doubt" that they will all be desperately searching for.
Men like Brennan and James Comey and James Clapper, who rise to the very highest levels of their respective organizations, are able to do that in large part because they are highly skilled at deflecting blame and setting up plausible deniability that insulates them from internal controversies that get people who work for them fired. They are extremely adept at setting up scapegoats and ensuring the lines of damning evidence never rise to their level.
Thus, it is fairly likely that Brennan is not a target of this investigation at this time, and that Durham is focused on obtaining indictments of or cooperation from smaller fish like Clinesmith, Peter Strzok, Lisa Page, Bruce Ohr and Nellie Ohr. If he is really good at pressuring these smaller fish – and his career at DOJ indicates that he is quite skilled in this area – he may be able to get one or more of them to turn in order to protect themselves. That may well have already happened with Clinesmith, although the sentencing memo entered by DOJ in his case did not indicate as much.
The cooperation of someone like Strzok or Page might enable Durham to pierce the veil enough to get at Strok's direct boss at the time, Bill Priestap. Cooperation from Priestap might enable Durham to go after his direct boss at the time, Andrew McCabe. Cooperation from McCabe might enable Durham to get a really big fish like Comey, and Comey could, finally, lead to Brennan.
But without any such cooperation, if these little fish are willing to let themselves be gobbled up while taking one for the treasonous team, then it is likely that those of us hoping for some real justice in this case will walk away highly disappointed at the final outcome.
Like it or not, this is how these investigations go. There is literally no reason at all to believe a single word Brennan's spokesman had to say yesterday. But until we see some real results from Durham in terms of indictments and prosecution, there is also no real reason to think Brennan is a target at this moment in time.
Barr promised action by the "end of summer." As of today, that is exactly one month away. Durham has 31 days to assure half of the U.S. population that justice still exists in our country. He can either become a true American hero, or prove he is just another Deep State snake.
Stay tuned.
That is all.
Today's news moves at a faster pace than ever. Whatfinger.com is my go-to source for keeping up with all the latest events in real time.