CNN just keeps on getting faker and faker. – I kid you not, CNN's little Humpty Dumpty mascot, Brian Stelter, did an entire 8-minute segment on his Sunday show in which he and his guest bemoaned the lack of shot-getting selfies posted on the web by personalities on Fox News: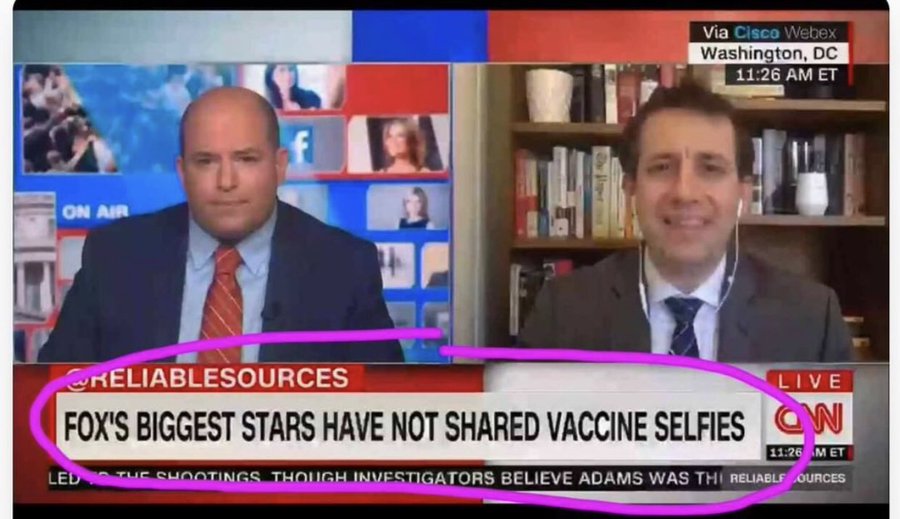 You just could never, never, ever make this stuff up, folks. You just can't.
Twitter just keeps getting Nazi-er and Nazi-er. – Yesterday, I wrote about the real-estate-buying spree by Democrat domestic terror group Black Lives Matter founder Patrisse Khan Cullors. Today, I find myself writing about the fact that the Nazis who police Twitter to eliminate any form of thought that does not comply with the leftist narrative suspended the account of a writer – who happens to be Black – who dared to criticize the self-proclaimed Marxist Ms. Cullors for her lurch into capitalism.
No really. That really happened:
Black reporter LOCKED OUT of Twitter for criticizing BLM says company has gone 'too far' https://t.co/D4F7Bb0XPU

— Jack Posobiec (@JackPosobiec) April 13, 2021
From the story at the DailyMail:
A prominent black sports journalist barred from Twitter for the 'crime' of discussing the $1.4 million house bought by a Black Lives Matter co-founder slammed the company for trying to silence legitimate debate.

Jason Whitlock, 53, told DailyMail.com on Monday that Twitter was 'going too far' by blocking him from posting to his account, which has nearly 450,000 followers.

The censorship by Twitter comes as social media companies, including Twitter and Facebook, have increasingly 'de-platformed' figures who stray too far from opinions they consider acceptable.

'BLM is one of Big Tech's sacred cows,' Whitlock told DailyMail.com 'I've been harping on the fraudulence and the financial grift of BLM for years.'

'I think Twitter has been looking for an excuse to de-platform me,' he said.

BLM raised $90 million last year, the AP has reported, but it's unclear how leaders are paid – if they are paid – because the organization's finances are opaque, a fact that has sparked criticism, even among local BLM chapters.

Now, Whitlock says, Twitter is trying to silence him for asking questions about BLM's finances.

He was silenced just as it emerged that BLM co-founder Patrisse Cullors, a self-professed 'trained Marxist', had purchased the $1.4 million house in LA. The New York Post reported Cullors had also bought two other LA homes in recent years, and paid $415,000 for a 3.2 acre property in Georgia.

When Whitlock tweeted his response to the news of Cullors's purchase, he included a link to the popular celebrity real estate website The Dirt, which first reported the details of the property.

Cullors, 37, raised eyebrows with her new three bedroom, three bathroom house in Topanga Canyon, Los Angeles – a largely white district.

In her new zip code, 88 per cent of residents are white and 1.8 per cent black, according to the census.

Whitlock explained: 'Twitter locked my account around 4pm Friday,' confirming his account was still blocked.

'They said my account was locked because I revealed personal information about someone.

'They said I needed to remove the tweet that linked the dirt.com story about Cullors buying a house in Topanga.'

There was no explanation of how linking to the Dirt.com story revealed personal information as neither the story, nor Whitlock's tweet, listed an address – and the purchase also was discussed widely elsewhere on Twitter and reported throughout the press.

Twitter didn't respond to DailyMail.com's request for comment.

[End]
Twitter refuses to respond for the simple fact that its explanation for Whitlock's suspension – that he somehow revealed personal information about Cullors, something those on the radical left do all the time without penalty on Twitter – is completely false. Whitlock was suspended because someone in Ms. Cullors' camp complained about him. That's how things work at Twitter. There are no "rules" being enforced: It's just a big tattle-tale micro-society in which those who toe the ideological narrative are safe.
And now you all know why I decided to get off of that evil, Nazi-style platform two years ago.
Future GOP presidential nominee Ron DeSantis put it all very well in a speech on Monday, after the Soviet-style news-fakers on CBS aired a second hit piece on their 60 Minutes fake news program:
DESANTIS: "I think what we're really witnessing is Orwellian. It's a Big Tech, corporate media collusion."

— Benny (@bennyjohnson) April 12, 2021
Transcript:
"…And some of our biggest media conglomerates, who claim to be avatars of the first amendment and free exchange of ideas, they've really become cheerleaders for censorship. If something doesn't fit the overriding narrative, then in their view it's better that it gets left on the cutting room floor. It's best that you edit it out of existence rather than tell people the truth. So, I think what we're really witnessing is Orwellian. It's a big tech/corporate media collusion, and the end result is that the narrative is always 'right.' Well, I don't think that's what the American people want, certainly not people here in Florida."
Yes, that's exactly what is happening here, and its only two possible ultimate outcomes are 1) we all end up kneeling down to the false gods who control the narrative, or 2) we all end up involved in a second U.S. civil war.
Because the false gods who control the narrative are never going to relent. Their goal is to turn our formerly free nation into just another Venezuela-style socialist/fascist state, with themselves in charge.
All of which just goes to show that the Great Ronald Reagan was right as usual when he said this:
"If fascism ever comes to America, it will come in the name of liberalism." – Ronald Reagan pic.twitter.com/KWnXs0VY2Z

— Kyle Becker (@kylenabecker) April 12, 2021
"If fascism ever comes to America, it will come in the name of liberalism." – Ronald Reagan
In case you hadn't noticed, it's here.
That is all.
Today's news moves at a faster pace than ever before. Whatfinger.com is the only real conservative alternative to Drudge. It's the tool I use to help keep up with all the day's events, and it should be your tool, too.