Today's Campaign Update
(Because The Campaign Never Ends)
[Note: Today's Campaign Update will be on a delayed morning schedule from November 30 through  December 4.]
Ok, so, what else would we expect from the New York Times, right? Right. Still, the headline that ran with an op/ed piece by the corrupt newspaper's inept economist, Paul Krugman, betrayed a desperate effort to plumb new depths of journalistic malfeasance by the newspaper of fake record: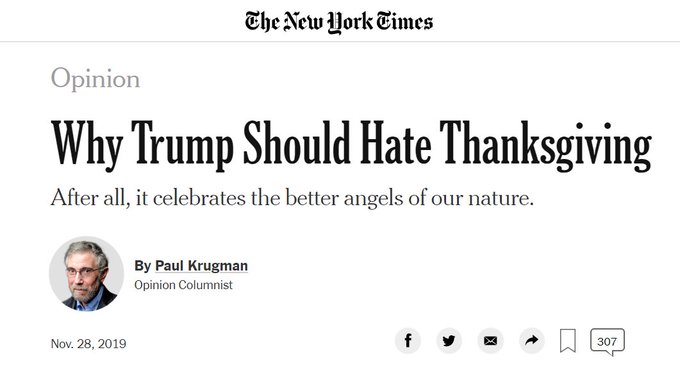 I couldn't tell you what Krugman says in his latest bit of lame-brainery because it's behind the Times's firewall, and we here at Today's Campaign Update are not in the habit of lending monetary support to the faking of America's news. But let's be honest: Nothing Krugman has to say is worth noting anyway. After all, he's the circus clown who predicted that the election of Donald Trump to the presidency would bring about the total collapse of the U.S. economy, a collapse from which America would "never recover."
D'oh!
It's fair to note that Krugman and the Times were not the only corrupt fake journalist/fake news outlet to disgrace themselves on Thanksgiving. Jessica Kwong, a fake reporter for the on-life-support Newsweek – which no longer can afford to exist as a real magazine but still fakes the news in the digital space – issued a tweet early on Thanksgiving that said: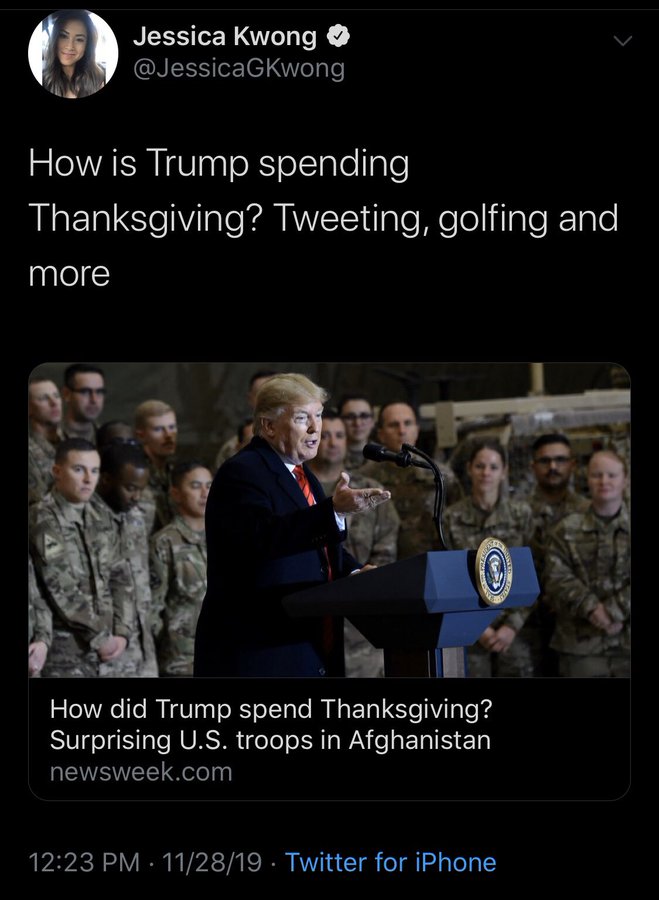 But later in the day, news broke that President Trump had in fact flown out to Afghanistan in the wee hours of the morning to make a surprise visit and spend Thanksgiving with U.S. military personnel at Bagram Air Field. There he not only dined with the troops, he actually served them their dinner, laughed and joked with them and just generally enjoyed a rare chance to be with real Americans and the troops he loves and supports:
? BREAKING ?

President Trump in Afghanistan for surprise Thanksgiving visit to US troops. The President left his Mar-a-Lago home in secret & flew overnight to visit US troops for an unannounced holiday visit. pic.twitter.com/QFZfyWNte2

— Benny (@bennyjohnson) November 28, 2019
This early afternoon revelation led to the fake, corrupt journalist Kwong issuing this "correction":
Trump headed to Afghanistan to surprise U.S. troops on Thanksgiving https://t.co/f7Xeqz1ZGQ Deleting this tweet because it was written before knowing about the president's surprise visit to Afghanistan-an honest mistake. Story has already been updated, as shown in the screenshot. pic.twitter.com/g9CfPaV2kQ

— Jessica Kwong (@JessicaGKwong) November 29, 2019
An "honest mistake." Yeah, sure, right, uh-huh. That's an interesting way to describe going to press with a completely false story with zero sourcing or journalistic process in just another corrupt effort to do harm to the President's reputation. In today's 100% dishonest, corrupt media, there is no such thing as an "honest mistake."
Kwong's humiliation led to the creation of this sterling Twitter meme:
To be honest, I don't remember a time during my 60+ years on earth when Newsweek was a reputable news source, but I suppose it might have been the case before I was born. In any event, it and the New York Times have certainly surrendered all pretense over the last four years.
That is all.
Today's news moves at a faster pace than ever. Whatfinger.com is my go-to source for keeping up with all the latest events in real time.