The Green New Deal, illustrated:
The problem in California right now, the reason the state is suffering from rolling blackouts impacting millions, is because California Democrats have over the last quarter century intentionally prevented utility companies from building enough of those "backup power stations" you see in the second panel. So, when you have record high temperatures in parts of the state and massive wildfires (mainly caused by other Democrat policies that prevent proper forest management) in other parts of the state, you end up with residents of the state with the world's 10th-largest economy living in what is effectively a third world country.
This is the single best photo I've seen that illustrates the current state California under Gavin Newsom: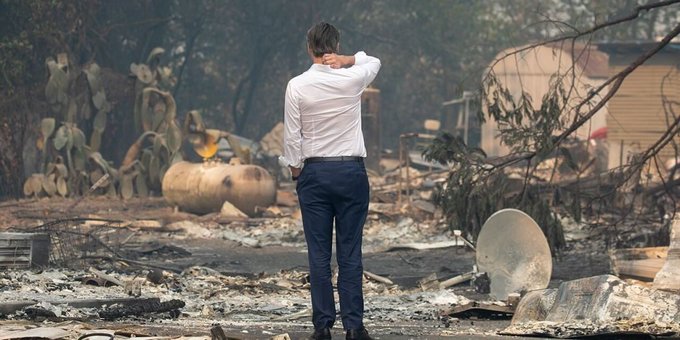 It's perfect. Everything about it.
UPDATE: Just came across this video clip on Twitter. It is also pitch-perfect:
California looks lovely. pic.twitter.com/FRIHupZLxl

— Michael Moore (@mbracemoore) September 12, 2020
A new low for Trump Derangement Syndrome. – The nation's Democrat/Media/liberal/socialist/communist community reacted to President Trump's second Nobel Peace Prize nomination in a week on Friday with predictable irrational outrage. Here is an American president, achieving what his predecessors have tried for decades to accomplish. If Barack Obama or Bill Clinton had been able to do exactly what Trump has done in the Middle East and in the Serbia/Kosovo situation, they'd have been erecting statues in his honor.
But, in the current TDS madness that infests the American Left, anything Trump does must – MUST – be bad. There is no alternative. If Trump found a cure for cancer, it would be bad, and Anderson Cooper would hold a townhall on CNN with half a dozen Democrats talking about how great having cancer is for our society.
You know that's true. Indeed, Kamala Harris is so anxious to appeal to the TDS crowd – and probably afflicted with it herself – that she came out last week in opposition to a vaccine for COVID-19, if it's produced during the Trump Administration. She really did that, regardless of how she is attempting to walk it all back now.
This is how crazy and frankly stupid and anti-American the American Left truly is. Nowhere is this TDS madness more clearly illustrated than a piece published yesterday by The Atlantic, which is fresh off of pushing the "Trump hates the military" hoax. Yesterday, The Atlantic published a piece written by some clown named Graeme Wood who hysterically suggests that, because Trump has been nominated for two well-deserved Nobel Peace Prizes, the Nobel Peace Prize should be eliminated.
No, really, he did. I swear I do not make this stuff up. Really, who could?
Here's an excerpt from Wood's hysterical screed:
Trolls are a Scandinavian invention, straight from the frigid sagas of Norse mythology, but Christian Tybring-Gjedde, a Norwegian parliamentarian, swears that he is not one. Observers of his antics this week could be forgiven for thinking otherwise. On Wednesday, he announced that he had nominated Donald J. Trump for the Nobel Peace Prize. "Can you name a person who has done more for peace than President Trump?" Tybring-Gjedde asked me, insisting that the question was a serious one. Kayleigh McEnany, the White House press secretary, agreed. "This is a hard-earned and well-deserved honor for the president," she said. Tybring-Gjedde defended his nomination on Fox News remotely, and to me in person at a café in Oslo. "Do we give the prize to Greta Thunberg, for screaming about the environment?" he asked. "The agreement he made between Israel and the United Arab Emirates could mean peace between Israel and the Arab world. That is like the [Berlin] Wall falling down." Today the White House reportedly will announce that Bahrain, another Gulf monarchy, will recognize Israel.

If Trump wins the prize, it will be the fourth Nobel awarded for peace between Israel and its neighbors. (The announcement will come on October 9.) That will make Arab-Israeli peace mediators more successful at charming the Nobel Committee than the International Committee of the Red Cross, which has won three times in the prize's 120-year history, but still less successful than my favorite, which is no one at all. The committee has declined to award a peace prize 19 times, most recently in 1972. (The next year, in a decision so trollish it might have come out of the Prose Edda, they awarded the prize to Henry Kissinger.) Giving the peace prize to no one at all is a tradition the Nobel Committee should revive, perhaps on a permanent basis. The record of achievement of the peace laureates is so spotty, and the rationales for their awards so eclectic, that the committee should take a long break to consider whether peace is a category coherent enough to be worth recognizing. Peace had its chance, and blew it. The Trump nomination—one of hundreds, including this second from a Swede—helps show why.

[End]
So, basically, we see that Wood is not just a TDS-mad Trump hater, he's also an anti-Semite who wants Isreal to be destroyed. Thus, he's a great candidate to eventually be put on the Editorial Board for the New York Times or in a high position within the Democrat National Committee.
You really could not ever make these people up if they did not already sadly exist.
Meanwhile, in Portland, Oregon… – The 100 days of fun in Riot City, USA were cancelled on Friday:
Antifa have called off their planned Friday night direct action (DA) riot in Portland. #PortlandRiots pic.twitter.com/OtYm4E9s7A

— Andy Ngô (@MrAndyNgo) September 11, 2020
But hey, there was still fun to be found in the nation's capital! After Chuck Schumer and his fellow despicable Senate Democrats killed the follow-up stimulus legislation this week, there was only one thing for the communist rioters who call themselves Black Lives Matter to do, wasn't there?
That's right: They showed up to protest the death of this bill, which EVERY REPUBLICAN IN THE SENATE SUPPORTED, at the home of … wait for it… oh, you have to wait for this one …. MITCH MCCONNELL.
Again, I swear to you that I do not. make. this. stuff. up.:
Shouldn't they be at Pelosi's house

Protesters outside of Mitch McConnell's house demanding their $600.00

There's another way of getting $600 ..get a job

— Ruthann (@TeaBoots) September 11, 2020
These people are despicable.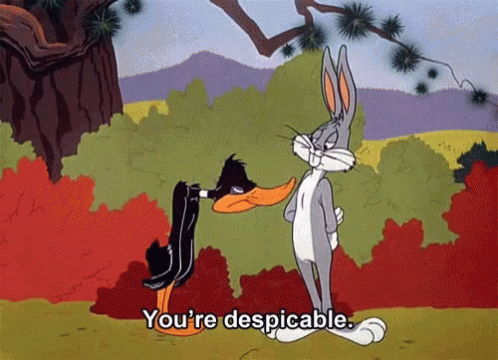 That is all.
Today's news moves at a faster pace than ever. Whatfinger.com is my go-to source for keeping up with all the latest events in real time.