Tired of all this WINNING yet? – Stocks continue to soar like President Trump's job approval ratings. The Dow Jones Industrial average shot up by 160 points on Thursday to close just below the 28,500 level. The Dow has now regained over 95% of its COVID-19 losses.
Just call him Joe "No Bump" Biden. – Heads exploded all over the DC Swamp on Thursday as the new Rasmussen poll now shows the national race in a statistical tie, with Joe Biden at 46% and President Trump at 45%. Leftists love to demean the Rasmussen group, but the truth is that it has been far and away the most accurate pollster in the last two presidential election cycles.
Rasmussen is just the latest in a series of national polls that conclusively show that the Democrats' Unfrozen Caveman Nominee got no bump whatsoever out of his god-awfully produced convention. None. Zero. Zip. Nada. If anything, Biden actually lost ground, as President Trump has seen his job approval ratings improve to record highs over the past week.
You can be sure that the other polling groups will continue to put out their Trump voter depression polls for at least the next month or so, but then you will see even those tighten dramatically in the final weeks of the race so that these corrupt pollsters can later claim to have been "right" about the race. With President Trump now holding a consistent sizable lead among independent voters and polling increasingly well with minorities, there is little chance for Biden/Harris to win the race.
Expect the heat to ramp up even more. – What this reality means for the rest of the country is sadly obvious: Expect the Democrat-sponsored riots to continue to increase in their intensity and violence. You should also expect the Democrats to create other false narratives and made-up crises as Election Day approaches, because this is all they have left. They literally can't talk about policy because the vast majority of Americans hate everything their party really stands for today.
So keep your head on a swivel and protect your loved ones: These people are power-mad and will resort to literally any act, no matter how depraved, that they believe helps them attain it.
Here's the Unfrozen Caveman Nominee, suddenly speaking out about the violent, deadly riots now that he's seen new, terrible polling data:
Joe Biden: "There is no justification whatsoever for violence, looting — matter of fact it just flies in the face of the legitimate protests that are going on." pic.twitter.com/ry21L76vhI

— The Hill (@thehill) August 27, 2020
Just a reminder that the depraved, despicable, disgusting Democrats had four solid days of national TV coverage last week to condemn these domestic terrorists, and could not be bothered to say a single word about them. But this is just what the Democrat Party has become today.
Things are already improving in Kenosha. – Now that President Trump has gotten federal law enforcement and the National Guard involved, things are getting a bit tougher for the BLM/Antifa domestic terrorists who have been torching Kenosha, Wisconsin this week:
Riot Kitchen HQ just learned that our bus crew was arrested in broad daylight in #Kenosha today – kidnapped by feds in unmarked vans.

We are currently trying to find our friends who were just there to feed people.

Please share and donate for bail via Venmo riotkitchen206 pic.twitter.com/o2TDbohvFl

— riotkitchen206 (@riotkitchen206) August 27, 2020
Riot Kitchen is a domestic terrorist support group that Democrats have been funding to ostensibly provide "food service" to the paid Democrat rioters wherever they spring up. As things turned out yesterday, this Riot Kitchen was providing more than food – a lot more.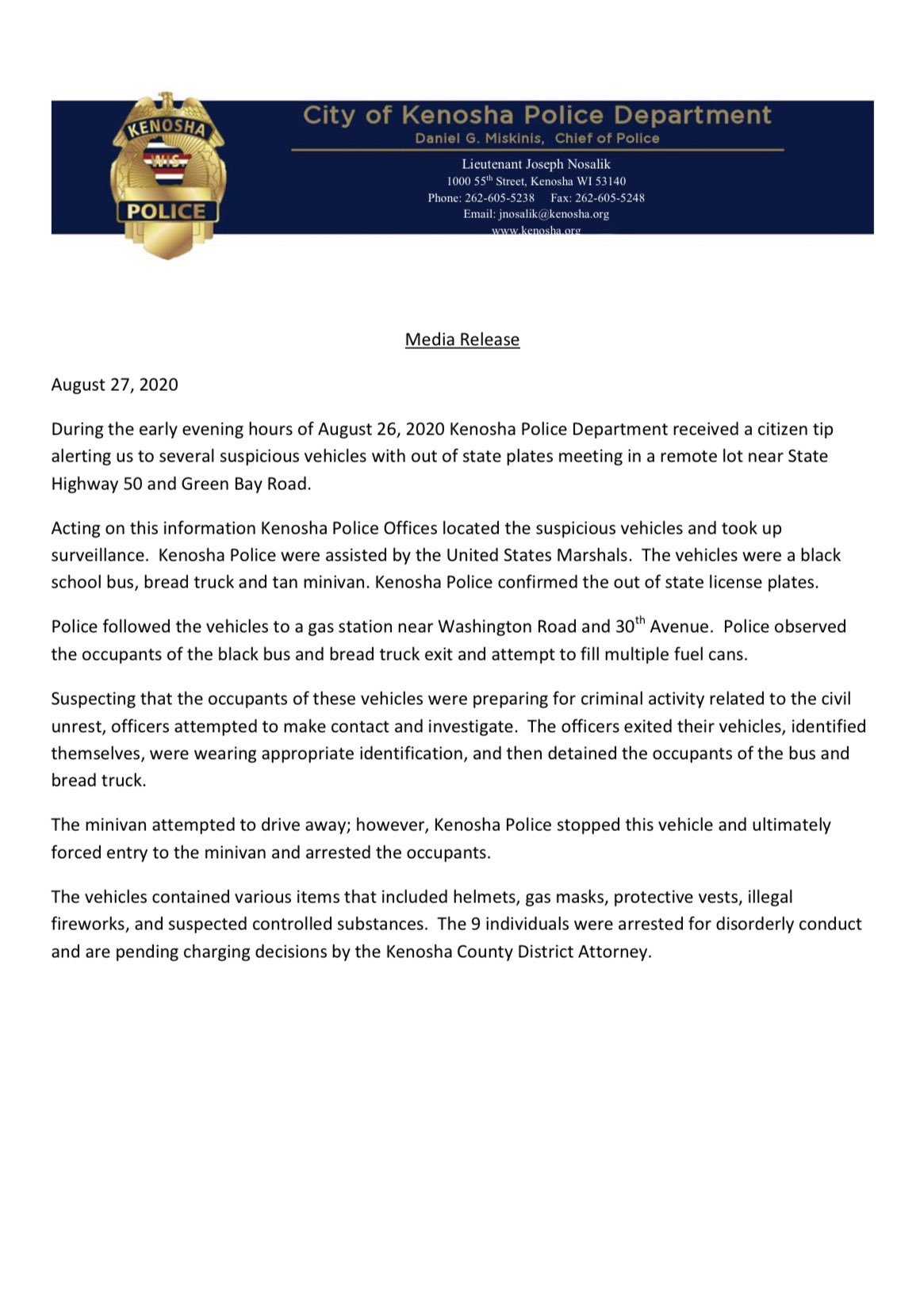 Seems this Riot Kitchen's menu included dishes like "helmets, gas masks, protective vests, illegal fireworks and suspected controlled substances" according to the Kenosha Police. The good news here is that the local District Attorney, Michael Gravely, has been with the DA's office since 1989, and there is no evidence that he is in any way funded by George Soros front groups.
Cool.
From our "I don't give a rat's ass, Bob" file… – The Swamp is pulling all the same stunts it pulled against Donald Trump in the 2016 campaign. Thus, we saw this happen on Thursday:
Over 100 Former Staffers Under Bush 43, McCain And Romney Endorse Biden For President https://t.co/A8lObEK3JO

— Daily Caller (@DailyCaller) August 27, 2020
Boy, there's a shocker, huh?
Here's all you need to know about the real political slant of these "former staffers": Nicolle Wallace, the most shrill leftist host on MSNBC's daytime lineup, is a former staffer for both Bush and McCain. She's a radical leftist, and many, if not all of the people who signed off on this letter are as well.
Just a bunch of skunks and snakes.
Meanwhile, in Portland, Oregon… – The communist Democrat merry-go-round of no justice continued for a 93rd straight night:
Sara Oran, 42, was arrested yet again this week at the violent #antifa Portland protest. She's charged with multiple criminal offenses but was quickly released without bail again. #PortlandMugshots #PortlandRiotshttps://t.co/L5jiyCtdwQ pic.twitter.com/XROliRwG7H

— Andy Ngô (@MrAndyNgo) August 28, 2020
Simona Andrea Arteaga, 39, was arrested again at a violent Portland #antifa riot & charged w/multiple criminal offenses. She was quickly released without bail. She's an "equity & inclusion advocate" & social media model. #PortlandMugshots https://t.co/Ki1YUc8f6P pic.twitter.com/kKmWrrrXv6

— Andy Ngô (@MrAndyNgo) August 28, 2020
And, of course, the local fake news propagandists were busy faking the news on behalf of the Democrat-sponsored domestic terrorists. Real journalist Andy Ngo was having none of it:
Are you that gullible? Antifa discussed cleaning up after getting feedback that locals didn't like how they were trashing residential areas. They need public support to maintain the riots. https://t.co/2oKbGD45mn

— Andy Ngô (@MrAndyNgo) August 28, 2020
And, in case you missed it, this happened on the streets of Washington, DC last night:
A violent BLM mob tries to assault @RandPaul & his wife @KelleyAshbyPaul as they leave the RNC White House event. pic.twitter.com/dgLcQaoc69

— Andy Ngô (@MrAndyNgo) August 28, 2020
So did this:
I haven't endured an anti-gay attack like this in probably 10 years. #BlackLivesMatter activists physically assault me & Mike Harlow on our way into our hotel, calling us faggots & threatening us. The one girl comes back & knocks my friend's phone out of her hand.#BLM= violence pic.twitter.com/Cmhc4g57tU

— Brandon Straka (@BrandonStraka) August 28, 2020
But hey, the rioters are all Democrats paid by Democrat Party front groups, so they're just doing their jobs.
That's the truth.
That is all.
Today's news moves at a faster pace than ever. Whatfinger.com is my go-to source for keeping up with all the latest events in real time.