Every four years, the nation's corrupt news media establishment embarks on a mass brainwashing campaign designed to discourage Republican voters from participating by convincing them their candidate cannot win. We have seen this phenomenon take place in every election cycle in the modern era, starting with the Ford/Carter contest of 1976. This election cycle is certainly no exception: In fact, it may already be the most intense yet.
The Trump Campaign reported yesterday that it has already received more than 300,000 ticket requests for the President's upcoming rally on June 20 in Tulsa. On Friday, by contrast, Joe Biden at one point had just 68 people tuned into his livestream event broadcast on the Internet from his basement:
That is 68, a two-digit number, watching the presumptive presidential nominee of the Democrat Party. But you are being brainwashed to believe that this corrupt, doddering fool is not just ahead of the President in the current polling data, but somehow way ahead, almost to the point that the election is really already over for all intents and purposes. It's exactly the same playbook the Democrats and media ran through during the 2016 election campaign, only even more absurd.
The media figures who scoff at these massively-attended Trump rallies as being merely "anecdotal" and "one-off" evidence of the President's strong support are the same figures who correctly told you that the massive turnouts for Obama rallies in 2008 were an indication of the strong and growing support for the eventual winning candidate. They've obviously forgotten the lesson they should have learned that year.
The President hasn't held any rallies since early March thanks to the viral gift from China, but despite that reality, we have plenty of visual evidence of his strong and growing support happening all over the country today, which happens to be his birthday. Take a look at the pictures and video clips below of huge Trump boat rallies that have been organized by supporters in various locations:
The biggest one appears to be in Jupiter, Florida, where a reported 3,000 boats participated:
Trump boat parade again. There were 3000 boats last time, looks like more today. They also did a truck and motorcycle rally. pic.twitter.com/q9ctQiKFNR

— Allen Davis (@AllenDavis1964) June 14, 2020
HAPPY BIRTHDAY, PRESIDENT TRUMP! HAPPENING NOW⤵️ https://t.co/xzXxEiIUEJ pic.twitter.com/LLcaeSKENs

— Dan Scavino (@DanScavino) June 14, 2020
Here's another one in Broward County, Florida – wait for it because it takes a few seconds to unfold:
Broward County! pic.twitter.com/35G8S7HkQ9

— Wehr Conservative (@ScottWehr) June 14, 2020
They tried to organize a competing Biden rally, but it didn't quite work out: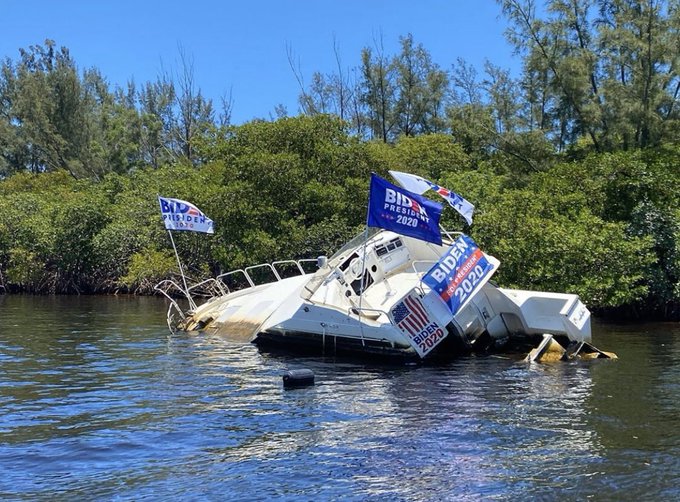 Check out this one 3,000 miles away in San Diego:
Hundreds of boats and thousands of people lined up on the shores for Trump Boat Parade #SanDiego,
from Point Loma to the Coronado Bridge.

In Support of OUR 45th PRESIDENT of the United States@realDonaldTrump

Happy Birthday Sir 🙏🏼🎂#HappyBirthdayTrump #GodBlessPresidentTrump pic.twitter.com/sB2zEwxguW

— 💄ɳαɳ૮ن🇺🇸#KAG #ChinaLiedPeopleDied (@LVNancy) June 14, 2020
Here's another view of San Diego:
Went to see the Trump Boat Parade in San Diego today. pic.twitter.com/TQFoKoDKCH

— Socrateej (@TheSocrateej) June 13, 2020
Here's a "Trumptilla" forming in Tampa Bay:
They held one yesterday in St. Clair, Michigan:
@PeteHegseth Love your show thought you'd like this!! Trump boat parade Lake St. Clair Michigan. #happybirthdaypresidentTrump pic.twitter.com/Bj9NbmC1cw

— Edie Lukas (@edie_lukas) June 13, 2020
They're doing it down in the Floriday Keys, too:
Trump boat parade in the Keys! pic.twitter.com/nt5vi1wdMc

— KrisG (@kristyfromblock) June 14, 2020
Not to be outdone, here is a clip from Norris Lake, Tennessee:
@realDonaldTrump Trump Boat Parade at Norris Lake in Tennessee. #BoatersForTrump pic.twitter.com/ApbPh2q59k

— Cam Wardley (@CamWardley) June 14, 2020
Here's Lake Hartwell, South Carolina:
Trump Boat Parade at Lake Hartwell,SC! We support @realDonaldTrump ! #trump2020 pic.twitter.com/ILiFKoCJMA

— Sherry Wandtke (@SherryWandtke) June 13, 2020
And here's a shot of the parade on the Detroit River in Michigan:
Hundreds of boats fill Detroit River for MAGA parade celebrating Trump's 74th birthday https://t.co/nnj0NqeuD9

— Detroit Free Press (@freep) June 13, 2020
And here's a group in San Diego singing happy birthday to President Trump:
Happy Birthday Mr. President, San Diego loves you! Thousands came out to support @realDonaldTrump at the Trump boat parade in San Diego 🚢❤️🇺🇸 pic.twitter.com/TgCZZpqz7C

— Carrie Prejean (@carrieprejean1) June 14, 2020
So, you won't see Trump supporters out rioting in the streets and burning down our major cities, but you do see them this weekend on the rivers and lakes all over the nation celebrating their support for President Donald Trump.
The Democrats and their media toadies are in for another very long and disappointing Election Night on November 3.
That is all.
Today's news moves at a faster pace than ever. Whatfinger.com is my go-to source for keeping up with all the latest events in real time.