Today's Campaign Update (Because the Campaign Never Ends)
There is no more important issue facing our nation today than election security. That security has been under deep and growing threat for decades now, and not from the dreaded Russians.
The actual pervasive, focused and existential threat to America's elections comes from the Democrat Party, which has been devising new ways to defraud the public trust and steal elections since its very creation.
Texans tell the tale of Lyndon Johnson's stealing the Democrat Party's 1948 U.S. Senate primary election using the infamous "Box 13" like it's an amusing fairy tale. But it isn't: It really happened, and it was really the first famous case of what Democrats today like to call "ballot harvesting."
Johnson and his opponent, Coke Stevenson spent days after election day getting the respective crony county judges to "find" new ballots lying around their courthouses. Every time Stevenson would pull ahead, LBJ would call one of his buddies to "harvest" enough ballots to allow him to take the lead.
After this had gone on for several days, Johnson made one last call to his most reliable crony, Duval County Judge George Parr. Parr told him that he'd already "found" more ballots in his county than its total number of adult residents; plus, by that point he had the FBI and Texas Rangers breathing down his neck. But, he said, he might be able to do something in neighboring Jim Wells County. That evening, a box containing about 200 ballots, all filled out in the same handwriting, somehow cast in alphabetical order, and almost all of which were conveniently cast for Johnson, were added to the count, handing Johnson his victory.
We laugh about this story now, but think of all the human misery that LBJ was able to cause as the result of stealing that election. It is an established fact of history that John Kennedy was in the process of pulling the U.S. out of Vietnam when he was assassinated. Within days after taking the oath of office aboard Air Force One, Johnson reversed that decision and began his massive escalation of that tragic intervention.
Also, consider this: How does the Box 13 election theft differ in any substantive way from the "ballot harvesting" we saw in California in 2018, or the outright thievery – usually carried out on national television – we see in every election cycle by Democrat officials in Broward and Palm Beach counties in Florida? Mind you, those people in Florida came within a few hundred hanging chads of stealing the presidency for Al Gore in 2000.
The only real difference is that, instead of "finding" 200 ballots, the Democrat thieves today manage to "find" millions.
Indeed, the Democrats have become so unabashed about their election thievery – which their corrupt toadies in the national news media have worked so hard to normalize in the public mind – that they openly brag about it. Yesterday, House Democrats passed a $3 trillion piece of legislation that contains hundreds of millions of dollars as seed money for institutionalizing it in every state of the union.
It is against this backdrop that increasingly threatens to turn the United States into a functional banana republic, and the utter and complete failure by the FBI and other federal law enforcement agencies to do anything about it, that Acting Director of National Intelligence Ric Grenell made another important move on Friday.  In the news release copied below, Grenell announced that all election security briefings that have in the past been led by the increasingly-unreliable and corrupt FBI will now be led by the ODNI.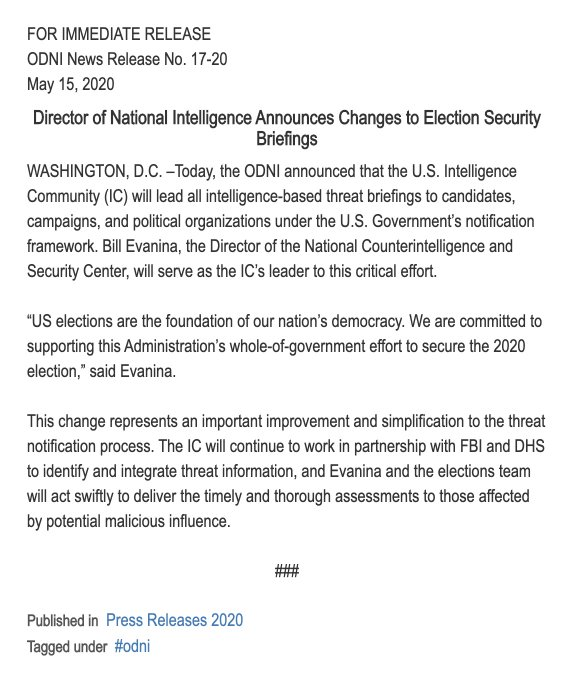 Grenell's action is just one more proof-point of what an abject failure Christopher Wray has been in the job of FBI Director, and likely another indication of how little President Trump trusts the man. No one should expect Wray to last long in a second Trump term in office.
From a report at Fox News on the matter:
A senior administration official told Fox News the newly-Senate confirmed director of the National Counterintelligence and Security Center inside ODNI, Bill Evanina, will serve as the intelligence community's leader of the "critical effort."

OBAMA ADMINISTRATION WAS 'FROZEN' IN COMBATTING 2016 RUSSIAN ELECTION MEDDLING: SENATE REPORT

"U.S. elections are the foundation of our nation's democracy," Evanina said Friday. "We are committed to supporting this administration's 'whole of government' effort to secure the 2020 election."

The senior administration official told Fox News that the change "represents an important improvement in simplification to the threat notification process."

…

A senior White House official told Fox News that "the biggest complaint from the 2016 election was the lack of, and insufficiency, of briefings to campaigns and candidates," referring to then-candidates Donald Trump and Hillary Clinton.

"The last election speaks to itself, in terms of how much was going on, and how poorly the campaigns and candidates were kept abreast in order to protect their campaigns," the White House official told Fox News.

[End]
So obviously, James Comey's FBI failed to get the job done in 2016, which should surprise no one. Equally obviously, there is no reason for anyone to have any more confidence in Wray's FBI to get the job done in 2020.
While the corrupt news media will continue to focus on the Russia, Russia, Russia fantasy aspect of all of this, the real threat to America's system of free elections always has been and clearly remains the Democrat Party.
Thank God for Ric Grenell, and pray his eventual successor, John Ratcliffe, is as effective and determined in this job as he has been.
That is all.
Today's news moves at a faster pace than ever. Whatfinger.com is my go-to source for keeping up with all the latest events in real time.