The Mid-Day Campaign Update
***UPDATE 3: Here is a video of her leaving the jail:
Shelley Luther is an American Hero pic.twitter.com/gw2Ly1pxj6

— Kyle Kashuv (@KyleKashuv) May 7, 2020
***UPDATE 2: Governor Abbott, in a meeting with President Trump at the White House, just announced that Mrs. Luther has been released from the Dallas County Jail.
***UPDATE: I had a bad feeling about this. The Dallas County Sheriff, Democrat Marion Brown, is now saying that because Mrs. Luther is being jailed for contempt of court, corrupt Judge Eric Moye' must order her to be released. Also, Gov. Abbott does not have the authority to pardon someone who is being jailed for a contempt order.
This has now turned into a full-fledged Democrat attack on the State of Texas.
Do not be surprised if you read about the Governor sending Texas Rangers to the Dallas County Jail to force the release of this abused woman if Moye' does not relent.
[End Update]
The Texas Supreme Court has now intervened in the ongoing travesty of justice in which salon owner Shelley Luther was sentence to 7 days in the Dallas County Jail by an overbearing Democrat judge. Late Thursday morning, Judge Eric Moye' was ordered by the Supremes to release Ms. Luther from jail, where she was sentenced for contempt of court.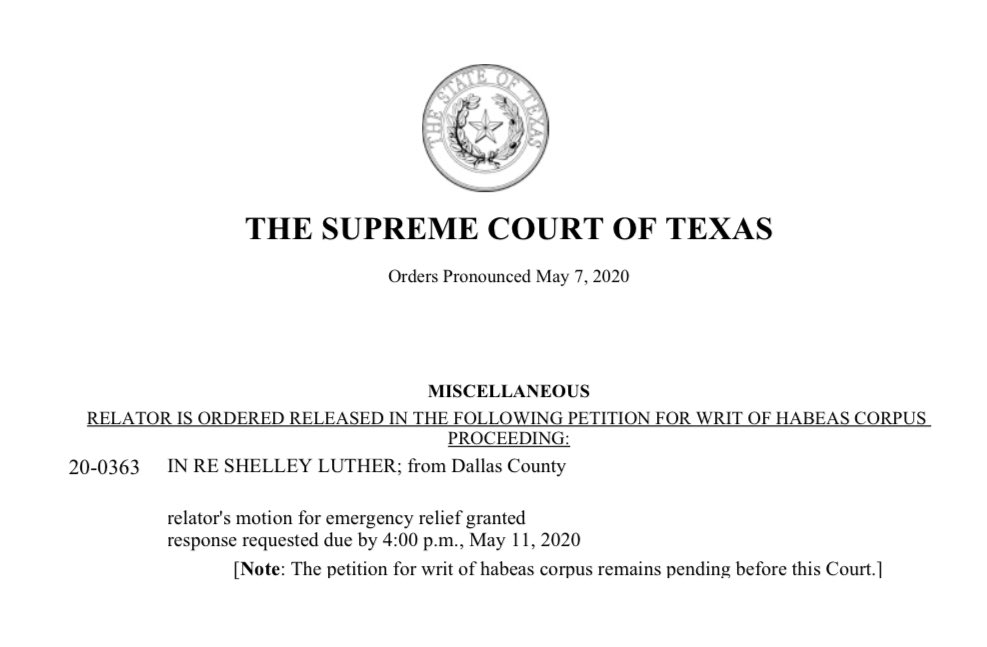 The Supreme Court intervened after Texas Governor Greg Abbott amended his shut-down order to prohibit authoritarian judges like Moye' from throwing people in jail, an unintended consequence that the Governor obviously failed to consider when he issued his hasty and clearly unconstitutional order in March.
"Throwing Texans in jail who have had their businesses shut down through no fault of their own is nonsensical, and I will not allow it to happen," Abbott said in a statement, adding that his order is retroactive to April 2 and supersedes local directives. "As some county judges advocate for releasing hardened criminals from jail to prevent the spread of COVID-19, it is absurd to have these business owners take their place."
It is indeed absurd, but it is also fair to again point out that it was Abbott's order that set up the conditions under which corrupt judges could engage in such abusive behavior. Abbott, along with governors all over the country, acted hastily and without real forethought in shutting down their respective economies on the pretense of "flattening the curve" of the Wuhan Virus in March. He took that action without the need for a 13-committee, 39-member "Strike Force" similar to the one he is using for political cover during his carefully-planned, phased reopening now.
One of the unintended consequences of that rash action is that Mrs. Luther, along with several other business owners in Texas, have been forced by abusive judges to spend time in jail under what is in all likelihood an illegal order to begin with. In Ms. Luther's case, she has spent 2 nights in a jail in which more than 240 cases of COVID-19 have been diagnosed.
This is a travesty and a scandal, and it must never be allowed to happen again.
That is all.
Today's news moves at a faster pace than ever. Whatfinger.com is my go-to source for keeping up with all the latest events in real time.