Today's Campaign Update, Part II
(Because The Campaign Never Ends)
A picture is worth 1,000 words. – Two photos taken in Iowa on Thursday illustrate why the Democrat party and its corrupt media toadies are so desperate to execute a coup d'etat on President Donald Trump. The first photo is of a Quid Pro Joe Biden rally attended by about 25 people. The second is of President Trump's massive crowd of thousands:
Most fake polls continue to try to create the notion in the public's collective mind that Biden and other Democrat candidates lead President Trump nationally, but none of the pollsters really believe that. If they did, they wouldn't continue to intentionally over-sample Democrats. They know what's coming in November.
Indeed, a new Gallup poll, complete with its own over-sampling of Democrats, tells us exactly what an almost hopeless, uphill climb the Democrats have in this race. Look at how voter satisfaction regarding a host of pressing issues has improved under President Trump: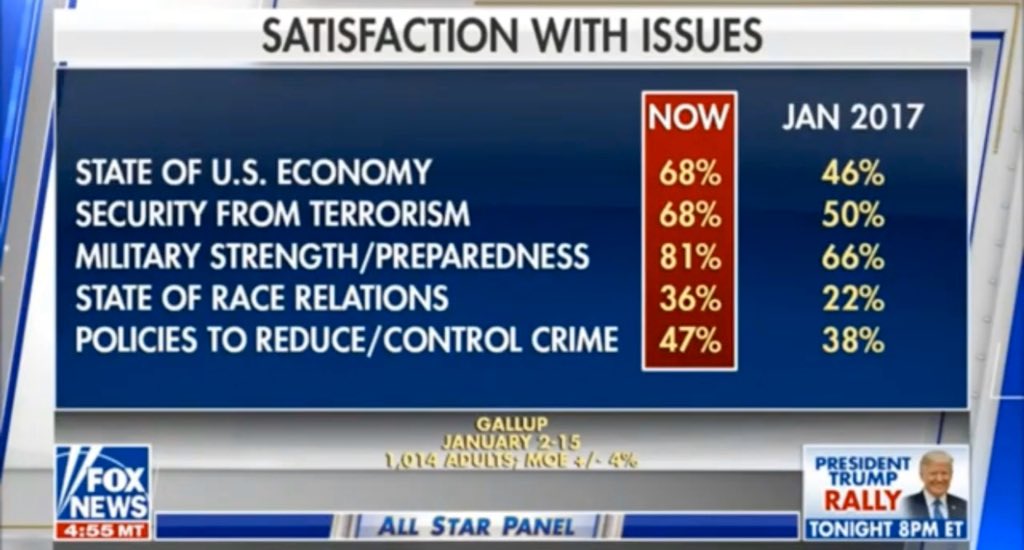 That is +22% on the economy; +18 on fighting terrorism; + 15 on military strengh; +14 on race relations; +9 on reducing crime.
Those results are stunning, and they scare the hell out of Democrats.
The panic among Democrats is palpable now, especially when one observes how the race for their presidential nomination is trending. Just as we have predicted all along, Joe Biden is no longer the front-runner in this race, having been surpassed just before the primary season begins by Bernie Sanders in several new national polls. Sanders also now leads in most Iowa and New Hampshire polls, and will come out of those contests with a ton of momentum should he win them both.
The literal sole rationale for a Biden candidacy is his supposed "electability." If he can't even prevail over The Commie in the race's first two contests, that rationale will be well and truly shattered.
The biggest problem for Democrat does not lie in Biden's looming collapse, but in who is rising to surpass him when he falls. It's not just The Commie, who is a year older than even Biden. The Commie's ceiling is less than 50% in this primary, and he has pretty much no chance at all of getting to the summer DNC convention with a majority of the delegates.
No, the biggest problem is who is rising after The Commie. That comes in the form of ex-New York Mayor Michael Bloomberg, yet another pasty-faced white guy who older than both Biden and Sanders. Thanks to having already run through well over a quarter-billion dollars in his TV ad campaign, Bloomberg has now risen to fourth place in the national polls, running over Preacher Pete and no threatening to surpass a rapidly-fading Lieawatha for third place.
Due to his late entry into the race, Bloomberg is making the strategic calculation of not participating in Iowa or New Hampshire, or in the second tranche of primaries in South Carolina and Nevada, where Biden and Sanders currently lead, respectively. Mini-Mike is instead keeping his powder dry for Super Tuesday, March 6, and its collection of big-delegate hauls in states like California, Texas and Massachusetts. If Mr. Excitement can break through in one of those states, he could become the third main force in the race.
After that, it will be a war of attrition, as all the under-funded protected minority and female candidates fall by the wayside. At the end of the day, the most likely scenario when convention time comes around is that the "Party of Diversity" will have three elderly, pasty-faced white men leading in the delegate count.
Barring a Hillary Clinton or – much less likely – Michelle Obama offering themselves up as the Party's savior on a second ballot during the convention, the Democrat Party nomination is most likely going to go to the last elderly, pasty-faced white guy standing.
Hilarious. And totally appropriate.
That is all.
Today's news moves at a faster pace than ever. Whatfinger.com is my go-to source for keeping up with all the latest events in real time.