Today's Campaign Update, Part II
(Because The Campaign Never Ends)
The despicable House Democrats, led by the demented (literally) and depraved Nancy Pelosi will, like lemmings following their leader off the proverbial cliff, vote to impeach the 45th President of the United States later today. And then…what? – Our country will go on, and so will the Trump presidency, for at least another year and most likely for four more years after that.
The Senate will dispose of these sham articles of impeachment quickly once they arrive at its doorstep in the new year. Senate Majority Leader Mitch McConnell made that clear on Tuesday when he suggested that, following opening arguments in a Senate trial, the Republicans will offer a motion to simply dismiss the case. McConnell also said that, just as the House impeachment exercise has been a purely partisan affair, he expects the Senate trial to be the same, meaning he does not anticipate losing a single GOP vote to the other side.
We'll see. So long as Mitt Romney, Susan Collins and Lisa Murkowski remain senators, the prospect of GOP unanimity on any matter remains elusive.
Regardless, there is currently zero indication that McConnell and Lindsey Graham, who chairs the Senate Judiciary Committee, will allow this to take up more than a handful of Senate days in 2020. After all, the Senate has more important matters to attend to, like confirming dozens more Trump-appointed judges to the federal judiciary.  In fact, McConnell has 13 more Trump judges up for confirmation today, even as the Democrats perform their impeachment charade: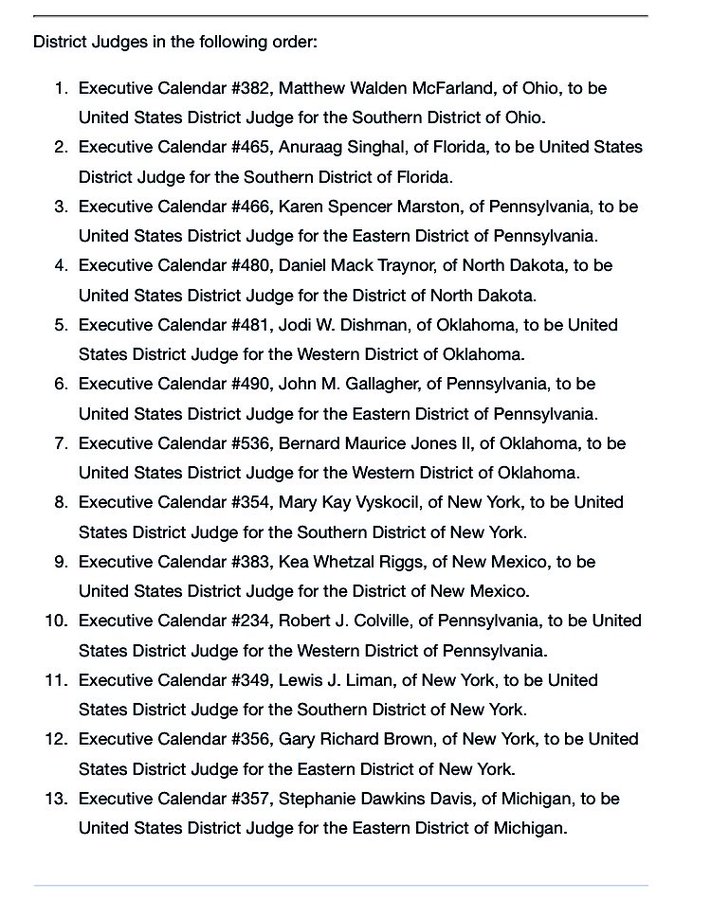 Once impeachment is done, President Trump will be tagged with the scarlet letter for the rest of his days, but that has hardly had any ill effect on Bill Clinton, who, along with the Coughing Crook, somehow managed to become near-billionaires in the years following his presidency. It seems that impeachment ain't what it used to be, or perhaps it never really was.
The reality is that the cheapening of the impeachment process that Pelosi, Schiff and Nadler have wrought also cheapens its impact. Everyone in the country knows this is purely a hateful partisan exercise based on nothing real, the Democrat/media narrative to the contrary notwithstanding. The polling data available indicates that this entire charade has failed to turn a single American person against President Trump; indeed, if anything it has actually improved his standing among the voting public.
As I told radio host Greg Budell during my weekly appearance on Newstalk 93.1 FM in Montgomery, AL on Tuesday, the Democrats are going through with this because they literally have no choice. Their party has no real political agenda other than doubling down on Venezuelan-style socialism and they know their lineup of hacks, frauds and political midgets has no chance of actually defeating Donald Trump in a free election.
So their strategy at this point is do everything they can to de-legitimize the electoral process, and that starts by impeaching the President. That will lead to the narrative that he is now an illegitimate candidate, and the Senate's quick acquittal of Trump will lead to the narrative that Trump and Putin will just team up to steal the presidency again in 2020.
Make no mistake about this, folks: The Democrat Party as it stands today is an anti-free and fair election party. What do you think the move to issue driver's licenses to illegal aliens this week in New York and New Jersey is all about? It's nothing more than an organized effort by the Democrat Party to facilitate massive voter fraud in those two states, which now join California in going down this road. You should expect states like Virginia and others along the East and West coasts to follow shortly.
The Democrats know they cannot win free and fair elections, so their plan is to do away with them, state-by-state. The three states mentioned above are already lost to the GOP for the foreseeable future, but when you see that particular effort going into place in marginal states like Ohio, Pennsylvania, Michigan and Florida, or "red" states like Texas or Alabama or Georgia – where Stacey Abrams is working hard on exactly that – then the entire country stands in real jeopardy.
As I've written regularly since about 1992, the only true, clear and present existential threat to the United States of America as it is constituted today is not Russia, not China, not Iran or North Korea or any other country. The only true, clear and present existential threat to the American democratic republic is the Democrat Party.
This sham impeachment is just the latest in a long line of clear manifestations of that reality.
We truly are living in interesting – and dangerous – times.
That is all.
Today's news moves at a faster pace than ever. Whatfinger.com is my go-to source for keeping up with all the latest events in real time.