President Donald Trump tells the truth about Fauci and Birx, and it is glorious. – After the Little Menace to Society Anthony Fauci and America's Keeper of all the Scarves Deborah Birx appeared on a CNN propaganda piece Sunday evening, telling all manner of lies about their role in the Trump Administration's efforts to address COVID-19, President Trump decided he had had enough of their failure and dishonesty. The result is the statement below, and it is glorious.
oof. Brutal. And richly deserved. More than anyone else in America, these two professional liars are responsible for the abject failures by governors all over the country to effectively deal with the viral gift from China and its impacts on our society. Their dishonesty and self-interested pronouncements on the virus gave license to Democrat governors all over America to deny Americans their constitutional rights, destroy businesses, deprive people of work and deny our children the right to an education for more than a year now.
Let's be clear: As we sit here today, there is no shred of real science or data that indicates any of the draconian restrictions they personally endorsed has had any impact on the spread of the virus at all. These are two of the very worst people in our society, and God bless Donald Trump for telling the truth about them.
Sadly, their replacements are no better. – As poorly as Donald Trump did in choosing those who would advise him on the national response to COVID-19, China Joe Potato Head Biden is doing even worse. In testimony before congress yesterday, new CDC Director Rochelle Walensky did not do much to inspire public confidence:
CDC director Rochelle Walensky nearly cries and says she has feeling of "impending doom"

"Right now, I'm scared."

"Please hold on." pic.twitter.com/TzEMYPLcVW

— Breaking911 (@Breaking911) March 29, 2021
From a story at RedState.com:
But, what's really so gross about Walensky's comments is the claim that said spike is happening because states are reopening too quickly. That's a favorite left-wing talking point, but it holds no basis in reality. The only reason that claim is made is to attack states like Florida, Texas, Mississippi, and others that have removed restrictions.

Yet, if you look at the data, the spikes that she's feeling "impending doom" about are occurring in blue, locked down states. NPR has a portal that shows the current case rates per state. Notice what the worst states are, who leads them, and where they are located. I took a screenshot and put it in a tweet so I could easily embed it here.

While CDC Dir. Walenksy is breaking down and blaming the reopening of states for a slight COVID spike, this is the reality. Notice what states are seeing elevated infection rates and which aren't. pic.twitter.com/K8bK97iAyi

— Bonchie (@bonchieredstate) March 29, 2021

At that NPR link, you can also click on the individual states to view their specific graphs. What you'll see is that Florida, Texas, Mississippi, Tennessee, etc. are all seeing declining caseloads and positivity rates. Meanwhile, more locked down states like New York, New Jersey, Massachusetts, and Pennsylvania are seeing an elevation in infections.

[End]
So, China Joe's new CDC director is not only an emotional train wreck with apparently zero self-awareness about the impact her public comments might have, she's just another leftist liar, too. Which of course is no surprise for this administration.
To be clear: The United States of America is NOT having a new outbreak of COVID-19 – A handful of Democrat-run states in the Northeast and Midwest are.
Meanwhile, let's see what our mush-mouthed Sock Puppet-in-Chief has to say about Wolensky's shrill comments:
Biden asked about the CDC director's "impending doom" comment. pic.twitter.com/SG5xHH80Gs

— Benny (@bennyjohnson) March 29, 2021
Didja get that? Yeah, neither did I.
Here is another clip of the pretend President's remarks on COVID, in which he actually demands that governors who have rescinded unconstitutional mask orders to put them back in place:
This is nothing short of pathetic. pic.twitter.com/ZRxFAzg6TE

— Ian Miles Cheong (@stillgray) March 29, 2021
Yes, truly, we can't risk more "desks." Again, there is zero evidence/science/data indicating that wearing masks has made even a smidgen of difference in the spread of this virus. None.
If you want some real data and scientific information not soiled by rank Democrat politics, you have to go outside of the government sphere. – Dr. Marty Makary of Johns Hopkins hospital says our country is approaching herd immunity on the viral gift from China, and will fully be there by the end of April:
Sorry, Fauci. Johns Hopkins Doctor Declares We're Close to COVID Herd Immunity https://t.co/HRu6sF2j2u

— Jewhadi™ (@JewhadiTM) March 29, 2021
Anthony Fauci has been saying that the country needs to vaccinate 70% to 85% of the population to reach herd immunity from Covid-19. But he inexplicably ignores natural immunity. If you account for previous infections, herd immunity is likely close at hand.

Data from the California Department of Public Health, released earlier this month, show that while only 8.7% of the state's population has ever tested positive for Covid-19, at least 38.5% of the population has antibodies against the novel coronavirus. Those numbers are from Jan. 30 to Feb. 20. Adjusting for cases between now and then, and accounting for the amount of time it takes for the body to make antibodies, we can estimate that as many as half of Californians have natural immunity today.

The same report found that 45% of people in Los Angeles had Covid-19 antibodies. Again, the number can only be higher today. Between "half and two-thirds of our population has antibodies in it now," due to Covid exposure or vaccination, Mayor Eric Garcetti said Sunday on "Face the Nation." That would explain why cases in Los Angeles are down 95% in the past 11 weeks and the positivity rate among those tested is now 1.7%.

Undercounting or removing the many Americans with natural immunity from any tally of herd immunity is a scientific error of omission.

[…]

Many physicians believe that vaccinated immunity will prove more durable than natural immunity. I agree, and I think everyone should get vaccinated. But after a year of millions of Covid-19 cases in the U.S., it's clear that reinfections are rare. Natural immunity is real and shouldn't be ignored.

Dr. Fauci's vaccination-only path to herd immunity has significantly influenced the national conversation. KNBC-TV in Los Angeles has a county-by-county vaccine tracker showing a bar graph of the percentage of Californians vaccinated, with the zone 70% to 85% labeled "herd immunity." Currently, it's at 26%. The false construct does create a greater urgency for everyone to get vaccinated. But it also creates false justification for continued excessive restrictions on freedom. And it raises the possibility that authorities are misallocating the limited vaccine supply by failing to direct it toward people without natural antibodies.

[…]

Some experts claim they don't talk about natural immunity because we shouldn't trust it. But a recent Public Health England study found that less than 1% of 6,614 healthcare workers who had Covid-19 developed a reinfection within five months—even though many of them work with Covid patients. Other experts believe natural immunity is powerful. "Natural immunity after Covid-19 infection is likely lifelong, extrapolating from data on other coronaviruses that cause severe illness, SARS and MERS," says Monica Gandhi, an infectious-disease physician and professor at the University of California.

Dr. Fauci has said that we don't have good data on natural immunity. That is largely because his own National Institutes of Health has done little to answer this and other important clinical questions.

[End]
To sum up: Dr. Makary is telling you that Anthony Fauci is not a doctor, but a politically motivated propagandist. But then, we already knew that, didn't we?
We can't require an ID to vote, but we can require an ID to get a shot. – That's the rules at CVS Pharmacy, anyway. Check it out: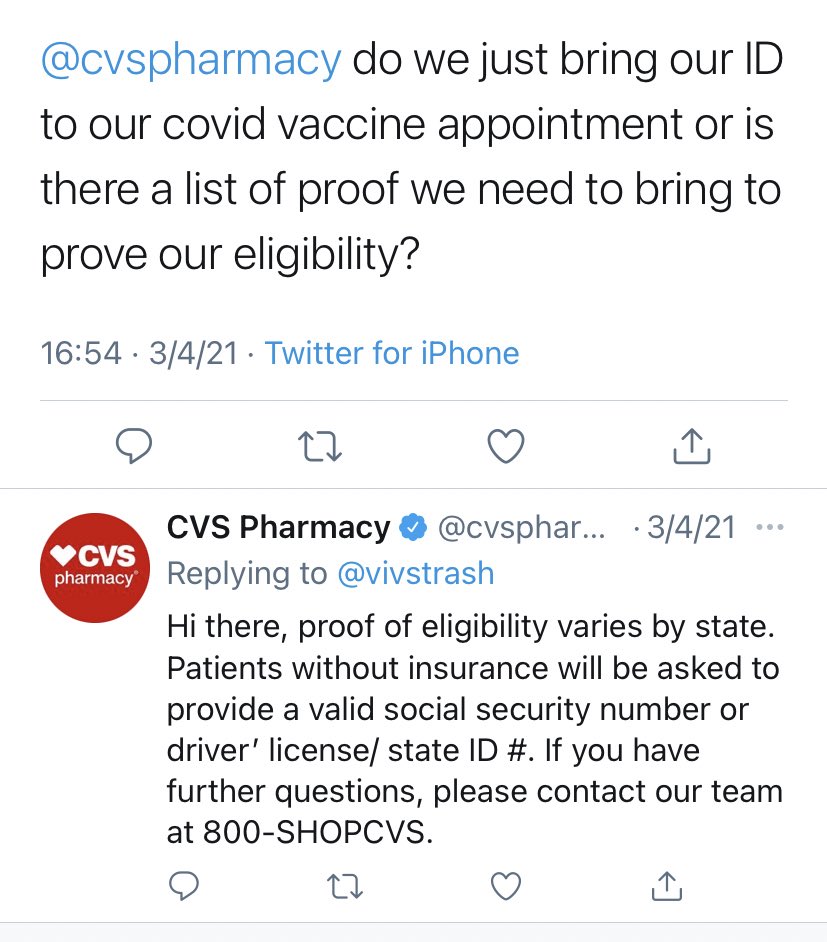 Does anyone else see an inconsistency here? Actually there's a second one: If the shots are free, why is CVS Pharmacy making distinctions between those who have health insurance and those who do not? At this point, what difference does it make?
What in the hell is going on here?
Meanwhile, in New York… – A cop-killer has been appointed by mass-killer of the elderly Andrew Cuomo to serve on a panel advising him how to…wait for it… reform the police!?!
I swear I do not make this stuff up:
NYPD cop-killer is now helping reform the police in New York
He fatally shot an NYPD cop execution-style decades ago in a Queens bar — now Richard Rivera is helping reform police in upstate NY as part of a state-mandated plan launched by Gov. Andrew Cuomo.https://t.co/7ImhTjnMl8

— Lawyerforlaws (@lawyer4laws) March 30, 2021
From the story at the New York Post:
He fatally shot an NYPD cop execution-style decades ago in a Queens bar — and now Richard Rivera is helping reform police in upstate New York as part of a state-mandated plan launched by Gov. Andrew Cuomo.

The cop-killer — who murdered off-duty officer and dad-of-four Robert Walsh in 1981 — sits on a panel for Ithaca and Tompkins County as part of its "Reimagining Public Safety Collaborative.''

The advisory group was formed after Cuomo ordered municipalities to submit police-reform plans to the state by April 1 following George Floyd's death.

"I know people are going to be critical,'' killer-turned-homeless advocate Rivera, 56, told The Post on Monday when asked about the possible reaction to him sitting on the committee.

…

But one of the slain officer's sons said Rivera doesn't have to wonder any longer what the family thinks — it is disgusted by the ex-con's position on the advisory panel.

"We're completely shocked that the man who murdered my father is being trusted to create police reforms," Robert Walsh Jr., 47, told The Post through a rep.

"My father dedicated his life to serving and protecting New Yorkers. He should be the one serving on a panel to help reimagine policing, but he'll never get that chance."

Rivera was 16 years old when he and four other gun-toting teens donned masks and strolled into the BVD Bar and Grill in Maspeth just after midnight Jan. 12, 1981, looking to rob the joint.

Officer Walsh, a 36-year-old highly decorated cop with 12 years on the force, was inside wearing a cowboy hat hanging out after his shift.

[End]
My goodness. The depravity of Democrats knows no bounds. Truly.
And now for some comic relief… – I have no idea what this cat is doing, but it looks like something I should be doing:
Working on that summer body after quarantine.. pic.twitter.com/l4aPp9lJ50

— Buitengebieden (@buitengebieden_) March 29, 2021
Now, let's combine some depraved Democrats and some comic relief to close things out:
https://t.co/FwFpoBY2Ae pic.twitter.com/nVaHUGuiJE

— president-elect bubba (@StealthBubba) March 29, 2021
That is all.
Today's news moves at a faster pace than ever before. Whatfinger.com is the only real conservative alternative to Drudge. It's the tool I use to help keep up with all the day's events, and it should be your tool, too.