Glenn Greenwald was right about the Democrats, of course. – Then again, he's a liberal and has no doubt voted Democrat most of his life, at least until recent years, so it takes one to know one, right? Right.
Demonstrating just how well he knows the despicable, depraved, disgusting and disgraceful Democrats, on January 1, Greenwald tweeted the following:
The Dems are a neoliberal party which serves Wall St & corporate power. They are overwhelmingly led by extremely rich people who serve these power centers.

Touting diversity is how they try to hide that, and bad faith bigotry accusations are how they punish those who report it.

— Glenn Greenwald (@ggreenwald) January 1, 2021
This week, the lead spokesperson for the Democrats occupying the White House proved exactly how right he is:
Below @ggreenwald's tweet from a month ago and Psaki today. Glenn knows these people really well. https://t.co/YkMtyWImoy pic.twitter.com/CtEaeEla7r

— Hans Mahncke (@HansMahncke) January 29, 2021
Jen Psaki is fast proving to be the most inept White House press secretary since the execrable Scott McClellan occupied that job for George W. Bush.
"ummmmm…uhhh…ummm…I'm going to circle back to you on that. But did you know our Treasury Secretary is a female?"
Couldn't happen to a nicer warmonger. – Wyoming Republican Liz Cheney – the daughter of the guy who helped to convince George W. Bush to bring us Middle East Wars With No End – bought herself a passel of trouble when she voted to impeach the most peaceful President in American history a couple of weeks ago.
In a new McLaughlin poll released today, the turncoat warmonger Cheney trails by more than 30 points—54 percent to 21 percent—against state Sen. Anthony Bouchard, who has filed to challenge her in the GOP primary in 2022. Indeed, the neocon congresswoman has drawn two challengers, and trails the second by an even larger margin than she lags behind Bouchard.
From a story at Breitbart:
The poll, conducted by Trump's team and first reported by Politico, shows 73 percent of Republicans in ruby red Wyoming view her unfavorably—while 62 percent of all voters in the state similarly view her unfavorably.

Only 10 percent of GOP voters, and 13 percent of all voters, say they would vote to reelect her, and she trails by more than 30 points—54 percent to 21 percent—against state Sen. Anthony Bouchard, who has announced a campaign against her since her impeachment vote.

The survey of 500 likely voters was conducted by Trump's pollster John McLaughlin from Jan. 25 to Jan. 26, as revealed in a memo that McLaughlin wrote to Trump adviser Jason Miller.

"Liz Cheney's decision to vote to impeach President Trump makes her extremely vulnerable," McLaughlin wrote. "It is evident her ratings are in bad shape among general election voters and have collapsed among Republicans and Trump voters."

[End]
Too bad, so sad, right?
Unfortunately, Cheney has 18 months to try to right the ship, and House Minority Leader Kevin McCarthy lacks the intestinal fortitude to remove her from her leadership position as the Chair of the House GOP Conference.
Here was the crowd that gathered at the Wyoming Capitol Building in Cheyenne on Thursday for an anti-Cheney rally that featured Florida Congressman Matt Gaetz:
This was the crowd for the anti-Liz Cheney rally in Wyoming today.

Wow. pic.twitter.com/nS3pHPNYwo

— Benny (@bennyjohnson) January 29, 2021
That's a big, big crowd in Wyoming, where the antelope and buffalo far outnumber the human population.
Meanwhile, out in Utah, fellow Republican turncoat Mitt Romney's approval rating has skyrocketed… – Among Utah Democrats, that is.
Mitt Romney Has An 84% Approval Rating With Utah Democrats https://t.co/KAvFZxJEqz

— Daily Caller (@DailyCaller) January 29, 2021
From the story at the Daily Caller:
Romney faces a 64 percent disapproval rating among Republicans in his home state. Right leaning voters there favored Trump more heavily than either Romney or Republican Utah Sen. Mike Lee, according to a poll in October.

Pollsters say Romney may have an easier time with Republican voters now that President Joe Biden is in office.

"His comments about President Trump escalated over the past several months, particularly the last couple of weeks," said Jason Perry, director the University of Utah's Hinckley Institute of Politics, which assisted in the Deseret poll. "But what will be more interesting is what happens over the coming months and years when he is no longer put in the position of being expected to be in opposition to the leader of his own party."

[End]
In other words, Mr. Perry thinks Republican voters in Utah will just forget and forgive Romney's uniformly mendacious behavior over the past couple of years and vote him back in next time he's up in 2024. Four years is indeed a long time in the political world, but Romney has created an awfully long record of betrayal to be forgiven. I'm not sure GOP voters are all that generous, even in Utah.
Short-Term Memory Reminder for Today – Nancy Pelosi is a woman who is allowing Eric Swalwell, the long-term boyfriend of a communist Chinese spy, to continue to keep his seat on the House Homeland Security Committee.
She is also the repugnant creep who said this yesterday:
Nancy Pelosi said Marjorie Taylor Greene shouldn't be on the House Education Committee after peddling a false conspiracy theory that the 2012 massacre at Sandy Hook Elementary a hoax.

"It's absolutely appalling," Pelosi said of the GOP's decision to seat her on the committee. pic.twitter.com/Kc6QeeYFyq

— POLITICO (@politico) January 28, 2021
"Appalling" is Nancy Pelosi's middle name.
And now, some sage words from the Swamp's Elderly Designated Sock Puppet currently occupying the White House:
come again? pic.twitter.com/rXujBn6Ku3

— Jessica O'Donnell (@heckyessica) January 28, 2021
Here is a verbatim transcript of those incisive remarks:
"uhhh, uhhh, f…the second, uhhh, order I'm onna be, be signing also changes what the president has done…(deep breath) pres…thuh presiden…mruh former president, uh, has done, and it, uh, a memorandum reverse the…mry predecessor's attack on women's heal (cough! cough!) scu me, health access [code words for abortion on demand] and, uh…as we continue to battle COVID-19."
This concludes today's sage words from the Swamp's elderly Designated Sock Puppet.
Holy crap.
Meanwhile, on the COVID-19 front… – The Attorney General of New York State – a communist Democrat – admitted yesterday what we have known for many months, that the Andrew Cuomo administration has been systematically and massively understating the number of COVID-related deaths that Cuomo himself caused to take place in the state's nursing homes.
Nursing Home Deaths In New York Were Massively Undercounted, New York AG Finds https://t.co/lHnZedB4PF pic.twitter.com/l0CQHGexuw

— The Daily Wire (@realDailyWire) January 28, 2021
From a story at DailyWire:
New York's death toll from coronavirus-related nursing home deaths may be much higher than what was reported by the state, especially in the months after Gov. Andrew Cuomo (D-NY) issued a mandate requiring facilities to accept COVID-positive patients regardless of whether those facilities were equipped to handle them.

A report from New York Attorney General Letitia James has determined that "COVID-19 resident deaths associated with nursing homes in New York state appear to be undercounted by DOH by approximately 50 percent."

The report places most of the blame for the deaths on low-rated nursing homes, which received the same mandate as higher-rated ones even though they were ill-equipped to properly separate and care for COVID-positive patients. The blame for the undercounting, however, seems to be placed on the Cuomo administration.

The Office of Attorney General (OAG) hand-picked 62 nursing home facilities and requested in-facility death totals and total deaths, which would include patients who were sent to hospitals and died there. The 62 facilities reported 1,266 in-facility deaths to OAG between March 1 and sometime between April 12 to July 19, depending on when the facility responded. For the same time period, the DOH only publicized 1,229 in-facility deaths, a difference of 3%. As the OAG noted, while this discrepancy may seem low, "closer analysis revealed that some facilities reported the location of the person at the time of death inconsistently." When removing those facilities, the discrepancy jumped to 18.66%.

[End]
My goodness this man is an utter and complete ghoul. No wonder the corrupt news media loves him so dearly.
No doubt his brother Fredo will soon invite the Governor for another rehab appearance on his nightly CNN talk show.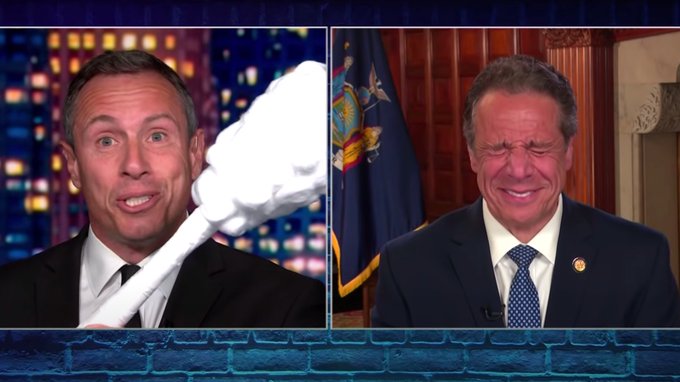 They hate you and want you dead, folks. It's all just a big joke to them.
That is all.
Today's news moves at a faster pace than ever before. Whatfinger.com is the only real conservative alternative to Drudge. It's the tool I use to help keep up with all the day's events, and it should be your tool, too.