Interesting little fact this morning… – Go to your browser's address bar and type in "www.antifa.com". As of 5:30 a.m. today Central Time, you would be redirected to "www.whitehouse.gov".
Weird. But hey, Antifa certainly played a big role in helping to get China Joe Potato Head Biden installed into the White House, so why not?
What Antifa endorses, Antifa destroys. – While that bit of fun symbolism was going on, the Portland, Oregon chapter of Antifa was tossing rocks through the windows of the local Democrat Party headquarters, letting the new party in power know that the terrorist's group's support is … ummm …. conditional:
Protesters are tagging the Democratic Party of Oregon Headquarters and smashing windows.

(photo from slightly earlier) pic.twitter.com/DQCyveRZU4

— The Oregonian (@Oregonian) January 20, 2021
Such a fun bunch of young people.
Speaking of the White House website – it now asks for users to identify their preferred pronouns.
No, really, I swear I do not make this stuff up:
Just fyi, my preferred pronouns have been and always will be "Tex" and "Bubba", but I answer to a variety of cusswords as well.
China Joe just set a new glass ceiling for your school-age girls. – In a flurry of mindless stupidity and mendacity on his first day in office, China Joe Potato Head Biden dutifully performed his job as the designated sock puppet for the DC Swamp, signing a variety of egregious executive orders. As almost an afterthough amid orders to rejoin the worthless Paris Climate Accords and kill the Keystone XL pipeline, our new dementia-ridden POTUS also signed an order that will require schools receiving federal funds to allow biological males to compete in girls' sports.
No kidding:
On day 1, Biden unilaterally eviscerates women's sports. Any educational institution that receives federal funding must admit biologically-male athletes to women's teams, women's scholarships, etc.

A new glass ceiling was just placed over girls.https://t.co/cGWZqDpxl8

— Abigail Shrier (@AbigailShrier) January 21, 2021
Oh, guess what else? All those biological males need only "identify" as female, and will no doubt be allowed to shower with your girls as well.
This is an atrocity. But hey, it's what you Democrats voted for. Aren't you proud?
Just in case some of you labor under the illusion that the rank and file in the U.S. armed forces just timidly accept the results of this clearly stolen election, take a look at this view from the Biden motorcade as it proceeded down a Pennsylvania Avenue devoid of ordinary Americans:
The view from Biden's motorcade as it made its way up to the Capitol pic.twitter.com/iYi79VaaRf

— Ines de La Cuetara (@InesdLC) January 20, 2021
Today's Short-Term Memory Reminder is about Hunter Biden:
Somewhere in a small town in Arkansas, there is an innocent baby girl with a deadbeat crackhead dad and a stripper mom whose grandfather becomes our president today.

The media, her father Hunter, and her grandpa President Joe Biden simply pretend she doesn't exist.

— Michael Berry (@MichaelBerrySho) January 20, 2021
Just as a reminder, that crackhead son, who made millions selling U.S. government influence to China while China Joe was Vice President, was allowed to just stand right up there next to Jill Biden as the Big Guy took the oath of office yesterday. Meanwhile, this poor little girl in Arkansas – who will be forced to shower with and compete against boys when she reaches school age thanks to the Big Guy – went to bed with with no father figure in her life.
Unity, my ass.
Required Reading for Today. – Over at DailyWire, Ian Hayworth pens a terrific piece this morning that everyone should spend 5 minutes reading. Hayworth points out the fact that the American electorate rewarded Democrats for holding the nation hostage to brutal COVID edicts, nightly BLM/Antifa riots and destruction of our major cities and previously unthinkable assaults on free speech in 2020, and then asks why anyone would expect the Democrats to ever change?
It's a great question. Here's an excerpt from that piece:
In 2020, the Democratic Party applied three strategies with one single objective: to win. These three strategies were hugely — if not irrecoverably — damaging to American society, and were applied with a full understanding of their consequences.

In the end, the Democrats succeeded. Joe Biden will be the president, and the Democratic Party will control the entirety of Congress.

How can we ever expect them to change their tactics when they are clearly so effective?

COVID-19 Lockdowns

When COVID-19 appeared on the international scene in 2020, the Democrat's quickly recognized it as a political opportunity. "Never waste a crisis," as the saying goes. Criticism of China's regime was dismissed as xenophobic, Trump and other Republicans were blamed for every case or death, and Democrat-run cities and states forced businesses to close under draconian lockdowns. Almost overnight, the American economy was intentionally placed on life support and much needed relief was intentionally delayed in Congress, all while Democrat politicians flaunted their own "rules."

[End]
Go read the rest. You'll be glad you did.
A blue-check dimwit media figure asks the burning question. – Grance Franke-Ruta, a leftist journalist who no doubt voted twice to make communist Democrat Bill de Blasio the Mayor of her city, had a bad experience with her husband trying to get a COVID vaccine shot on Tuesday. So naturally, she did what all leftist dimwits do, and took to Twitter to whine about it.
Here is part of a long thread she posted:
Why is everything in NYC so badly run?

— Garance Franke-Ruta (@thegarance) January 19, 2021
"Why is everything in NYC so badly run?" she asks, obviously without ever taking even a second to step back and examine whether or not her voting decisions might – just might – have something to do with the fact that everything in NYC has gone so horribly wrong in recent years. Meanwhile, the answer to her question is blindingly obvious: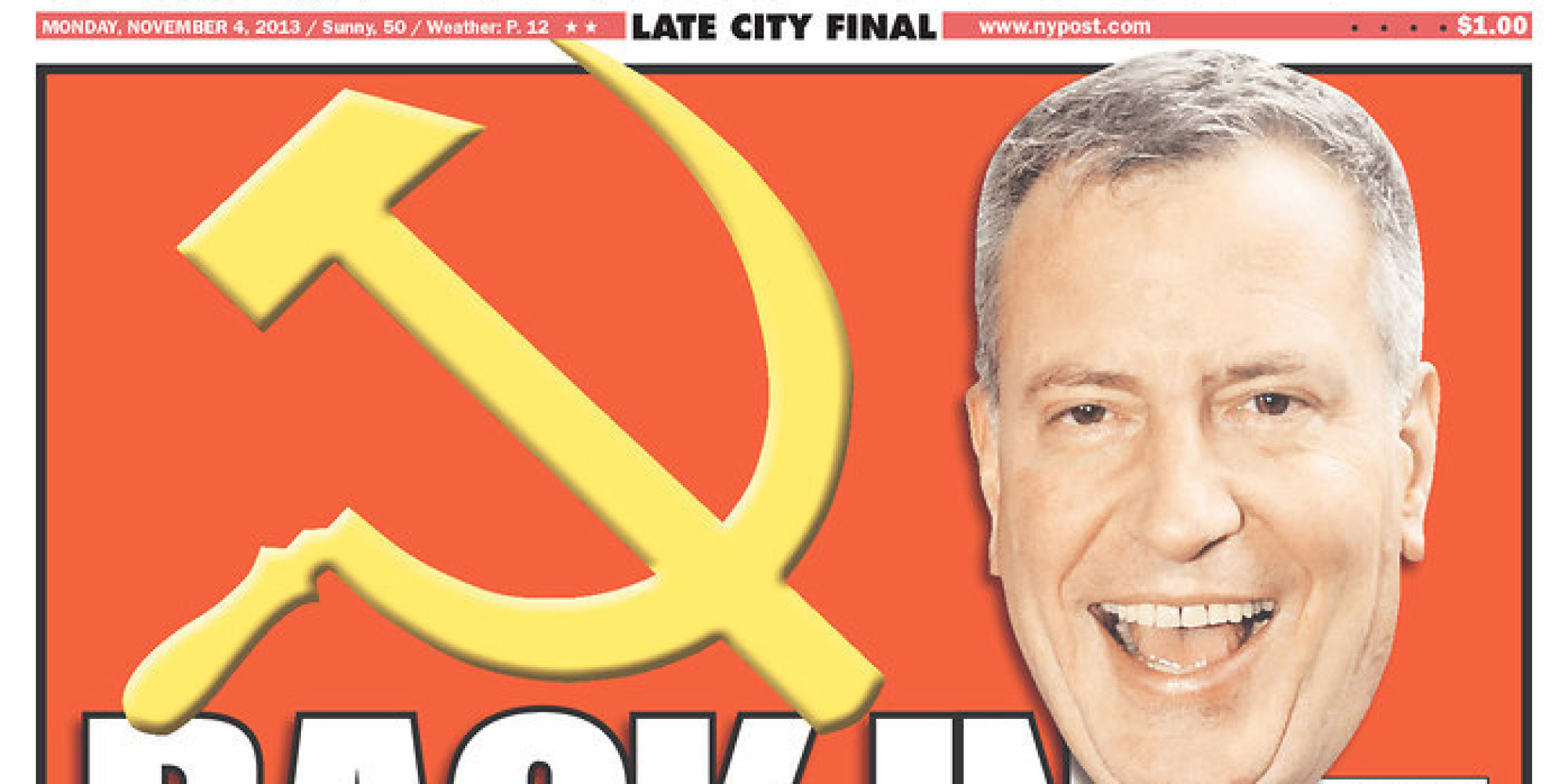 Political leftists are simply incapable of learning. They utterly lack the ability to engage in the introspection necessary to understand that they are in fact the problem, for the simple fact that they have been taught to believe that they are better and smarter than the rest of us.
And so, after four years of Bill de Blasio and all of his epic failings, they go out to the voting booth and re-elect the Big Doofus to screw up their city for four more years, and then act surprised when that happens. Or they watch communist Democrat Portland Mayor Ted Wheeler presides over 100 straight nights of violent riots and go out and vote to re-elect him for four more years. Or they go out and mindlessly vote for an addled lifetime politician who has been in federal office for 47 years and never solved a single problem, and then are shocked to learn that he's going to make their daughters, granddaughters and great granddaughters take showers with boys who are sporting penises.
Yes, it's bizarre behavior, but that's who these people really are. Sadly for the rest of  us, it's the sort of mindless, bizarre behavior that takes free countries and turns them into fascist prison states that look exactly like Washington, DC looked on inauguration day.
That is all.
Today's news moves at a faster pace than ever before. Whatfinger.com is the only real conservative alternative to Drudge. It's the tool I use to help keep up with all the day's events, and it should be your tool, too.