Fox News is an object lesson for the Republican Party. – The corrupt news media is filled these days with reports about the rapidly declining ratings situation at Fox News. After dominating the cable news landscape for the last 15-20 years and guffawing daily as its competitors aired content whose audience could fit into a phone booth, Fox suddenly finds itself trailing behind both CNN and MSNBC, and badly.
As I pointed out earlier this week, Fox, which at one point boasted 18 of the 20 top-rated cable news programs, now has just two – The Five and Tucker Carlson – which still break into that level. Sean Captain Tick-Tock Hannity, who had the top-rated program in all of cable television for several recent years, came in at #27 in last week's ratings measurement: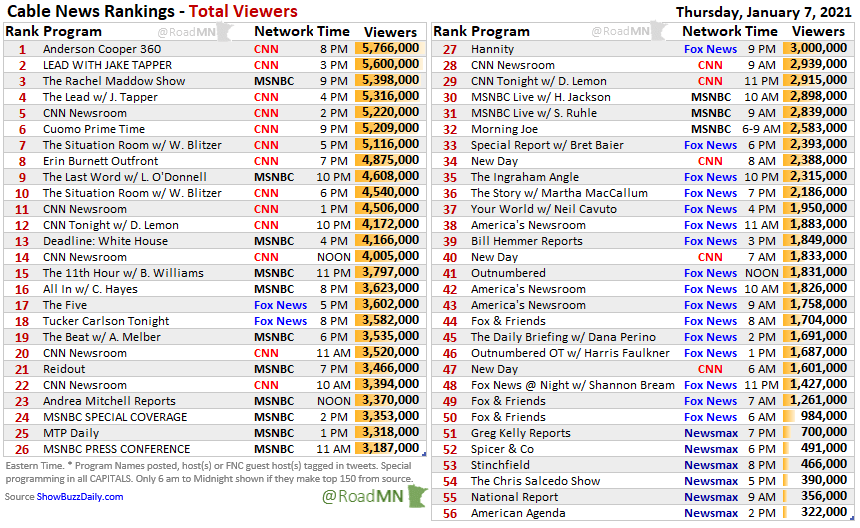 Simply put: Fox News is tanking bigly since Election Night for the simple fact that supporters of President Donald Trump are abandoning it. Now, here's the big key: Trump's supporters are abandoning Fox News because Fox News abandoned President Trump.
The Election Night premature call of Arizona for Joe Biden was just one event in an abandonment process by Fox that grew throughout the year of 2020. The visible shift in Fox's perspective and editorial content began as early as mid-2019, after it had hired former House Speaker and noted Trump-hater Paul Ryan to join its board of directors. While the conservative tilt of the channel's core evening opinion shows remains intact to this day, the tilt of the daytme programming and the 2-hour evening news bloc hosted by Bret Baier and Martha MacAllum has moved increasingly into the anti-Trump camp.
Fox's ratings have obviously suffered along with this steady move to the political left. The early call of Arizona was just the last straw on the back of a ratings camel that had had straws heaped upon it daily over the prior 18 months. Fox is now in deep doo-doo since, unlike its competitors at CNN and MSNBC, which are nothing more than media loss leaders for massive international corporate entities, it is a company that relies on advertising ratings to be profitable, and must make a profit to stick around.
And here's the bottom line: Those Trump people won't be coming back. They aren't going to calm down eventually and return to the fold – they feel no residue of loyalty whatsoever to a media company filled with talking heads who abandoned them.
The Republican Party today finds itself very much in the same leaky boat in which Fox News is currently foundering. The GOP's steadily advancing betrayal of President Trump since Election Day, as its congressional members sink back into the muck of the DC Swamp and return to their Democan/Republicrat UniParty ways has been very visible and upsetting to Trump supporters. Those Trump supporters now make up the vast preponderance of the party's voter base.
Mitch McConnell and the RINO caucuses in the senate and house appear to be operating under the belief that they can go about betraying and getting rid of Trump – who has been a pain in their backside for five long years now – and they'll be able to somehow recover once Trump is gone. They possess such rank contempt for Trump's voters that they truly believe that those voters will just return to the fold well in advance of the 2022 mid-term elections as memories of Trump and Trump-ism fade and those voters wake up to the realization that their only alternative to voting for RINOs is to vote for Democrats.
This is a very perilous thought process for these Swamp rats to be entertaining, because it ignores several key factors about Trump's army of 75 million voters:
– Millions of those voters were not Republicans to begin with. Trump's policies and achievements brought millions of new voters into the GOP, many of them minorities who had never voted for a Republican in their lives;
– Millions of those voters are loyal to Trump as an individual, and hold no allegiance to any political party;
– Millions of those voters were attracted to Trump due to his singular willingness to call out the pervasive corruption in Washington, DC and fight against it. Their loyalties will never transfer onto UniParty swamp dwellers who spend all of their time in DC trying to figure out how to profit from the Swamp.
These realities leave the GOP in great peril. The minority voters who came to support and vote for Trump have zero innate affection to the Republican Party, which has by and large spent the last half-century ignoring them under the assumption they would always vote for Democrats. The new blue collar voters, the middle-class workers and union members who voted for Trump, are by and large people whose innate instinct will now be to go back to voting for Democrats who promise them the world. True, Democrats don't deliver any better than the Republicans, but at least they make the promises; at least they pay attention to them. And those voters who came into the Party to vote for Trump due to his fight against the Swamp are most likely now to just go back to staying at home on election days to come.
We have already witnessed McConnell's intent to go back to ignoring this army of millions of new GOP voters with his refusal to even allow a bill containing a $2,000 COVID relief payment to come to a vote in December. That is who Mitch McConnell really is, and it is where he plans to take the Republican minority caucus in the Senate over the next two years. So long as McConnell remains the GOP's leader in the Senate, that is what the Republican Party is going to look like.
If McConnell now follows up on his stated plans to support the Democrats' latest impeachment scam and tries to round up enough GOP votes in the senate for a conviction, that act will be seen by Trump's supporters in exactly the same way they see Fox's premature call of Arizona: The straw that broke the camel's back. Once you have alienated those millions of Trump voters, you will never get them back.
Fox News is the canary in the coal mine for the entire GOP. Unfortunately, the Party's leaders can't see that the canary is already dead.
That is all.
Today's news moves at a faster pace than ever before. Whatfinger.com is the only real conservative alternative to Drudge. It's the tool I use to help keep up with all the day's events, and it should be your tool, too.