The DC UniParty continues to push its impeachment farce. – I cover that subject in a separate piece this morning.
American travelers are about to be freed from the grip of #fakenews tyranny. – CNN CEO Jeffrey Zucker notified his organization that its monopoly hold on the nation's airport monitors will come to an end as of March 31: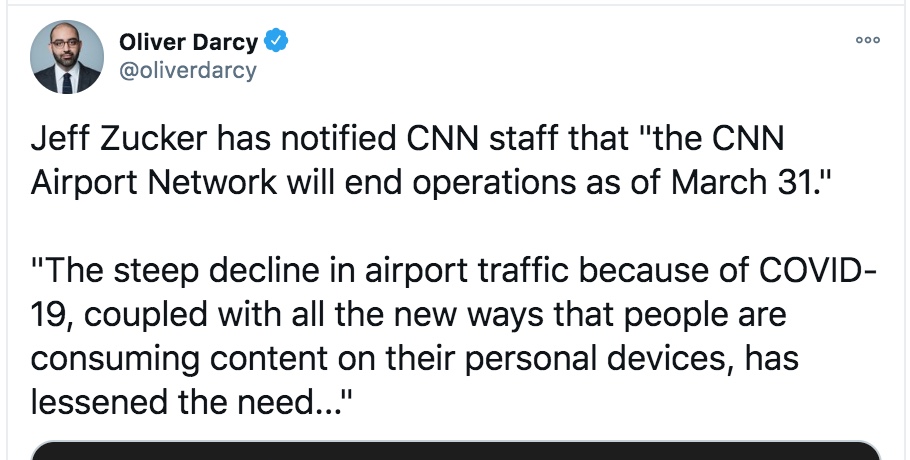 If you're thinking "hey, maybe now we'll be able to get some real news when we're going through an airport," don't be so optimistic and naive. They'll probably just replace CNN with Fox News.
The U.S. Chamber of Commerce formalizes its betrayal of the American public. – It's been trending leftwards for awhile now, having thrown in half of its campaign contributions to the Democrats in the last election cycle, but the USCC made its betrayal of the American public formal yesterday, announcing it will cancel future campaign contributions to any Republicans who supported President Trump's very legitimate challenges to the clearly fraudulent presidential election we just suffered through.
From a story at The Hill:
The U.S. Chamber of Commerce, the powerful pro-business lobbying group, said Tuesday it will halt political contributions to certain lawmakers following the deadly riot at the U.S. Capitol last week.

"There are some members that by their actions will have forfeited the support of the U.S. Chamber of Commerce. Period, full stop," Neil Bradley, chief policy officer at the Chamber, said in a press conference.

The Chamber's political action committee (PAC) is typically a reliable resource for Republicans.

Bradley said he would not name lawmakers whose support will be pulled. He was questioned specifically on if the group would pull support from Sen. Josh Hawley (R-Mo.), the first senator to throw his support behind objecting to the electoral vote count.

"We're right in the middle of this, right now and unfortunately regrettably, it's not over … we're in the middle of ongoing votes that will happen in the House and the Senate," he said.

"All of those things will factor into that and we're going to have a lot more to say about the members whose actions last week and the actions over the next eight days and beyond will have cost them the Chamber's support."

The Chamber's PAC previously gave $10,000 to Hawley, which Bradley confirmed but said the Chamber has never required someone return a donation.

"We did support him. I have to tell you that watching the events of the last week, we have been terribly concerned and disappointed by what we've seen. I will say that while a lot of folks are singling out individual elected officials to focus on, I wouldn't focus on just the junior senior from Missouri and we are going to have a lot more to say on him and others as we get through this period that we're in," he said.

[End]
In taking this action, the USCC joins many of its multi-national corporate members, like AT&T, Comcast, Verizon and Disney, which have essentially become state-owned subsidiaries of the Chinese Communist Party in recent years. It is now apparent that the ChiComs now essentially control the entire apparatus at the nation's most powerful business lobbying organization.
Make no mistake about this: This assault on Hawley and Texas Sen. Ted Cruz – in direct coordination with the Democrat Party – is an effort to delegitimize two of the men who would be the most likely successors to take up the mantle of Trumpism in the 2024 election cycle. You should expect similar assaults on Republican office-holders like Arkansas Sen. Tom Cotton, Florida Gov. Ron Desantis and South Dakota Gov. Kristi Noem to begin ramping up soon.
The Swamp's UniParty has already chosen its preferred 2024 GOP – Nikki Haley – and is already working hard to prop her up and destroy her likely opposition.
Today's Short Term Memory Reminder. – As he prepares to serve as one of Nancy Pelosi's hand-picked impeachment managers, we should all remember that Eric Swalwell recently was engaged in a long and sordid love affair with a Chinese Communist honey-pot spy. Not only has Pelosi refused to remove him from his seat on the House Intelligence Committee for this reckless behavior, she rewards him with this new plum assignment.
Like those multi-national corporations running the USCC, the Democrat Party is basically a subsidiary of the ChiCom Party.
Today's Required Reading, from liberal writer Glenn Greenwald. – Glenn Greenwald is pretty much the only liberal voice in America worth paying attention to anymore, and he has an excellent piece this morning chronicling how Big Tech has basically destroyed the Parler social media platform in just the last week.
Here is an excerpt from that piece:
Over the last year, Parler encountered immense success. Millions of people who objected to increasing repression of speech on the largest platforms or who had themselves been banned signed up for the new social media company.

As Silicon Valley censorship radically escalated over the past several months — banning pre-election reporting by The New York Post about the Biden family, denouncing and deleting multiple posts from the U.S. President and then terminating his access altogether, mass-removal of right-wing accounts — so many people migrated to Parler that it was catapulted to the number one spot on the list of most-downloaded apps on the Apple Play Store, the sole and exclusive means which iPhone users have to download apps. "Overall, the app was the 10th most downloaded social media app in 2020 with 8.1 million new installs," reported TechCrunch.

It looked as if Parler had proven critics of Silicon Valley monopolistic power wrong. Their success showed that it was possible after all to create a new social media platform to compete with Facebook, Instagram and Twitter. And they did so by doing exactly what Silicon Valley defenders long insisted should be done: if you don't like the rules imposed by tech giants, go create your own platform with different rules.

But today, if you want to download, sign up for, or use Parler, you will be unable to do so. That is because three Silicon Valley monopolies — Amazon, Google and Apple — abruptly united to remove Parler from the internet, exactly at the moment when it became the most-downloaded app in the country.

If one were looking for evidence to demonstrate that these tech behemoths are, in fact, monopolies that engage in anti-competitive behavior in violation of antitrust laws, and will obliterate any attempt to compete with them in the marketplace, it would be difficult to imagine anything more compelling than how they just used their unconstrained power to utterly destroy a rising competitor.

[End]
Indeed, what Big Tech monopolies have done to Parler over the last week should frighten even the most rabid Trump-hater among us. It has been a display of raw, unashamed monopolistic brutishness this nation has not really experienced since the days when John D. Rockefeller and Standard Oil used its own monopolistic power to starve out competing refiners and pipeline companies.
If they can do this to Parler, they can easily do this to any of us, and if you believe your hatred of Donald Trump somehow makes you exempt from this sort of abuse, boy are you in for a big surprise down the road.
Go read the rest of Greenwald's piece – it's long, but it will be the best 15 minutes of time you invest today.
That is all.
Today's news moves at a faster pace than ever before. Whatfinger.com is the only real conservative alternative to Drudge. It's the tool I use to help keep up with all the day's events, and it should be your tool, too.