Better late than never. – William Barr was allowed to claim he "resigned" his post as one of the nation's worst Attorneys General in its history, and will now move on to graze in other swampy pastures, effective December 23. Deputy AG Jeff Rosen will step in to serve as Acting Attorney General:
…Deputy Attorney General Jeff Rosen, an outstanding person, will become Acting Attorney General. Highly respected Richard Donoghue will be taking over the duties of Deputy Attorney General. Thank you to all! pic.twitter.com/V5sqOJT9PM

— Donald J. Trump (@realDonaldTrump) December 14, 2020
Here is Barr's Letter of Resignation: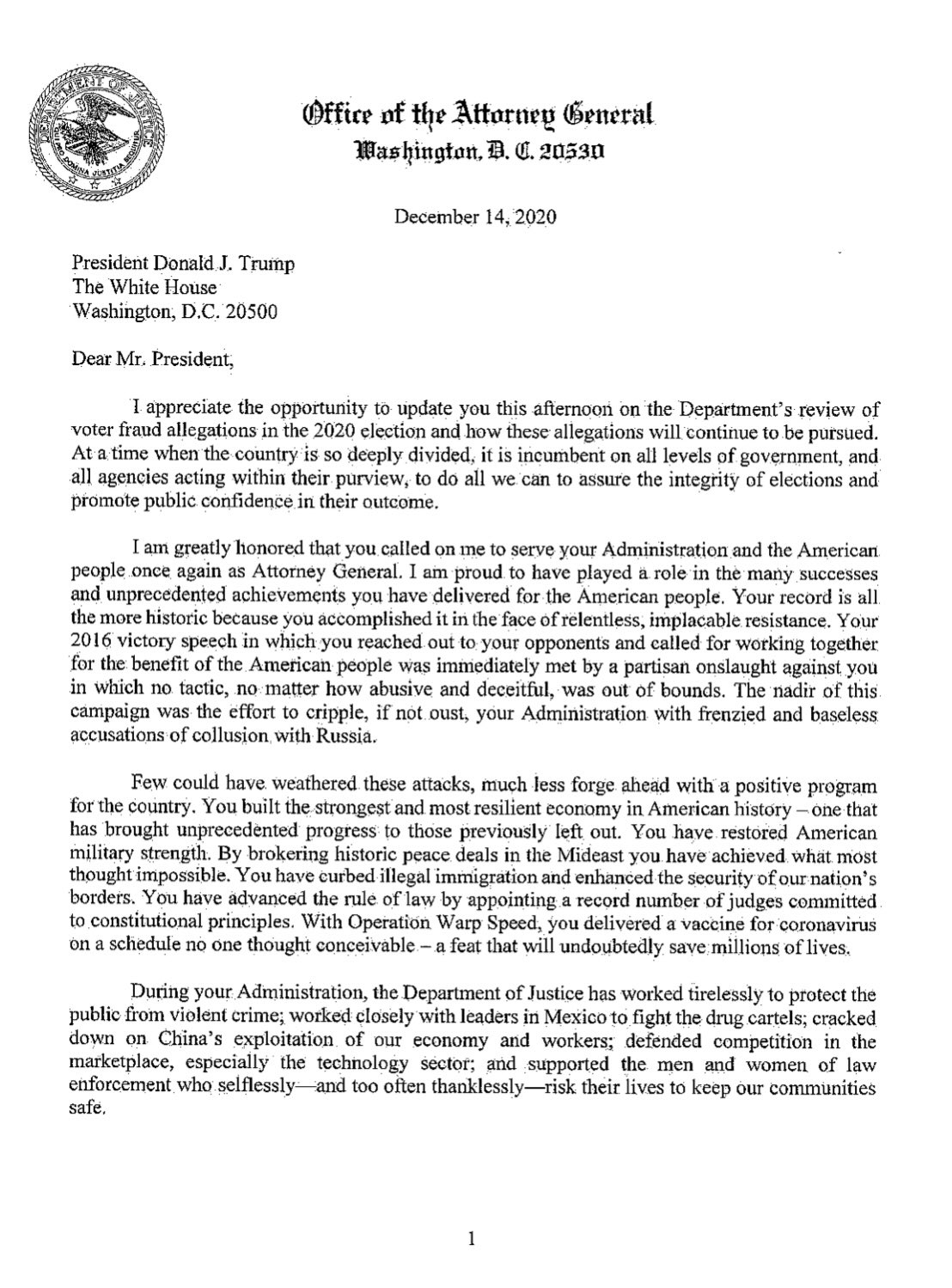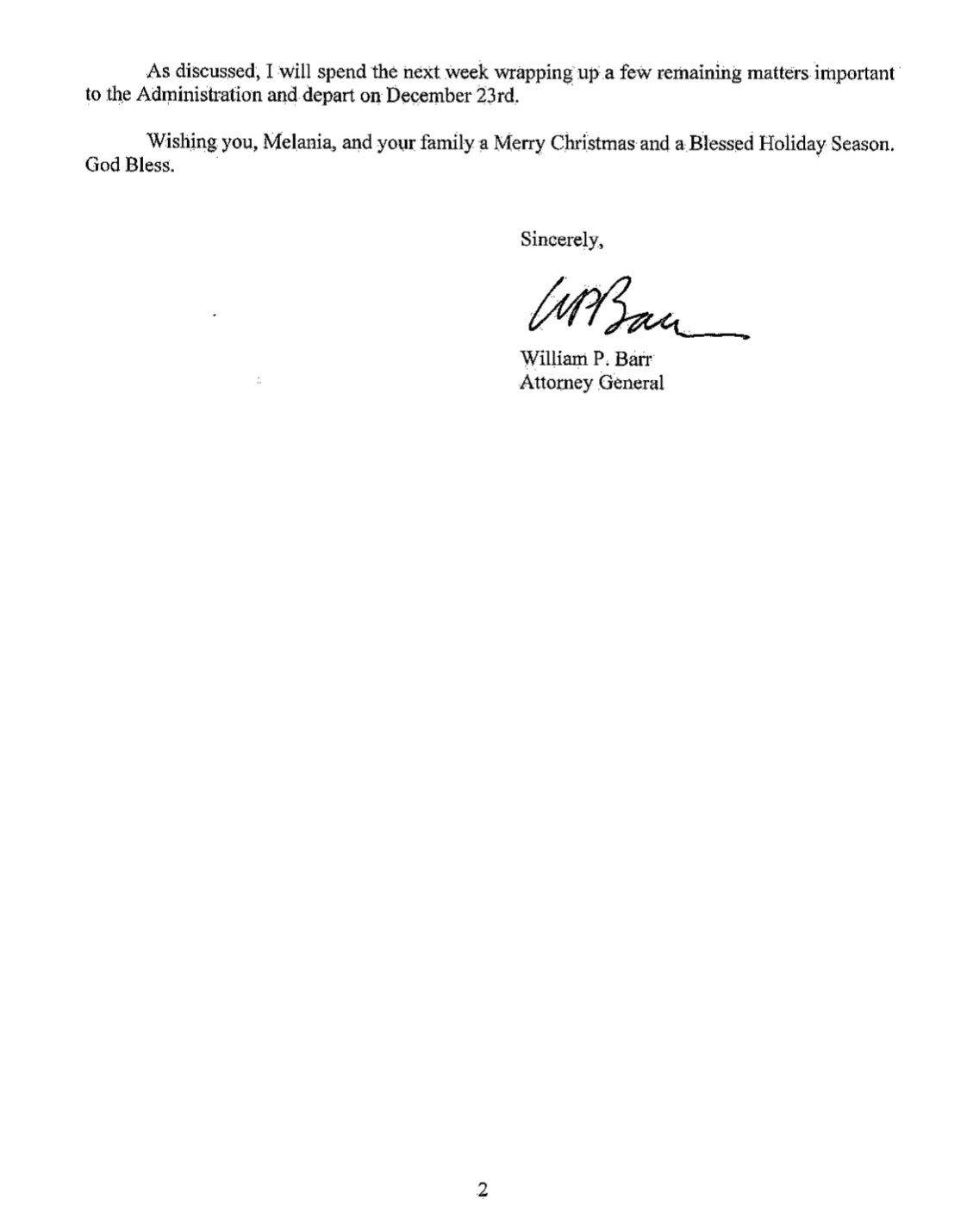 President Trump's tweet announcing Barr's 'resignation' came immediately after he, Barr and others had met at the White House to discuss the Department of Justice's involvement – or maybe its non-involvement – in investigations related to all of the massive election fraud the Democrats perpetrated in the just-completed presidential race. That letter was obviously drafted by the White House Communications staff, and was no doubt waiting for Barr and his signature when he arrived at the White House for that meeting.
William Barr didn't "resign" at all: He was obviously fired for his refusal to do his damn job. The nonsense about waiting until December 23 and spending more time with his family is the same nonsense language we see used when politicians beset by scandals or corporate executives facing business failure are fired but allowed to resign in order to save face.
Barr was fired because he has lied to the public for many months now about the activities and timetable of John Durham and his apparently fake investigation into Spygate. He was fired because he has known about the Hunter Biden investigation since the day he assumed the office – and likely even before – and has refused to make any effort to correct all of the massive false media reporting about that investigation and claims that it did not even exist. And he was fired because he and his FBI did nothing, not one damn thing, to intervene to stop the stealing of this presidential election before it took place, and has done nothing of substance since the election was held.
The only sad aspect of this episode is that the President didn't fire Barr months ago and replace him with someone who was interested in actually doing his damn job.
Already setting up his reason for resignation? – China Joe Potato Head Biden read a speech from  a TelePrompter last night, and he did it with a massive, persistent gurgle in his throat. Watch:
How many times did Joe clear his throat? pic.twitter.com/SWHBhO6jAz

— Benny (@bennyjohnson) December 15, 2020
Up until the past week or so, I have assumed that Biden's elder-abusing handlers and the evil minions at the DNC and CIA would allow him to actually be sworn into the presidency and serve for at least a few weeks, perhaps months, before resigning for "medical reasons" and turning the office – and our nation's future – over to the sock puppet the deep state really prefers, Kamala Harris. But with the sudden, very public revelations about the DOJ/FBI investigation into Hunter Biden and the Biden family's influence peddling with China, Russia, the Ukraine and other countries, I've begun to wonder if they will really allow him to serve in the office for a single day before pulling the plug.
Last night's persistently croaking bullfrog emitting from Joe Potato Head's throat sure makes you wonder if they'll actually allow him to serve a single day, just to make it look good. After all, if the American public is gullible enough to meekly accept the results of this obviously stolen election, why worry about appearances at all?
We don't know all the implications of this yet, but it sure is interesting. – Software sold by computer software company SolarWinds was identified as a massive security threat this week by the Cybersecurity Infrastructure and Security Agency (CISA). After becoming aware of the threat, CISA issued an emergency directive under U.S. espionage laws for only the fifth time since CISA was created in 2015.
From that emergency directive:
This Emergency Directive calls on all federal civilian agencies to review their networks for indicators of compromise and disconnect or power down SolarWinds Orion products immediately.

"The compromise of SolarWinds' Orion Network Management Products poses unacceptable risks to the security of federal networks," said CISA Acting Director Brandon Wales. "Tonight's directive is intended to mitigate potential compromises within federal civilian networks, and we urge all our partners—in the public and private sectors—to assess their exposure to this compromise and to secure their networks against any exploitation."

[End]
SolarWinds headquarters in Austin, Texas were apparently raided by federal officials on Monday, and its executives questioned by authorities. Mainstream media reporting indicates the feds were mainly interested in sketchy stock trades those executive engaged in right before the CISA directive was issued, but it is far more likely they were mainly interested in the potential impacts the security breach could have on the federal agencies that also use the software:
The threat apparently came from the same cyberespionage campaign that has afflicted cybersecurity firm FireEye, foreign governments and major corporations, and the FBI was investigating.

The system is used by hundreds of thousands of organizations globally, including most Fortune 500 companies and multiple U.S. federal agencies, which will now be scrambling to patch up their networks.

The attackers planted malware in computer networks after using what FireEye CEO Kevin Mandia called "a novel combination of techniques not witnessed by us or our partners in the past.

[End]
And here's the other thing: Dominion Systems uses SolarWind software. It says so right on the Dominion website.
Oh. Why do I think there is more – much more – to this story than we are currently being told? Stay tuned.
Say thank you to President Donald Trump on behalf of your 401(k). – Saw this story at CNBC this morning:
Vaccine rollout and economic recovery should push the S&P 500 to 4,300 next year, Oppenheimer says

An economic recovery next year will help fuel a nearly 18% rise in the stock market by the end of 2021, according to new projections from Oppenheimer Asset Management.

The investment firm and its chief investment strategist John Stoltzfus released their outlook for 2021 on Monday, setting a year-end target for the S&P 500 at 4,300.

[End]
Your corrupt, fake news media won't tell you this, but if any human being other than Donald Trump had occupied the Oval Office when this pandemic hit our shores, you would not have been watching scenes of 18 wheelers carrying millions of doses of Pfizer's COVID-19 vaccine rolling out of a Michigan plant on Monday. Instead, you'd have been listening to stories about endless delays from the CDC and the FDA in getting the thing through their Byzantine approval process.
It is only thanks to the prescient actions by Donald J. Trump in issuing order after order to those federal bureaucratic monstrosities to speed things up that we have not one, but three different vaccines either already fully approved or about to be fully approved in a record time that no one believed would be possible just a few months ago.
So, if you want to thank someone in government for yesterday's happy news, you can't thank your governor, you can't thank Anthony Fauci, who has fought the President every step of the way, and you damn sure cannot thank a single Democrat on the face of the earth.
Thank Donald Trump, because he's the guy who made this all happen through the sheer force of his will.
That is all.
Today's news moves at a faster pace than Whatfinger.com is the only real conservative alternative to Drudge, and deserves to become everyone's go-to source for keeping up with all the latest events in real time.