Let's just start with this meme found on Twitter this morning:
Yes, imagine that.
Then there's this: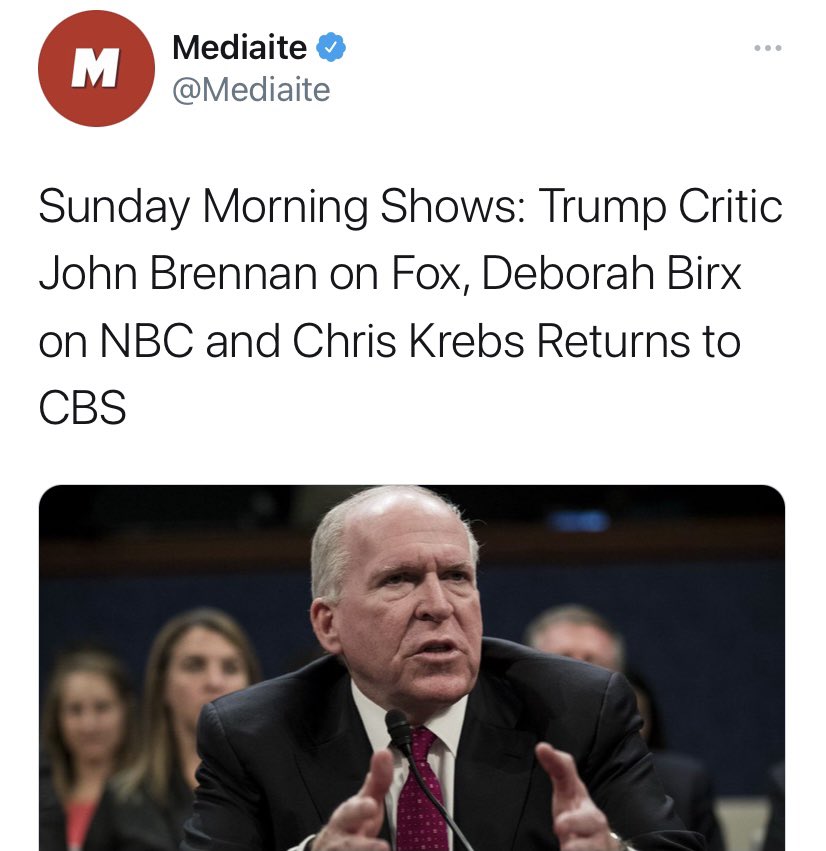 Will this be a case of the underling questioning the boss? We know the CIA has plants throughout the mainstream news media, a practice in which it has engaged since its creation shortly after World War II. Anyone who thinks Fox News is free from such skullduggery hasn't been paying much attention to the content on Fox News lately. Not that anyone can blame you for that, of course.
But here's the thing: In a just and free society in which laws mattered, John Brennan would be in federal prison, not making Sunday morning appearances on Fox News or raking in millions from his contributor deal with MSNBC. But that's all been lost in America over the past 25 years, aided and abetted during the Trump Administration by worthless Attorneys General Jeff Sessions and William Barr.
To exemplify just how abjectly worthless Barr and his "Special Counsel" John Durham have been, late last week Director of National Intelligence John Ratcliffe told an interviewer that he and his staff have provided "thousands" of classified Intelligence Community documents to Durham over the past several months.
From a story at BizPac Review:
Director of National Intelligence John Ratcliffe says he's turned over "thousands of documents" to U.S. Attorney John Durham during his investigation into the origins of the so-called "Russian collusion" probe of the 2016 Trump campaign.

In an interview with the Washington Examiner published Thursday, Ratcliffe said he's counting on Durham to uncover the truth about what the DNI believes is monumental corruption and wrongdoing by officials tied to the Russia investigation.

However, he added, that doesn't mean all of what he's passed along to Ratcliffe should be declassified and revealed due to the sensitivity of sources.

"Between my predecessor Richard Grenell in an acting capacity and myself, we have declassified most of the intelligence community documents that would be suitable for the public to see, that wouldn't jeopardize sources and methods," he told the outlet.

"There are others, many many documents — I think it's been out there that I've provided literally thousands of documents to John Durham, but many of those do contain sources and methods that we can't make public for a number of reasons, including to jeopardize any investigation that's going there," Ratcliffe continued.

"So I think the level of cooperation — I've given them everything that they've asked for," he added.

[End]
Ratcliffe has indeed given Durham and Barr what they've asked for. No one should have expected this public servant to do anything less.
But what has been the result? What has the American public gained from Ratcliffe's and Grenell's stalwart efforts to end the information roadblock at the DNI's office? Bupkis. No action from Durham whatsoever. No indictments, no wee hours of the morning arrests, no perp walks, none of the criminals who staged a long, slow-motion coup d'etat from 2017 through 2019 in any real jeopardy of ever being held accountable for their crimes against this nation.
The DOJ is an absolute travesty of injustice, and the failure to identify and hire a patriot to serve as AG will be remembered as Donald Trump's single most damaging failure during his first term in office.
News you will not see reported on any national corrupt news outlet:
Police in North Florida announced the arrest of 178 people following a large-scale child sex trafficking operation pic.twitter.com/HdxxTIHxt2

— Ruthann (@TeaBoots) December 5, 2020
Think about that for a second: Why does the national news media refuse to report on the thousands of human trafficking arrests made over the past four years by federal, state and local law enforcement agencies? Is it just because it makes the Obama Administration, which showed no interest in doing anything effective to bust rings like this, look bad? Or is there something more sinister at play here?
It's a good and valid question, and someone should be forced to answer it at some point.
Oh, well, color me shocked. Not. – It's always about the money on the radical left, folks, and the Black Lives Matter communists are no exception. The Washington Times reports that some regional BLM chapters are up in arms about the fact that their national leadership appears to have made millions of dollars intended to fund the looting and burning of Democrat-run cities just disappear into the ether.
From that story at the Washington Times:
Black Lives Matter is facing a rebellion within its own ranks as regional affiliates seek greater control over the movement and demand answers about where millions of dollars in donations have gone.

After years of tensions between the national organization and local outlets, the rift went public this week with the release of a statement by 10 BLM chapters accusing the top brass at the Black Lives Matter Global Network Foundation of failing to open their books or share the wealth with the rank and file.

"For years, there has been inquiry regarding the financial operations of BLMGN and no acceptable process of either public or internal transparency about the unknown millions of dollars donated to BLMGN, which has certainly increased during this time of pandemic and rebellion," reads the "Statement from the Frontlines of BLM" posted Monday.

"To the best of our knowledge, most chapters have received little to no financial support from BLMGN since the launch in 2013," the statement reads.

In addition to the D.C. chapter, the missive was signed by affiliates in Chicago, Denver, Indianapolis, New Jersey, New York's Hudson Valley, Oklahoma City, Philadelphia, San Diego, and Vancouver, Washington. The chapter in Louisville, Kentucky, said it supported the chapters.

[End]
Hilarious. Could not happen to a nicer bunch of Marxist thugs.
That is all.
Today's news moves at a faster pace than Whatfinger.com is the only real conservative alternative to Drudge, and deserves to become everyone's go-to source for keeping up with all the latest events in real time.