Presented at today's legislative hearing in Georgia, check out the Fulton County [Atlanta] security video below. In it, the Democrat election official clears the room of all observers, and then, along with three others, stays behind to pull out rolling suitcases full of ballots that they then continue to count:
Don't ever tell me there's no evidence of voter fraud in Georgia

Watch as Democrats in this GA polling station kicks out all Republican observers then pull out secret suitcases filled with ballots

ARREST THEM pic.twitter.com/Iz0vTPBNNu

— Rogan O'Handley ?? (@DC_Draino) December 3, 2020
Maybe someone should share this video with William Barr since he claims he hasn't seen any evidence of massive voter fraud yet. Not that he'd bother to do anything about it, of course.
Here's another, multi-view clip of the same video: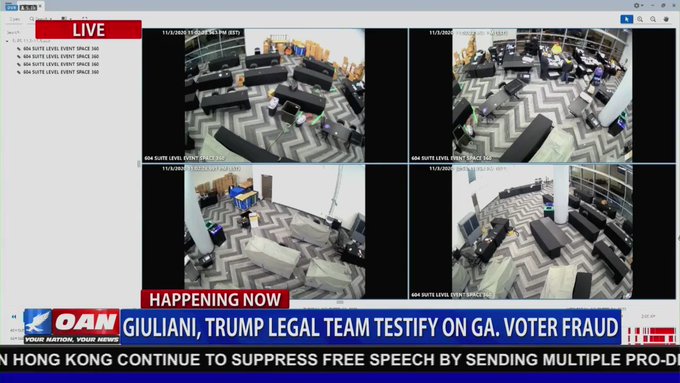 Then there was this testimony:
GEORGIA:

2,056 felons illegally voted
66,248 under 18 voted
2,423 weren't registered at all
1,043 used a PO Box
4,926 voted past the reg. date
10,315 died before the election
395 voted in two states
15,700 moved out of state
40,279 changed county and didn't re-register to vote pic.twitter.com/SiVwCg9Pal

— Mindy Robinson ?? (@iheartmindy) December 3, 2020
This is Democrats in America today. The entire party is your basic organized crime operation, enabled by an utterly corrupt news media and a worthless FBI/Department of Justice.
That is all.
Today's news moves at a faster pace than Whatfinger.com is the only real conservative alternative to Drudge, and deserves to become everyone's go-to source for keeping up with all the latest events in real time.