I'm a big believer in dealing with things from a standpoint of reality, and this ongoing vote "counting" in which the President's leads in several key states just continue to steadily disappear is no different. There are several items of reality we all must acknowledge and deal with.
So, let's get started:
The first reality is that we all knew this was going to happen months ago, and so did everyone in the Republican Party. Yet, the GOP obviously had no plan whatsoever in place to deal with this reality as Election Day dawned, and frankly, neither did the Trump Campaign.
How is it possible that the Trump Camp appears to have been caught completely with its collective pants down as the election fraud machines in places like Philadelphia, Milwaukee, Detroit, Atlanta and Phoenix inexorably create the number of votes needed to turn five states Trump legitimately won into five states that will illegitimately end up moving into the Biden column? The President himself has warned of this exact scenario taking place for most of this year, and yet apparently had no legal strategy in place to deal with it other than having Rudy Giuliani and Pam Bondi get with Eric Trump and Ric Grenell to hold a series of inflammatory press conferences. This is mind-bogglingly ineffective and destined to fail.
Oh, yeah, and the President has also been getting "help" from the increasingly pathetic figure, Steve Bannon, who yesterday advocated that Anthony Fauci and Christopher Wray should be be-headed as a means of intimidating deep state federal employees, and then couldn't understand why he was banned from Twitter. Holy crap.
The reality here is that the President's response to this has been ham-handed and inept. The truth is that the speech he gave yesterday at the White House sounded like something that had been patched together from a series of previous statements by Bondi and Giuliani. If that is the best he's got at this point, then we might as well all toss in the towel and start trying to figure out how to protect ourselves from the Democrat/Marxist storm to come.
The Republican Party itself is worthless. Thus far we've seen a bunch of tweets from Ronna McDaniel and not much else.
Same with the Republicans in congress – a bunch of tweet monkeys who add nothing real to the situation. The one and only senator I've seen out there defending the President and calling out the massive vote fraud taking place is a single TV appearance last night by Lindsey Graham, who feels secure now that he's been re-elected for another 6 years.
Where is John James, who has now seen his clear win in Michigan stolen from him? Nowhere to be found. Where is Thom Tillis, who is in danger of seeing the same thing happen to him? Where is David Perdue, who has had his clear victory in Georgia now turned into a runoff opportunity? Nowhere, nowhere, nowhere.
Where is Attorney General William Barr and the Department of Justice? Given the refusal of Democrats in PA to allow GOP observers to really do their jobs despite a legal court order, DOJ has every authority to intervene and even seize the entire process in order to protect the sanctity of the vote. Same in Michigan and Wisconsin, where enormous tranches of thousands of "votes" all in Biden's name suddenly appeared in the dead of night to reverse clear Trump victories. But Barr has sat back and done literally nothing other than having Kerri Kupec issue pablum-filled press releases.
I'll tell you where all these Republicans are: They're all out there trying to figure out how to cut their own deals with the incoming barbarians at the gate, hoping against hope they can set themselves up for personal gain out of the situation. That's where pretty much everyone in the DC GOP is right now.
Don Trump, Jr. wondered aloud on Twitter yesterday about where all the presidential candidates of the future for the GOP are in all of this? Where's Nikki Haley, the establishment's favorite? Nowhere. Where's Marco Rubio? Tweeting, and nothing else. Where's Ted Cruz? Also tweeting and maybe doing a podcast.
Ronna McDaniel and other top Republican honchos like Mitch McConnell have spent a great deal of time the past couple of days celebrating the GOP's "victory" in holding onto its senate majority. But let's talk about the new reality of that situation, shall we?
The loss of James's clear win in Michigan takes that GOP majority down to just 52 senators. A loss of either Perdue or Kelly Loeffler in their runoff elections to come would take it to 51; the loss of both means the majority is gone and Kamala Harris gets to serve as the deciding vote until she is elevated to the presidency.
What makes anyone think that the Democrats' voter fraud machine in Atlanta won't steal those runoff elections just as it has stolen the presidency in the dead of the night?
But hey, let's be optimistic and assume one of the two Republicans somehow wins their runoff. With a 51- seat majority, who really becomes the de facto Senate Majority Leader? Mitt Romney, that's who. Or hey, he can even form up a tag team with Susan Collins and Lisa Murkowski to take turns betraying America on crucial votes.
The Democrats want to pack the supreme court? Why, Susan Collins has problems with the language the Republicans have used in opposing it, and her conscience tells her she must vote in favor of doing it to ensure the ongoing abortions of 5 million babies every year. The Democrats want to turn Puerto Rico and Washington DC into states, thus ensuring a Democrat Senate majority for a generation or two? Why, Senator Romney has so much compassion for those Puerto Ricans, doesn't he? Murkowski too, for that matter.
You can see where this is going, right? Right. The preservation of the legitimate wins by James and Perdue was an absolutely vital thing for the future of the GOP and the American Republic, and you did not see anyone in the establishment of the GOP lift a damn finger to do anything to stop the fraud.
This is in fact Donald Trump against the world, and the reality is that the world is almost certain to prevail.
The stark reality we all face this morning is that Georgia was flipped overnight and Pennsylvania is almost certain to flip today, and once these states flip, there is precious little chance they will be flipped back, especially when nobody in the GOP has anything resembling a real strategic plan to make that happen.
Damn them all for sitting back and doing nothing while this Republic burns. But hey, they are Republicans, so why would we have expected anything else? Silly us.
That is all.
**UPDATE**
Wonder of wonders, the RNC has actually taken some real, semi-aggressive action that was announced shortly after I published this piece: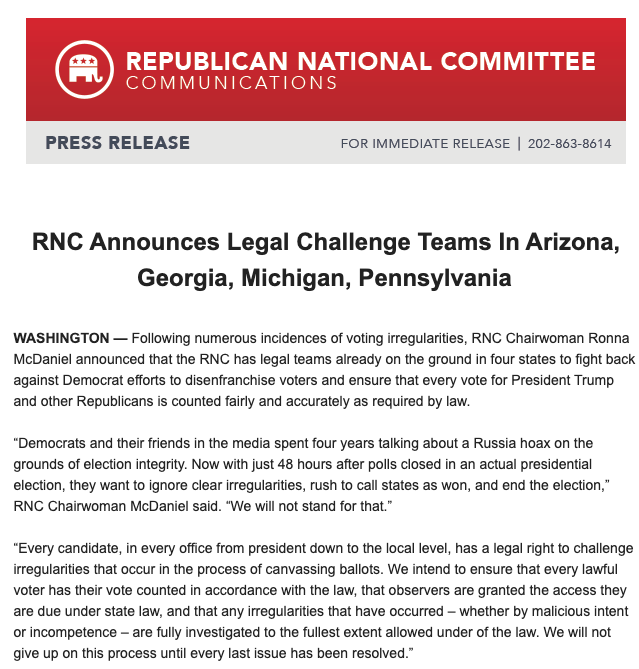 It's probably too little, too late, but we should at least give credit where credit is due.
Where are you, William Barr?
Today's news moves at a faster pace than ever. Whatfinger.com is the only real conservative alternative to Drudge, and deserves to become everyone's go-to source for keeping up with all the latest events in real time.