So, we're back to the "All COVID All The Time" narrative in our national and local corrupt news media. Following the horrific debate performance by Quid Pro China Joe Biden on Thursday, the Democrats and their corrupt media toadies have decided that whipping up yet another round of hysteria about the China Flu is the only hope of getting their addled, elderly guy across the finish line.
Thus, the full court press began on Friday, the day on which new "cases" of COVID-19 supposedly reached a new high since June. Sure it did.
There was Creepy Uncle McWifeMolester himself, venturing out of his basement abode to make a speech to another empty room in which he laid out is super-terrific-China-Flu-fighting-plan that would include a national mask-wearing mandate, another round of massive economic shut-downs and closing of Interstate travel.
Yeah, that's the ticket!
There was the little societal menace Anthony Fauci pontificating on CNN, saying that even with a vaccine -which he knows full well will only be marginally effective – we're all gonna have to stay locked in our homes and keep wearing masks whenever in public through not just the end of this year, not just the end of 2021, but through the end of 2022 if he has his way, which he certainly will under a Biden/Harris co-presidency.
There was Jack Tapper with his permanently-wrinkled brow, showing great concern and artificial empathy as the little menace droned on, playing his role to perfection. And there was the army of Blue-check Twitter wonders, repeating Fauci's sage advice as if it were the gospel handed down from Mount Sinai, even though none of them believe in the gospel and the little menace has been 100% wrong about every aspect of this pandemic since the ChiCom government intentionally let it loose on the world last November.
Just how wrong has the little menace been? Newly-discovered and released emails show that that Fauci actually signed off on a World Health Organization-sponsored press release supporting China's response to the pandemic.
No, I'm not kidding. From a report at JustTheNews.com:
Emails obtained by Judicial Watch and the Daily Caller News Foundation via a Freedom of Information Act lawsuit show that White House coronavirus adviser Anthony Fauci in late January approved of a World Health Organization-sponsored press release supporting China's response to the COVID-19 pandemic.

The email refers to the Global Preparedness Monitoring Board, an independent advisory body created by WHO and the World Bank Group. It specifically notes "consensus for the GPMB to issue a statement supportive of countries' (especially China) and WHO response efforts, and to call for urgent actions to further strengthen global preparedness and response to this outbreak."

"Looks fine," Fauci responded. "Please see my comments in attached document."

[End]
"Looks fine." Well, sure it looked fine to Fauci, who appears to be just fine with anything that is designed to destroy the U.S. economy and our society at large.
It was Fauci, after all, who thought "15 days to flatten the curve" was the right idea back in March. We're currently in, what, Day 200 or so of that futile effort, give or take a few.
It was also Fauci, after all, who told us on one of his myriad national TV appearances that wearing masks has no effect on this virus, none at all, and was just a waste of time. Now, he's telling us that we all need to keep wearing these masks – even at home and in the car – for the next two years, and maybe longer.
But of course, he himself is exempt, as we saw at Nationals ball park a couple of months ago: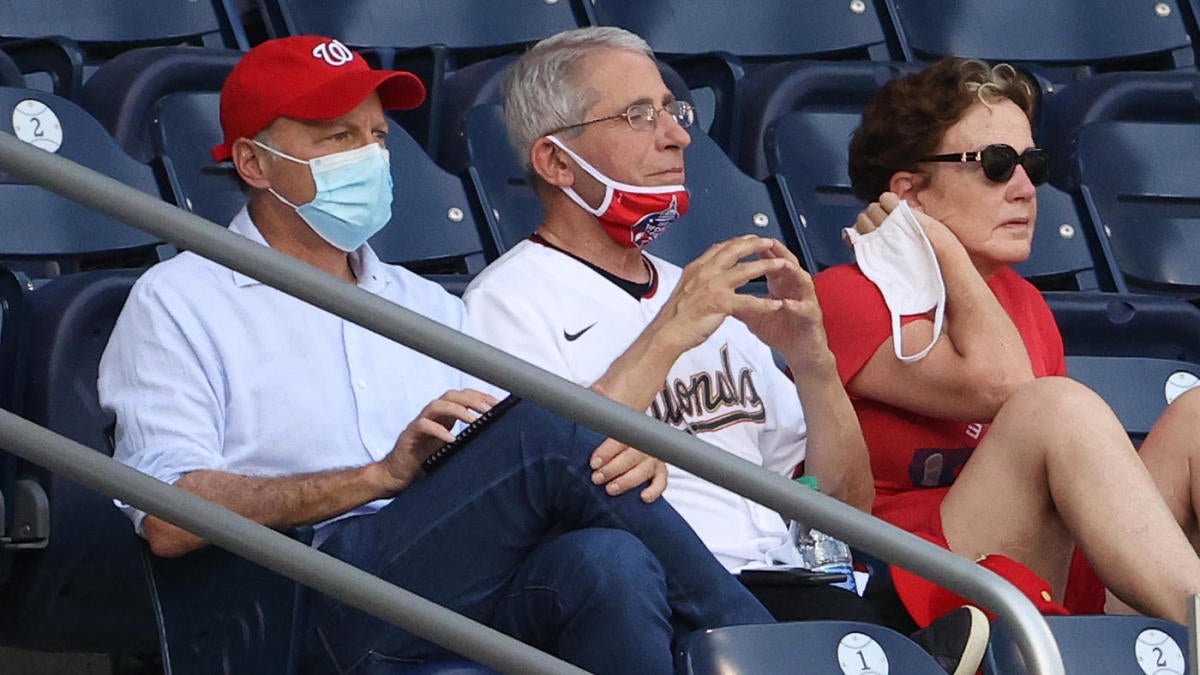 Well, of course he exempts himself, because he knows the damn masks have zero effect on this virus, which is in fact consistent with what the actual science on the subject tells us.
But never mind the science and the dozens of times Fauci has contradicted his own advice in public and in his seemingly-daily TV appearances; there is an election to be influenced, so he and Tapper and the whole crew are going to spend the next 10 days whipping up as much false hysteria about the China Flu as they can manage, all in an effort to get their Unfrozen Caveman Candidate over the finish line.
Yes, it's despicable; yes, it's depraved; yes, it's demented, disgusting and deplorable. But hey, these are Democrats and their media toadies we're talking about here – you expected something else?
That is all.
Today's news moves at a faster pace than ever. Whatfinger.com is the only real conservative alternative to Drudge, and deserves to become everyone's go-to source for keeping up with all the latest events in real time.