Another game-changer from the Trump Campaign. – At a massive rally in Eerie, PA last night, the Trump Campaign rolled out a big surprise for the Quid Pro China Joe Biden campaign: A huge video screen on which the President played a compilation of all the times Biden and his designated successor-in-waiting, Kamala Harris, promised to ban fracking in the United States.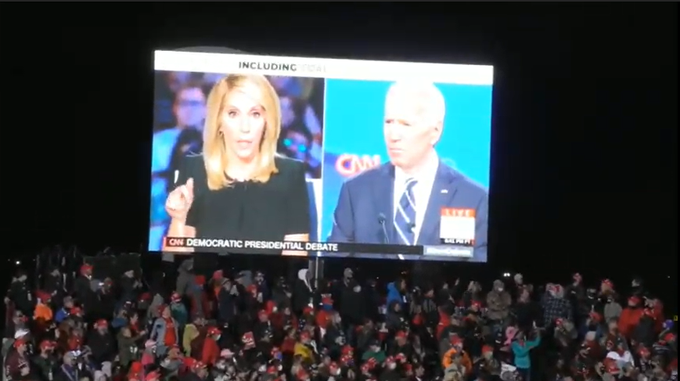 It was a pretty long video clip, and those were just the times they promised to kill America's oil and gas industry while on live TV. Think of all the times they've made the same promise in private, at big fundraisers, meetings with Ukrainian and Russian oil and gas company oligarchs and Chinese money men.
Hooboy.
This, of course, is a very big deal in Pennsylvania, home to the giant Marcellus Shale and Utica Shale formations, and the hub of a region that has become the largest natural gas producer in the world. With real polls now showing the state dead-even – which means that Trump is 2-4 points ahead because even the real polls can't fully account for the shy Trump vote phenomenon – learning the truth about the Biden/Harris Harris/Biden campaign's true intent to destroy millions of oil and gas-supported jobs in the U.S. could be a death knell for the Democrat effort.
And trust me, there are plenty of death knells flying around already for the Campaign That Never Was while Sleepy Creepy Uncle McNastyFinger remains holed up in his basement hooked up to his trusty IV all week.
Take this one, for instance: Rudy Giuliani confirmed on NewsMax TV last night that he has taken a copy of the laptop's hard drive to local Wilmington, Delaware law enforcement officials and filed a complaint of child endangerment against Hunter Biden based on the contents of the drive. Giuliani, supported by ex-New York City Police Commissioner Bernard Kerik, says the content show Hunter Biden engaging with an inappropriate relationship with a 14 year-old girl who may be his own cousin.
Here's an excerpt from the NewsMax TV story:
Rudy Giuliani is blowing the lid off the fast-growing Hunter Biden scandal, telling Newsmax TV's Greg Kelly on Tuesday night that he met with Delaware State Police this week over shocking materials found on the alleged hard drive of Hunter Biden.

Giuliani said his discoveries go well beyond influence peddling with foreign powers and alleged kickbacks he has accused former Vice President Joe Biden of engaging in.

"This is a really very, very sensitive one," Giuliani told "Greg Kelly Reports," referring to a text conversation he claims took place between Hunter and his father Joe Biden.

"There's a sexual depravity to this that's disgusting," he said.

Giuliani alleges the text message and photos involve an unnamed 14-year-old girl.

The former New York City mayor provided Newsmax TV with a photo image of the text message which he said shows Hunter Biden's message to his father, discussing claims he had acted inappropriately around a younger female.

The purported message stated:

"She she told my therapist that I was sexually inappropriate with [redacted] when she says that I face time naked with her and the reason I can't have her out to see me is because I'll walk around naked … When she was pressed she said that [redacted] never said anything like that but the bottom line is that I create and caused

"A very unsafe environment for the kids

"If it stopped there I would let it go"

Giuliani also claimed there were numerous pictures of underage girls on the Hunter Biden hard drive.

[End]
Oh. A crackhead who preyed on his dead brother's wife and fathered an illegitimate child with a stripper in an "inappropriate relationship" with a 14 year-old girl? So hard to believe, right?
Certainly, it's hard for the corrupt mainstream news media to believe, although Newsweek did carry a slanted report on the matter last night.
But here is a death knell even some in the corrupt mainstream media can't ignore. – After the FBI and Justice Department confirmed DNI John Ratcliffe's statement that the Hunter Biden laptop is real and not in any way related to a "Russian disinformation" operation, as the media has uniformly tried to claim based on zero evidence, both Catherine Herridge and Major Garrett at CBS News actually decided to summon up the integrity to report on the matter:
NEW: Law enforcement source tells @CBSNews FBI + DOJ concur with @dni_ratcliffe laptop + emails, said to belong to Hunter Biden, were not part of Russian disinformation campaign + FBI has laptop. Separate reporting suggests could be part of foreign influence op @ClareHymes22

— Catherine Herridge (@CBS_Herridge) October 21, 2020
The FBI & DOJ concur with DNI Ratcliffe's assessment that Hunter Biden's laptop and the emails in question were not part of a Russian disinformation campaign. FBI does has possession of the Hunter Biden laptop in question.@DNI_Ratcliffe @FBI

— Major Garrett (@MajorCBS) October 20, 2020
Thus, the corrupt mainstream media's wall of Omerta on the subject has been breached. Only time will tell whether this hole in the dike will eventually turn into a flood of fake reporting from the likes of the New York Times and Washington Post, but it doesn't really matter. Probably well over half of the U.S. voting-age public is now aware of Hunter Biden's laptop  and the very real, bombshell information it contains about the lucrative, mob-like influence racket he ran while Dear Ol' Dad was Barack Hussein Obama's vice president.
The question now becomes whether NBC's Kristen Welker, the fake reporter Democrat operative who will "moderate" Thursday's fake debate, will summon a rare moment of journalistic ethics and intellectual curiosity and force Uncle Joe McWifeMolester to field an actual question about all of this. Given Welker's history, you should not hold your breath waiting for that to happen.
Many are thinking that President Trump will have all sorts of opportunity during his own speaking time tomorrow night to hit Biden with this stuff, but that is not correct. You can bet your bottom dollar that Welker will be fully prepared to interrupt the President, talk over him, shift the subject and even hit the mute button anytime he starts down that road. In these sham debates, the Republican candidate never has uninterrupted time to speak.
Now, that in and of itself will certainly create bad optics for both Welker and Biden, but the tactic will allow Biden to avoid giving anything resembling a real answer to the core question: Did he sell his office in order to become fabulously wealthy?
Clearly the answer to that question is a resounding 'yes,' but if you're expecting the debate to serve as the vehicle for getting to that answer, you are going to come away disappointed.
But in the end it won't matter: This gooey, nasty toothpaste is now out of the tube, and nothing the Biden/Harris Harris/Biden campaign does to avoid it or shift the subject is going to jam it back in.
And that, friends and enemies, is absolutely glorious.
That is all.
Today's news moves at a faster pace than ever. Whatfinger.com is the only real conservative alternative to Drudge, and deserves to become everyone's go-to source for keeping up with all the latest events in real time.