Christopher Wray is not part of the solution for our country – he's the problem. – 19 Republican members of the House of Representatives sent a letter to corrupt, worthless FBI Director Christopher Wray on Thursday, demanding he come clean on why his dumpster fire agency never revealed that it came into possession of the Hunter Biden laptop last December, while President Trump was being subjected to the Democrat Party's impeachment hoax.
Here's the letter: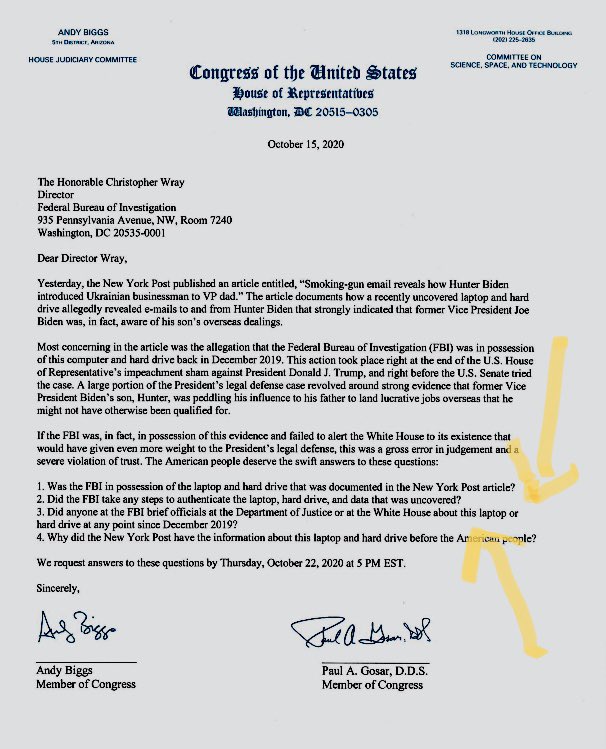 We speculated here throughout that impeachment hoax that the real reason it was being mounted was as a massive effort by the Democrats and their media toadies to try to inoculate Joe Biden for his years of corruption related to Ukraine by projecting his crimes onto President Trump. The contents of Hunter Biden's laptop prove conclusively that that speculation was in fact true.
That Wray and his fellow bureaucrats at the Hoover Building chose to withhold all of this key information from the public during a national crisis that was completely faked up by the Democrats is the height of corruption in public office, and a very blatant case of obstruction of justice. It isn't just a crime against President Trump; it's a crime against everyone in this country, and it simply must be punished.
Unfortunately, it has become crystal clear that we can't count on Attorney General William Barr to do anything about it, as he has consistently made it obvious he is a big fan of Wray. Wray is one of the DC Swamp's protected class, after all, and members of that class never have to worry about being held accountable.
What we also see in these revelations about the Biden family's influence selling game is the very reason why Joe Biden has mounted this run for the presidency at such an advanced age. Winning this election, after all, is the only way he can ensure that all of his crimes against this country, the Ukraine, China, Russia and no doubt many more end up being buried and lost forever.
Think about it: Could Biden trust any of the 25 or so other Democrats running in the primaries to execute a 100% coverup of all of this wrongdoing were they to win the presidency? Could he trust them to do so without first exacting some patronage of their own out of the Biden family's accumulated fortune? Of course he couldn't.
Add to that the fact that it is not just the Bidens who are in jeopardy here. Members of families with names like Kerry and Pelosi and Feinstein and Clinton and even Romney have also snuggled up to corrupt foreign companies like Burisma in recent years and held similar positions like those Hunter was entangled in. Those families and many others we don't know about yet are desperate to prevent a second Trump term in office.
I've asked this question often and it is completely relevant to this situation: How do you think these congressmen and senators, who spend their entire adult lives in public office, never making more than $200,000 per year in official salary, become so fabulously wealthy? Do you think it's just because they contribute their $24,000 per year to their government retirement funds and then invest it wisely?
Joe Biden – or "middle class Joe" as he likes to be called – owns several multi-million dollar homes. Here's a photo of one of them:
Here's an aerial shot of another one:
Here's his "beach house":
That's at least $15 to $20 million worth of real estate right there, folks, and those are just the Biden-owned homes we know about. Do you really think he was able to pay for all of this on his senator/vice president salary?
Now, realize that we could go through pretty much the same exercise with most other senators who have served more than 1 or 2 terms in office and risen to key committee positions and other positions of influence. If you're looking for a Republican, do a little research on the McCain family and see the tens of millions of dollars worth of assets he managed to somehow accumulate over his 30+ years in the senate.
That's what's at stake here. It's not just the millions of dollars – or probably billions of dollars all told – that's at stake: It's the personal reputations of all of these prominent members of the DC Swamp protected class that's up for grabs in this election. It's also the reputations of all of the corrupt media figures who have served as their willing co-conspirators for all of these decades, protecting them and their way of life every step of the way.
And then there are the K-Street lobbyists who wrote all the bills that made those senators famous. You think that class isn't a part of the scam? Please.
Which is why you don't see a single one of those people, Republican or Democrat, actively working for this President's re-election.
Every bit of this, the reputations of  all of these powerful people who need protection, revolves around the contents of Hunter Biden's laptop. And now you know why Christopher Wray and his dumpster fire agency sat on that laptop for the last 10 months.
It' really isn't even complicated.
That is all.
Today's news moves at a faster pace than ever. Whatfinger.com is the only real conservative alternative to Drudge, and deserves to become everyone's go-to source for keeping up with all the latest events in real time.