So, who won last night's debate in the only measure that matters – public opinion? – The Drudge Report's snap poll following the debate showed Vice President Mike Pence destroyed Kamala Harris by a 69-31 margin. Yikes.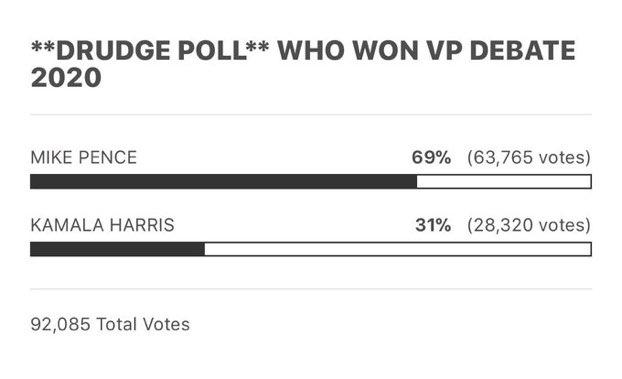 A similar poll conducted by the Spanish language station Telemundo arrived at an even more-lopsided 76-23 edge for the VEEP:
??#Decision2020: ¿Quién ganó el #VPDebate?

— Noticias Telemundo (@TelemundoNews) October 8, 2020
Mercy.
Thus, because of this very fact that Pence scored a lopsided shellacking of his sneering Valley Girl opponent, the New York Times, CNN and all the other corrupt news outlets are focusing their post-debate coverage this morning on two brief outtakes:
When a fly landed on Pence's head for a moment; and
When Harris said to Pence "Mr. Vice President, I'm speaking" at a point in time in which Pence had not even interrupted her.
That's it. That is all you are going to see and hear talked about related to this debate in the corrupt mainstream news media today. Had their girl had a good night, we'd be hearing about all the debate points she scored. Trouble is, she didn't score any points.
Thus, flies and feigned indignation it is.
So. Damn. Tiresome.
Remember, though, that Kamala Harris is the Democrat Party's de facto presidential candidate. – No one, not even in the Democrat Party's leadership, expects Joe Biden to remain in office for long should he win this election. Harris was the Obama faction's favored candidate going into this election cycle, and she was hand-chosen to become Biden's successor-in-waiting for that very reason after her own campaign for the party's nomination crashed and burned.
If you've been wondering why last night was basically the first thing you have seen from Harris during the general election campaign, there's a good reason for that. Everyone in the Democrat Party understands that she is an awful candidate who turns off everyone with whom she comes into contact. The reactions by viewers to what they saw last night as measured by those two snap polls did not surprise anyone, which is why corrupt news outlets like CNN and the Times were so prepared to leap into the lurch and try to defend her and push the DNC's preferred narrative.
With nothing real and positive to point to in terms of Harris's performance, they rely on these silly deflections instead.
Again, very tiresome, but utterly unsurprising.
On the whole "I'm speaking, Mr. Vice President" thing… – Why is it that feminists are all about strong women being able to stand and compete on exactly the same platform and rules as any man, until there's a debate, when they pretend that any effort by the man to engage in some real back-and-forth with the woman is somehow "mansplaining" or bullying?
This is an incredibly sexist allegation, not towards Pence, but towards Harris, because the pretense is that, because she's a woman, she is immune from being questioned during a debate by her opponent. Pence was simply attempting to engage with Harris as he would try to engage with a male opponent, which was exactly what leftist "feminism" pretends to be all about.
But when politics come into play, it is not about that, not at all, not even a little bit.
What made last night's episode even worse is that Harris, being fully aware of the double-standard her media pals would impose on Pence, chose to play into it by pretending to be offended by his non-interruption. If anything, she may be an even more off-putting candidate than Hillary Clinton was, which again explains why the DNC and Biden campaign have striven so hard to keep her under wraps.
A virtual debate? Isn't that what they all are? – News broke last night that the next presidential debate will be one of the "virtual" variety, causing the initial question of "so, what will be different?" I mean, we haven't had a real debate between presidential candidates in this country since 1860.
The difference with this next one will, of course, be technological: Due to the President's positive test for the China Virus, the Biden camp has insisted that it be held via Zoom or some such platform. From a story at the Washington Examiner:
"The second presidential debate will take the form of a town meeting, in which the candidates would participate from separate remote locations," the Commission on Presidential Debates said in a statement Thursday morning about the Oct. 15 event.

The change in format, made "in order to protect the health and safety of all involved with the second presidential debate," follows the president testing positive for the coronavirus last week just two days after he debated the Democratic presidential nominee, potentially exposing Biden to the virus.

"The town meeting participants and the moderator, Steve Scully, Senior Executive Producer & Political Editor, C-SPAN Networks, will be located at the Adrienne Arsht Center for the Performing Arts of Miami-Dade County in Miami, Florida. The White House Pool will provide coverage of the second presidential debate," the commission said.

Earlier this week, Biden said that the debate should not be held if Trump still has the virus.

[End]
*sigh*
But wait, President Trump has not agreed to that change! – As I was typing the above, President Trump, during an interview with Maria Bartiromo, just said this:
"I heard that the commission a while ago changed debate style, and that is not acceptable to us," Trump said. He added, "I'm not going to do a virtual debate."
Bartiromo then followed up to make sure she had heard correctly:
"I'm not going to waste my time on a virtual debate," Trump responded. "That's not what debating is all about. You sit behind a computer and do a debate. It's ridiculous."
Hey, maybe the Commission on Presidential Debates – which needs to be completely blown into a million pieces and scattered to the winds – ought to check with both campaigns before issuing statements about format changes.
Seems like a sound business practice, anyway.
That is all.
Today's news moves at a faster pace than ever. Whatfinger.com is the only real conservative alternative to Drudge, and deserves to become everyone's go-to source for keeping up with all the latest events in real time.