The Biden campaign has got to be the biggest joke in U.S. presidential history at this point. Here we are, just 42 days before Election Day, and the Democrat Party's Unfrozen Caveman Candidate is so feeble that his handlers are keeping him holed up in his basement for the 2nd time in just the last 4 days:
THIS? IS? A ?JOKE !!!

Joe Biden is so Exhausted From his Trip to Wisconsin Yesterday That He Started Off the Morning by Shutting Down For the Day https://t.co/lbhsmnQqla via @gatewaypundit

— Catturd ™ (@catturd2) September 22, 2020
The distressing thing is that this is nothing new at all for the Biden campaign, which has had to put a lid early on random mornings at least once or twice a week for months now as their elderly, declining candidate recuperates. Speculation continues to grow that Biden is mainlining some form of anti-dementia medication as he has had an omni-present needle mark on his left hand for weeks now:
IV mark is evident on Biden's hand. Must be drug tested before debates. pic.twitter.com/hq7p9f8Eca

— The TRUMP PAGE ?? (@MichaelDeLauzon) September 14, 2020
His elder-abusing campaign handlers called a lid on Saturday by 8:00 a.m. Today, they waited until 9:22, perhaps because they had hoped he might be able to keep whatever TelePrompter speech to a fake audience they had schedule for him. But yesterday's trip to Wisconsin obviously proved too much for Creepy Uncle McWifeMolester, and so the Campaign That Never Was is left without a ticket-topper for another day.
That's a big problem since Democrat leaders have obviously decided they cannot push the god-awful campaigner Kamala Harris out front whenever Biden is unable to perform. Why they ever thought things would be any different with Harris than they were last year, when she turned off everyone she met during her utterly failed nomination pursuit, is a real mystery. She is just the most incurably dislikeable person on earth.
Meanwhile, as the Biden/Harris Harris/Biden ticket was attempting to revive its candidate, Senate Republicans continued to telegraph that they will not only plan to vote on President Trump's nominee prior to Election Day, but they also have the votes to get that candidate confirmed. That's the message sent by both Senate Judiciary Committee Chairman Lindsey Graham and Judiciary member Ted Cruz, but also by Leader Mitch McConnell.
Their confidence was shored up this morning by none other than the King of the RINOs Mitt Romney, who released the following statement:
"The Constitution gives the President the power to nominate and the Senate the authority to provide advice and consent on Supreme Court nominees," the Utah Republican said in a statement. "Accordingly, I intend to follow the Constitution and precedent in considering the President's nominee. If the nominee reaches the Senate floor, I intend to vote based upon their qualifications."
During a brief press availability in a Senate Office Building hallway, Romney clarified that he will support whatever process Graham and McConnell agree to on the nomination. He further clarified that he would not – unlike fellow RINOs Susan Collins and Lisa Murkowski – object to a process that results in holding the confirmation vote before Election Day.
Despite some very misleading media reports that followed his remarks, however, Romney did NOT commit to voting to confirm the Trump nominee, which is fine. Frankly, it's hard for any senator to commit to voting to confirm a nominee whose name is currently unknown.
The President himself made it clear that he will name his nominee on Saturday, and plans to meet with potential nominee Barbara Lagoa on a campaign trip to Florida on Friday, as reported by Axios:
President Trump plans to meet with shortlisted Supreme Court candidate Barbara Lagoa during a campaign visit to Florida on Friday, according to two sources familiar with his plans.

What we're hearing: Sources who know both Trump and Lagoa say they still expect the president to pick Judge Amy Coney Barrett, but they view the Lagoa meeting as a wild card because they say she has a charismatic personality that would appeal to Trump.

The majority view in Trump's inner circle is that Barrett would be easier to confirm because senators are familiar with her. Senate Majority Leader Mitch McConnell has told Trump that senators feel comfortable with Barrett.
A source close to the process said anything that complicates the confirmation proceedings — and allows more time for Democrats to inject "mischief" — is to be avoided at all costs. More education would be needed for senators who are less familiar with Lagoa, the source added.
Trump met with Barrett at the White House on Monday.

[End]
So, the nomination appears to have come down to Lagoa or Amy Coney Barrett.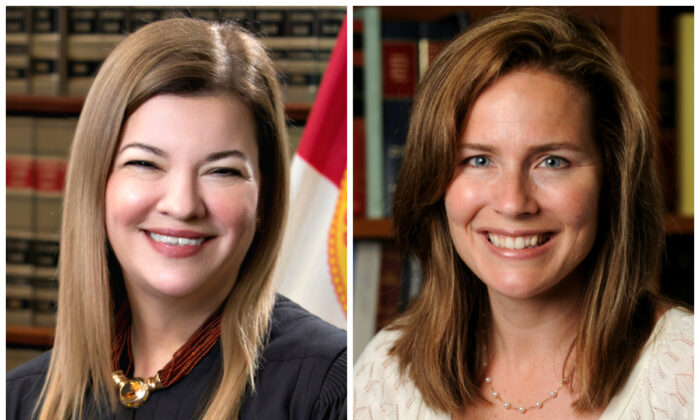 Both women are incredibly well-qualified to fill this seat, and anyone voting against either of them would be doing so for purely partisan reasons.
Later today, after putting in a full day of work, the President will travel to Pittsburgh where he will speak for an hour or two before yet another massive campaign rally. All of that and more while his feeble opponent is recuperating in his basement.
That's basically the state of this campaign.
**UPDATE** Here is a chart showing every day the Biden campaign has called a lid before noon during September:
This is every day so far in the month of September that the Biden Campaign has called a full lid before Noon pic.twitter.com/dqdJlqdjMc

— Alec Sears (@alec_sears) September 22, 2020
That's 8 times in just 22 days.
What a joke.
That is all.
Today's news moves at a faster pace than ever. Whatfinger.com is the only real conservative alternative to Drudge, and deserves to become everyone's go-to source for keeping up with all the latest events in real time.