What madness is this? – The Unfrozen Caveman Nominee of the Vote-By-Mail Party cast  his vote in his home state's primary elections Monday morning, and did it live and in person. Or at least as live as in-person as Joe Biden gets.
So, tell us again why it's supposedly unsafe for the rest of us to go vote in person this November? And if it's unsafe for us to vote in person, why is it not unsafe for us to go to the grocery store, or take our clothes to the cleaners, or visit the local hardware store like we have all been doing throughout this entire ostensible pandemic?
Hilariously, Creepy Uncle McWifeMolester demonstrated he has no idea where he will be tomorrow as he was exiting his live-and-in-person voting location:
Reporter: "You guys voted early today?"

Joe Biden: "Because I'm going to be in, where am I tomorrow? I'm in –?"

Jill Biden: "We're traveling."

Staff: "Florida!"

Joe Biden: "I'm traveling tomorrow." pic.twitter.com/xXSiHMBstU

— The Hill (@thehill) September 14, 2020
Hey, we should all just be glad he knew where he was in the moment. Assuming, of course, that he did know where he was in the moment – we can only assume that because no one in our corrupt national news media would ever be be able to summon the curiosity or personal integrity to ask him that simple question.
Wouldn't it have been great if one of the assembled reporters had had the integrity to ask Biden if he could name the person for whom he had just voted? Or ask him if he has figured out how many grandchildren he actually has (he has 7 but recently told reporters he has 5), and if he could recite even 3 of their names?
You might think such questions would be insulting but this man wants to become president of the United States, and there is every reason to believe he would not be able to accurately answer them. He has in fact already answered at least one of them incorrectly at a public event. What happens to the rest of us when he mistakes his Oval Office desk chair for the toilet and tries to use the nuclear launch button to flush it?
This is serious.
Will Joe Rogan save the country from the Biden menace? – Comedian/podcaster/WWF announcer Joe Rogan this morning invited President Trump and Gropey McNastyFinger to host a presidential debate during one of his upcoming 4-hour-long podcasts.
President Trump immediately leapt at the opportunity, using his Twitter feed with 100 million followers to accept the challenge:
I do! https://t.co/H9Eghnqpuy

— Donald J. Trump (@realDonaldTrump) September 14, 2020
Does anyone believe the Biden campaign will allow their captive candidate to do the same? Please.
Once it becomes clear that Biden's elder-abusing wife and handlers will not – cannot – allow this to happen, the Trump campaign should volunteer the President to do a stand-alone, 4-hour Q and A with Rogan. With Biden almost certain to concoct some excuse for backing out of the 3 scheduled televised debates as well, this would provide the President with a prime opportunity to reach Rogan's enormous audience – made up mainly of people Millennial-age and younger – without a hostile media filter. It could literally change hundreds of thousands of minds.
The Trump Campaign must seize the day on this.
Meanwhile, Biden's handlers let him out of the basement for the first time in three days, and here is what he is doing this afternoon: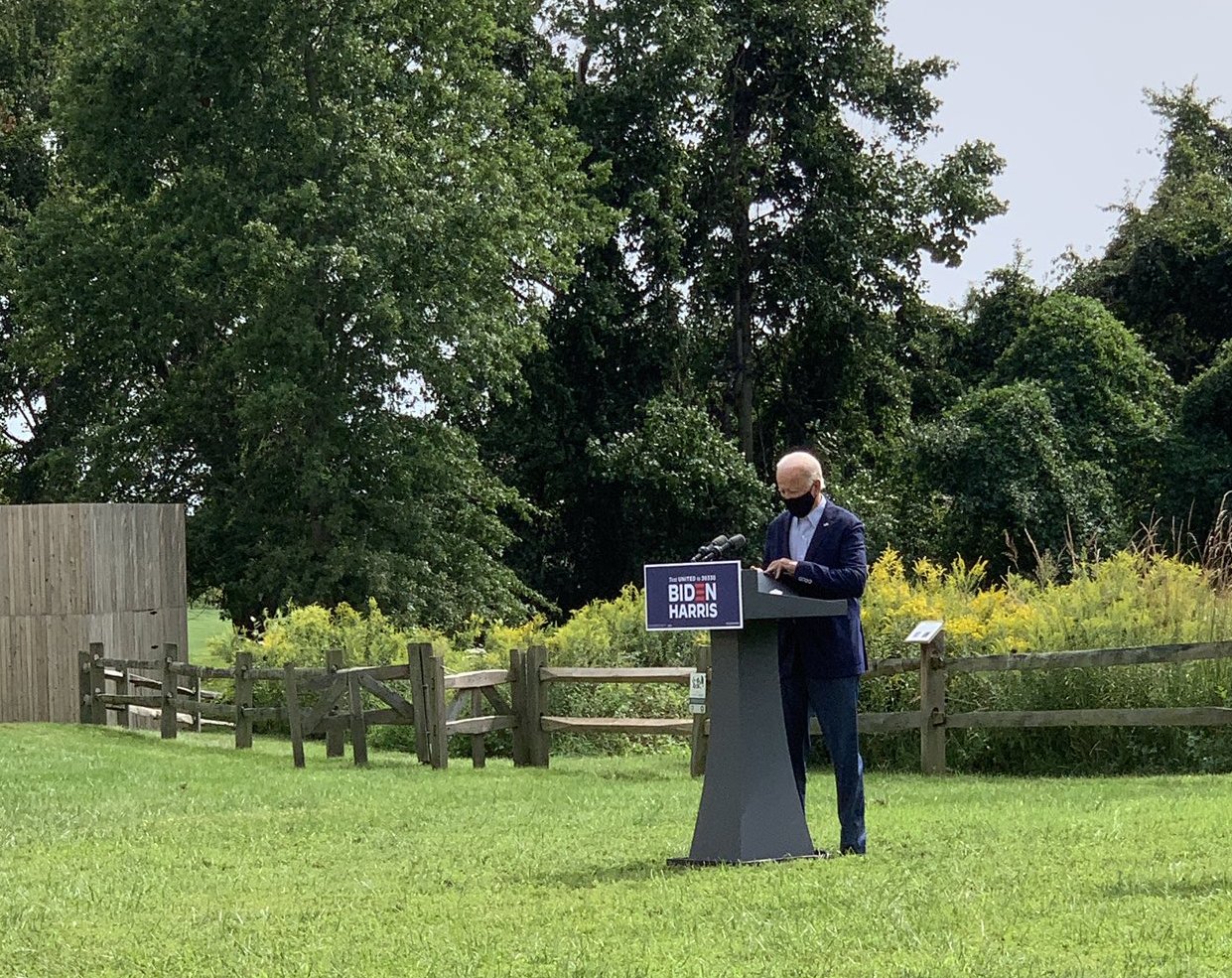 Standing all alone at a podium at the edge of a wheatfield, reciting the standard leftist demagoguery about "climate change" causing the Western wild fires, and refusing yet again to take any press questions because he is incapable of doing so without a TelePromper handy.
**UPDATE** Today, Dementia Joe apparently believes he is still Obama's Veep and is running for re-election.  You don't have to believe me, you just have to believe your own eyes and ears:
Umm… Joe Biden just touted the actions of "the Obama-Biden Administration" and said "this is just the beginning if we get re-elected." pic.twitter.com/v5h002ZuzT

— Trump War Room – Text TRUMP to 88022 (@TrumpWarRoom) September 14, 2020
The man's a menace, and must be defeated.
That is all.
Today's news moves at a faster pace than ever. Whatfinger.com is my go-to source for keeping up with all the latest events in real time.