It's just another hoax, folks. – As you marvel at the media hysteria taking place around Bob Woodward's new book and its allegation that President Trump "downplayed" the China virus threat, remember that each and every one of these same media outlets did exactly the same thing: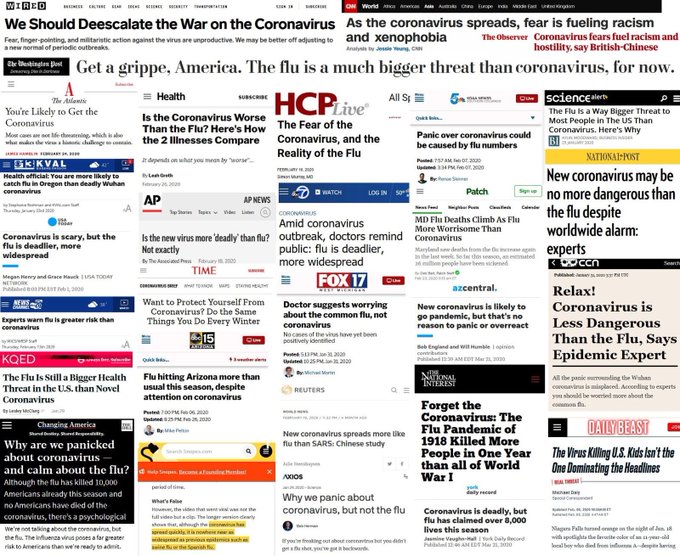 Oh.
The Little Menace to the rescue??? – Guess who's defending President Trump against the media's latest hoax: Dr. Anthony Fauci. No, really, he really is.
Woodward – who has a long, sordid and even admitted history of just making stuff up to make his tedious books more readable, at one point claims that Fauci "at one point tells others that the president 'is on a separate channel' and unfocused in meetings, with 'rudderless' leadership, according to Woodward. 'His attention span is like a minus number. His sole purpose is to get reelected.'"
Fauci, in an interview with John Roberts of Fox News yesterday, said that "You know, if you notice, it was others have said that. So, you know, you should ask others. I don't recall that at all. I didn't read the book but according to what I saw in the newspapers it says, and others have said that," Fauci remarked.
Fauci also told Roberts that he did not remember the President downplaying the situation, as Woodward alleges. "I didn't get any sense that he was distorting anything," Fauci said. "I mean in my discussions with him, they were always straightforward about the concerns that we had. We related that to him. And when he would go out, I'd hear him discussing the same sort of things. He would often say, 'We just got through with a briefing with the group from the task force,' and would talk about it."
Fauci went on to support President Trump's own contention that he used soothing language in order to avoid a national panic, saying that  "often he would want to make sure that the country doesn't get down and out about things. But I don't recall anything that was any gross distortion in things that I spoke to him about."
As I wrote elsewhere today, Woodward's book and the Democrat/media orchestrated furor over it, is just another hoax, and it will fail just as The Atlantic hoax failed.
This sure sounds like the plotting of a coup d'etat to me. – Another tidbit from Woodward's book raises the spectre of General James Mattis, then the Secretary of Defense, and Dan Coats, then the Director of National Intelligence, actively contemplating the military overthrow of the federal government. Not kidding.
That sure sounds like a Coup plot to me – how does it sound to you?
Here's the excerpt from the book:
The book documents private grumblings, periods of exasperation and wrestling about whether to quit among the so-called adults of the Trump orbit: Mattis, Coats and then-Secretary of State Rex Tillerson.

Mattis quietly went to Washington National Cathedral to pray about his concern for the nation's fate under Trump's command and, according to Woodward, told Coats, "There may come a time when we have to take collective action" since Trump is "dangerous. He's unfit."

[End]
This passage ties neatly in with reports during 2017 that members of Trump's original cabinet were plotting the removal of the President via the 25th amendment, at one point even trying to get sleazy Rod Rosenstein to wear a wire so he could secretly record his conversations with the President in an effort to entrap him into some pretense to allege obstruction of justice.
It was a coup, folks. President Trump has dealt with a slow-rolling, never-ending coup d'etat attempt by the Deep State since the day he took office. Yet still, he endures.
Can any of you interpret the meaning of this particular Biden word salad?
Where's the interpreter when you need him? pic.twitter.com/faW2fhwyh7

— The Daily Wire (@realDailyWire) September 9, 2020
Here's an exact transcript – see if you can ferret out the meaning:
Biden – "And what makes his wild claims and hopes…he now hopes we don't notice what he said…or won't remember…and when he does follow through…or doesn't do…when follow through…the exact opposite."
When you read that, remember this: Biden was reading from a script on a TelePrompter there.
Holy crap.
Meanwhile, in Portland, Oregon… – The City Council in Riot City, USA has now implemented a ban on law eforcement's use of facial recognition technology as a means of identifying, arresting and prosecuting the violent rioters that have plagued their city for more than 100 days.
From a story at OregonLive:
The Portland City Council unanimously approved bans on city and private use of facial recognition technology Wednesday — the strictest such restriction in the country.

The private ban, which includes by businesses in the city, would go into effect Jan. 1. The ban on use by city departments goes into effect immediately. The state of Oregon already bans police from using body cameras with facial recognition technology.

Portland officials point to concerns over residents' civil rights and privacy as reasons for the bans. They also cite studies that show the technology is marred by racial and gender bias.

San Francisco, Oakland and Berkeley are among those that have banned use of facial recognition by police departments and other local government agencies.

The Portland ordinances were introduced by Mayor Ted Wheeler and Commissioner Jo Ann Hardesty, who has said the issue comes down to racial justice and the community's right to privacy.

[End]
So, just one more effort to tie the hands of law enforcement and support the riots the Democrat Party is sponsoring. No real surprise at all.
Meanwhile, the rioters are now resorting to a new tactic to garner public sympathy- faking epileptic seizures when they are arrested:
Video of an arrestee at the violent BLM-antifa Portland protest overnight allegedly having a seizure. Others being arrested at past recent Portland riots have also suddenly began shaking rapidly. #PortlandRiots pic.twitter.com/0Pi2CofMr8

— Andy Ngô (@MrAndyNgo) September 9, 2020
These people are animals, and they are the very personification of evil in our time. And the Democrat-dominated city government of Portland is doing everything it can to support them.
That is all.
Today's news moves at a faster pace than ever. Whatfinger.com is my go-to source for keeping up with all the latest events in real time.