Tired of all this WINNING yet? – This happened yesterday:
The Fraternal Order of Police is the largest police officer association in the country. It has had a long history of endorsing Democratic presidential candidates, but that began to change in 2012, when it chose not to endorse either the anti-police Barack Hussein Obama or the milquetoast fake Republican Mitt Romney.
The association's members made the jump to Trump in 2016 and now, faced with a choice between the President and the anti-police Joe Biden, this year's decision was quite easy.
This also happened at Rasmussen on Friday:
HUGE NUMBERS: Trump Approval Surges to 52% – Black Voter Approval Jumps to 45% in Race Against Joe Biden https://t.co/PV6JCIVdqx via @gatewaypundit

— Rasmussen Reports (@Rasmussen_Poll) September 4, 2020
So, once again President Trump matches his highest voter approval level in the Rasmussen daily survey, and blasts up to a 45% approval rating among Black voters. If that Black voter approval translates into even 1/3rd of that level in actual votes for Trump in November, it will produce a massive landslide victory for the President.
The President also received a polling boost on Friday when the Trafalgar Group – along with Rasmussen, the most accurate pollster in 2016 – released a poll showing him with a 3% lead over Creepy Uncle Quid Pro Farty China Joe Biden in the state of Florida. Trafalgar has now in recent weeks released polls showing Trump with leads in Michigan, Wisconsin, Pennsylvania and Florida, four crucial states that both candidates must win in November.
The fantastic August jobs report didn't get much attention on Friday, thanks to the convenient timing of The Atlantic's hoax piece. That, of course, is one of the reasons why that piece was dropped on Friday, in fact. This is how the media coordinates with the Democrats.
But I'll focus on it here, because it's actual news that is in fact important. To see just how truly great this jobs report, with its 1.4 million new jobs created and 8.4 rate of unemployment (down from 10.2% in July) truly is, look this table of projections created in April by the Congressional Budget Office:
In April the Congressional Budget Office said the unemployment rate for August would be…wait for it…16 percent! Again, we're at 8.4%, roughly half that level. That 7.6% difference represents 8 to 10 million jobs.
Also note that, barely four months ago, CBO further predicted that the rate of unemployment would not drop below even 10% throughout NEXT YEAR. This is WINNING on a grand, unprecedented scale, and if our news media was not such a raging dumpster fire of bias and ignorance, it would be the biggest story of the week.
Speaking of our raging dumpster fire news media… – Watch as Ric Grenell, the single best personnel decision President Trump has made while in office, chews out the despicable White House press corps for their frankly idiotic questioning:
Ric Grenell eviscerated the media today and it was so deserved. He may be the President's best personnel decision. Thank you for speaking for the people and exposing the awful activists posing as journalists @RichardGrenell! pic.twitter.com/X8AQJHfss5

— Robby Starbuck (@robbystarbuck) September 4, 2020
Truly epic.
But wait, there's more!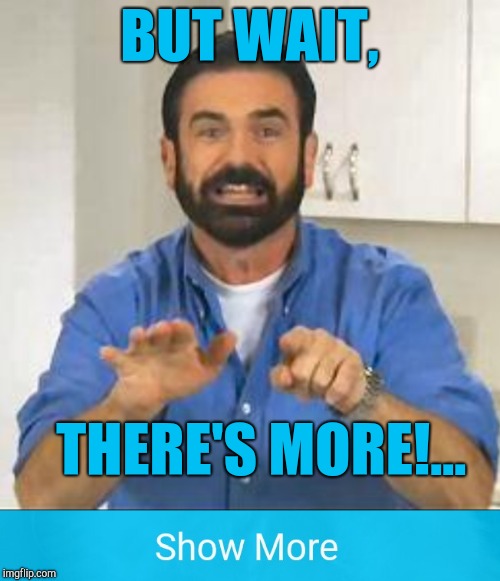 Kayleigh McEnany got in a tongue-lashing of the sleazy White House fake reporters of her own earlier in the day. It is an epic beatdown no one should miss:
Press Sec. Kayleigh McEnany slams Atlantic report: "Quite clearly fake news." pic.twitter.com/zUriBOzLLR

— The Hill (@thehill) September 5, 2020
The tongue-lashings from McEnany and Grenell obviously had an impact, as the questioning by the press corps during President Trump's briefing later in the day was surprisingly subdued. But they were still a whole lot more hostile than the pathetically fawning softballs Creepy Uncle Joe received when he took a few carefully-placed questions in Scranton earlier in the day.
The President hilariously noted this disparity:
President @realDonaldTrump says that the questions the media asks to Joe Biden "were meant for a child." pic.twitter.com/yZt7EL8lyz

— Daily Caller (@DailyCaller) September 4, 2020
Yes, they were meant for a child because the corrupt reporters following Biden around know he is utterly incapable of offering a coherent answer to anything resembling a real question. For the record, here is a list of the softballs that were lobbed at Quid Pro Joe: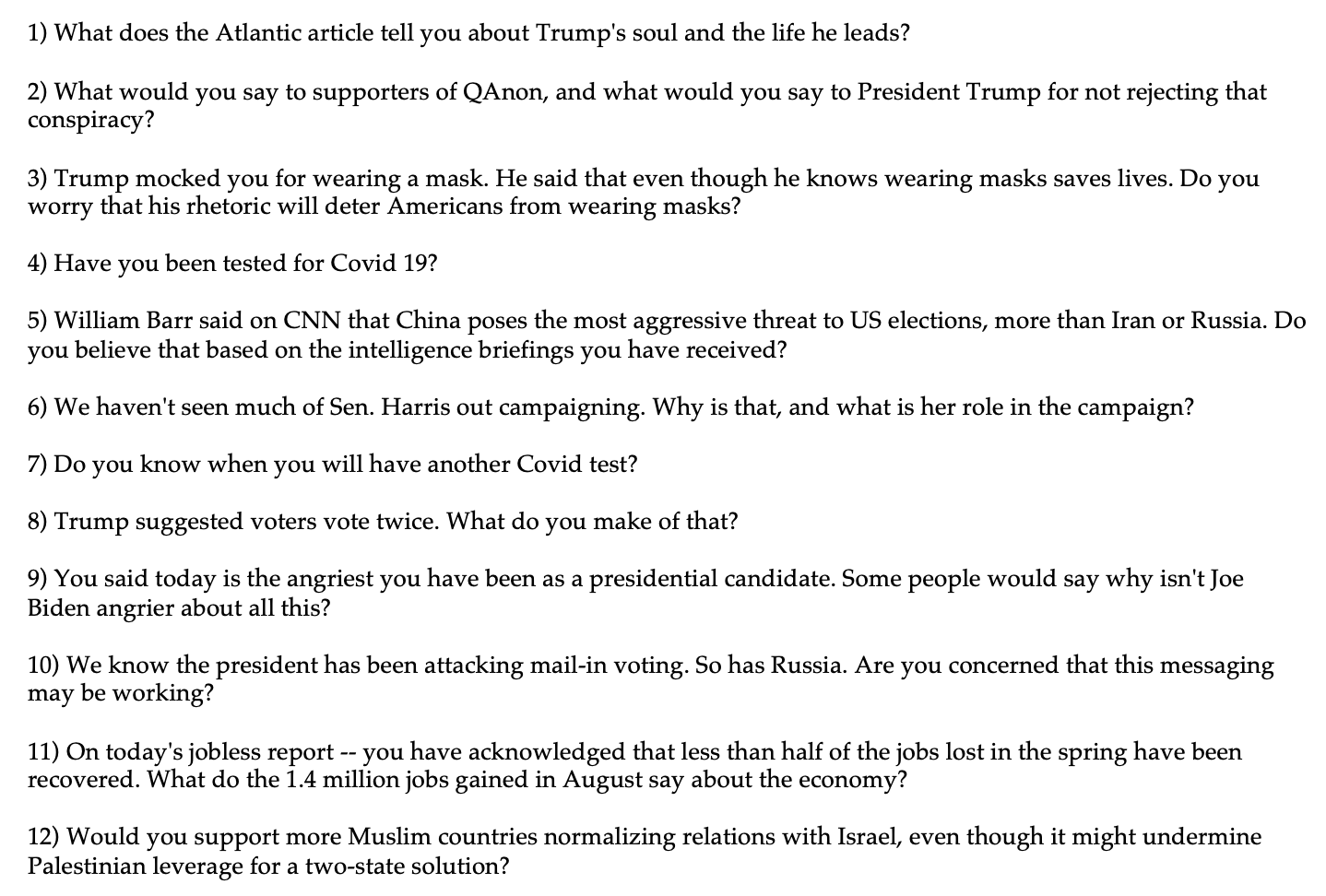 As Mr. Grenell correctly stated, America has a real crisis in journalism. Bias has always existed in our media, but this descent into pure capitulation to and rank activism on behalf of a single party is unprecedented in its scope and scale.
Meanwhile, in Portland, New York and Rochester… – The Democrat-sponsored rioters of Antifa/BLM were out in force in all three cities last night. Here are some of the lowlights as reported by the great, real journalist, Andy Ngo:
Ted Wheeler has a new opponent in Portland, and guess what? She's even more of a communist lunatic than he is:
Self-described antifa @sarahforpdx is running against @tedwheeler to be mayor of Portland. She was asked to clarify her outspoken support for antifa. https://t.co/Dksy9JKYr3 pic.twitter.com/eylz1pJCqI

— Andy Ngô (@MrAndyNgo) September 5, 2020
So, understand what she is saying here: If you have white skin and you want to own property and feel safe in your home, you, not the domestic terrorist of BLM/Antifa, are the problem.
You seriously cannot make this stuff up.
This happened in New York City in and around Times Square:
Antifa in NYC earlier tonight held a march and then began rioting. They smashed up businesses. pic.twitter.com/qIg2YJFoaV

— Andy Ngô (@MrAndyNgo) September 5, 2020
"Every city, every town, burn the precinct to the ground" #Antifa black bloc in NYC marched earlier today carrying a banner (on the left) that reads, "Death to America." Video by @elaadeliahu: pic.twitter.com/4yIELzrWg3

— Andy Ngô (@MrAndyNgo) September 5, 2020
In Rochester, we had this:
Patrons in Rochester, NY being terrorized by BLM, waitress shamed and crowd cheers.@sourpatchlyds pic.twitter.com/QXsGMWTW3D

— Mindy (@MinxBade) September 5, 2020
BLM rioters in Rochester, N.Y. set a bus stop on fire earlier tonight. #BlackLivesMatter pic.twitter.com/cvKO8L3SBj

— Andy Ngô (@MrAndyNgo) September 5, 2020
And then, as always, there was Portland:
Hundreds of antifa have surrounded the police union hall in north Portland tonight and have shut down the street again. They're ignoring police commands to get out of the street. pic.twitter.com/Gt9sDUvXKd

— Andy Ngô (@MrAndyNgo) September 5, 2020
Portland Police rush in to make arrests tonight in north Portland. Antifa rioters are taken to the ground. They scream and resist arrest. #PortlandRiots pic.twitter.com/vbXVISset5

— Andy Ngô (@MrAndyNgo) September 5, 2020
Portland Police shoot pepper balls at the backside of an antifa black bloc rioter near the police union hall. Police recover a baton or stick from the ground. #PortlandRiots pic.twitter.com/kRgncQkIho

— Andy Ngô (@MrAndyNgo) September 5, 2020
Again, this will only continue to grow until these people are forcibly confronted and stopped. If you think that you and your family are safe because you don't live in these cities%