Tired of all this WINNING yet? – NEVER! Never get tired of winning.
The August jobs report just came out, and it shows that the Trump economy created another 1.371 new jobs during the month. Even better, the rate of unemployment dropped from 9.8% in July to 8.4% in August. Equally as important, wages rose by 4% year over year, and 1.4% month over month. Amazing.
How good is this jobs report? For perspective, before this past May and its blockbuster build in jobs, this 1.371 million number would have been an all-time record for any single month. And this is with Democrat governors across the country still artificially keeping their economies shut down in their despicable efforts to impact the November elections.
That's how good this jobs report is.
This is the only form of justice this scumbag deserved. – Michael Reinoehl, the Democrat-sponsored Antifa radical who murdered a Trump supporter on the streets of Portland last week, was shot and killed by law enforcement officers in Washington state late last night:
Witnesses say antifa shooter Michael Reinoehl was armed with a semi-auto rifle when he engage in a firefight with four officers in Lacey, Wash. https://t.co/Jz7qNeUmvm

— Andy Ngô (@MrAndyNgo) September 4, 2020
From a story at PostMillenial:
Reinoehl had reportedly fled Oregon and crossed state lines into Washington. A federal fugitive task force located him outside of Olympia.

Reinoehl reportedly left an apartment complex appearing to be armed, The Olympian reported, and entered his vehicle when a shootout began. The shooting occurred in the 7600 block of 3rd Way Southeast in Tanglewilde about 7 p.m. Shots were apparently fired at a traffic stop, KATU reported.

[End]
Thus ends the sorry life of a Democrat-sponsored killer, but not before the despicable sleaze at VICE were able to run a literal puff piece on him:
Donovan Farley, one of the writers behind the upcoming @VICE fluff piece on antifa shooter Michael Reinoehl, is an antifa apologist. By his own words, his writes to help antifa gain more mainstream acceptance.

That's not journalism, that's propaganda. https://t.co/P5sOUpQ33t pic.twitter.com/HZqM3Z5t2X

— Andy Ngô (@MrAndyNgo) September 3, 2020
I would link you to that story, but honestly I just don't want to give VICE the traffic. It is just surreal how horrible our entire media establishment has become.
Here's Joe Biden, wandering aimlessly around a church while mumbling something yesterday in Kenosha:
Joe Biden isn't right in the head. Everything is completely off about this man. I'm not even saying this from some partisan perspective. The man alarms me. pic.twitter.com/A3YIfL2zcR

— Ian Miles Cheong (@stillgray) September 3, 2020
Ask yourself this question: Why does Biden have that mask on? He's in a big church with no more than 20 people total in it, and most of those are press members who his campaign requires to be tested daily for COVID-19. At an earlier event yesterday that wasn't in a church, Biden didn't wear his mask.
What he's doing is obvious: He's telegraphing the Democrat message that churches somehow are less safe than other venues, and that justifies Democrat governors keeping them closed. Evil.
Then, this happened:
Attendee at Biden's Kenosha town hall event, Portia Bennett (sp?): "I'm going to be honest. I was told to go off this paper but I just can't. You need the truth." pic.twitter.com/9zxl7zaMUd

— Tom Elliott (@tomselliott) September 3, 2020
Now, this woman is an obvious BLM plant, but her revelation is hilarious: Biden's staffers were handing out scripts for questioners to use, because they can't trust their candidate to answer any extemporaneous questions. Are they doing this for the compliant reporters as well? Sure, they are. It's the only way they can ensure Biden stays on script.
Democrats are now actively threatening the President of the United States. – Andrew Cuomo, the mass-murdering Democrat Governor of New York, got caught on tape issuing an overt threat to President Trump: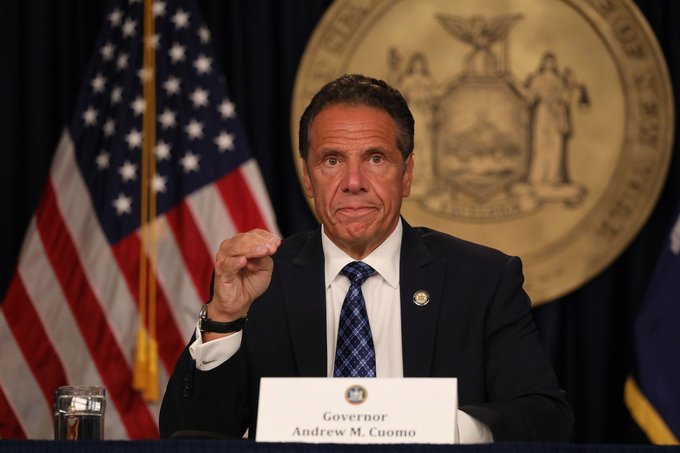 As reported by the New York Post, Cuomo said:
"He can't have enough bodyguards to walk through New York City, people don't want to have anything to do with him. He better have an army if he thinks he's gonna walk down the street in New York."
Well, first of all, President Trump does indeed command an army, so he could theoretically give Cuomo what he's asking for here. All that aside, this is just one more instance of a prominent Democrat dog-whistling that it's ok for one of his party's radical elements to assassinate the President of the United States. We have seen thousands of similar examples of this since Donald Trump declared his candidacy in 2015.
Why the Secret Service allows this to go on with impunity is one of the great mysteries of our time.
But here's the really interesting part: Guess who blasted Cuomo for his comments?
Scarborough calls on Cuomo to walk back statement he made about Trump: "Out of bounds" https://t.co/N9GFTjDTNy pic.twitter.com/3BeYYHrmGQ

— The Hill (@thehill) September 4, 2020
That's right, creepy Joe Scarborough, who tweeted: "Governor Cuomo's statement on Trump was inappropriate and out of bounds. He should apologize and walk back his statement immediately," Scarborough tweeted.
Interestingly, Cuomo sort of did exactly that late on Thursday, issuing a statement saying, "My comment about the president and bodyguards in New York City, all I'm saying is that he is persona non grata in New York City. And I think he knows that. And he'll never come back to New York, because New Yorkers will never forget how gratuitously mean he has been to New Yorkers and how many times he's tried to kill the city that gave him his start and birthed him. That's what I meant about the bodyguards."
So, sort of the Clintonian non-retraction retraction. But hey, that's more than San Fran Nan has offered to the single-mother salon owner she abused this week.
Regardless, Cuomo's dog-whistling objective was fulfilled, and other than the New York Post and Fox News, not a single media outlet called him on it.
Meanwhile, back in Portland, Oregon… – The Democrat-sponsored riots raged on for their 100th consecutive night, as Democrat Mayor Andy Wheeler sat safely ensconced in an unknown location.
Here are some highlights, courtesy of real journalist Andy Ngo:
Portland Police rush out to clear #antifa rioters at the Kelly Penumbra police building. People there have been mourning the death of Portland antifa Michael Reinoehl, who killed Aaron Danielson last weekend. #PortlandRiots pic.twitter.com/eTuAmmzGDb

— Andy Ngô (@MrAndyNgo) September 4, 2020
Yes, friends, the Democrat-sponsored rioters are "mourning" the loss of their killer by trying to burn down the Kelly Penumbra building yet again.
You could never make these people up.
Meanwhile, DOJ's efforts to charge the Democrat rioters with federal charges continue to bear fruit:
The federal charges keep coming:

Joshua "Eva" Martin Warner, a transsexual woman who has been arrested at numerous Portland #antifa riots & quickly released, is now facing a federal felony charge instead. Read my new report w/@MiaCathell: https://t.co/gbBRAihnMj

— Andy Ngô (@MrAndyNgo) September 4, 2020
The federal charges keep coming: Kristopher Donnelly, who was arrested & re-arrested 4 times last month by @PortlandPolice at #antifa riots, has now been charged by the feds following an investigation by the FBI. Read my new report w/@MiaCathell: https://t.co/Hr0PxoTML8

— Andy Ngô (@MrAndyNgo) September 4, 2020
There is still justice in America, although it is painfully hard to come by.
That is all.
Today's news moves at a faster pace than ever. Whatfinger.com is my go-to source for keeping up with all the latest events in real time.