*sigh* Here we go again. – Some New York Times hack reporter named Michael Schmidt has a new book out, and it is going to serve as the germination for the latest Democrat/media hoax. This one will be called the "Did Trump Have a Stroke?" hoax.
In his book, Schmidt writes about the President's "abrupt" trip to Walter Reed Hospital for what the White House described as a physical exam one Saturday last November. Relying on only unidentified sources, Schmidt claims that Vice President Mike Pence was notified to be ready to take over the responsibilities of the presidency by the Secret Service and goes on to allege the President had suffered a stroke.
From a piece at the utterly corrupt The Hill:
Vice President Mike Pence was told to be on standby to assume presidential powers during President Trump's abrupt visit to Walter Reed National Military Medical Center last year, according to New York Times reporter Michael Schmidt's upcoming book obtained by CNN.

Schmidt wrote that he learned "in the hours leading up to Trump's trip to the hospital, word went out in the West Wing for the vice president to be on standby to take over the powers of the presidency temporarily if Trump had to undergo a procedure that would have required him to be anesthetized."

He did not specify his sourcing for the information about the November 2019 hospital visit.

At the time, the White House said the president underwent a "quick exam and labs" as part of his annual physical exam preparing for "a very busy 2020."

The president tweeted after his visit that his health was "very good (great!)" and that he would finish the exam in 2020.

While Pence did not take over presidential powers, Schmidt's book raises questions about the unscheduled hospital visit, which drew speculation at the time about the president's health.

[End]
Scumbag media figures like former Clinton spokesman Joe Lockhart immediately started up the "Trump had a stroke" drumbeat on Twitter after CNN had aired a segment on the book:
Did @realDonaldTrump have a stroke which he is hiding from the American public?

— Joe Lockhart (@joelockhart) August 31, 2020
Here's the problem with this particular scam: If the President had a stroke, he had an amazingly rapid recovery from it, given that he actually took questions from reporters the very next day and showed no signs of any ill-effects. How many of you could suffer a stroke and then face the pack of braying hyenas in the White House press corps?
The whole point of this particular exercise is an effort by the Democrats and their media toadies to attempt to offset the growing public alarm about the frailty of Joe Biden by raising health concerns about the President. A clear majority of Americans now believe that Biden is suffering the effects of advancing dementia – which he obviously is – including over 30% of Democrats, so this is the corrupt news media doing anything it can to try to provide cover for that reality.
Yesterday's little venture out of the basement by Creepy Uncle Quid Pro Dementia China Joe did not help matters in this regard, as I talked about yesterday evening. Biden looked halting and frail just walking a few steps from his limousine to his private jet (whose private jet is that, by the way?); he stammered his way through trying to read a prepared speech from a TelePrompter, and he yet again refused to take a single question from the fawning fake reporters who follow him around like a pack of newborn ducklings.
To make the media's mendacity even more disgusting, here is how every major media outlet in America portrayed Biden's speech photographically at the behest of his elder-abusing campaign handlers: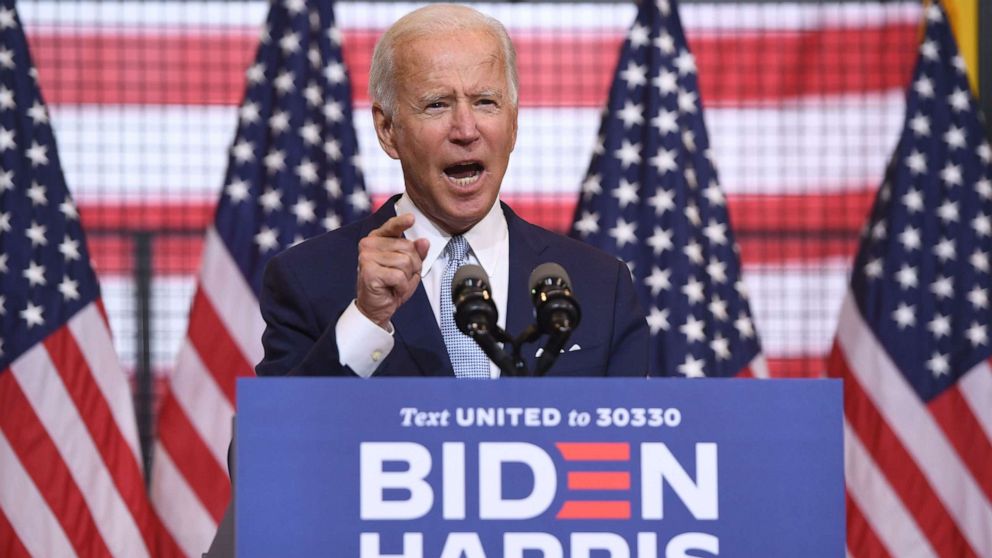 Nothing but close-up shots, flags waving in the background, formal campaign podium in the foreground, portraying the illusion that he was speaking to a large crowd.
Now, here is the reality of the setting: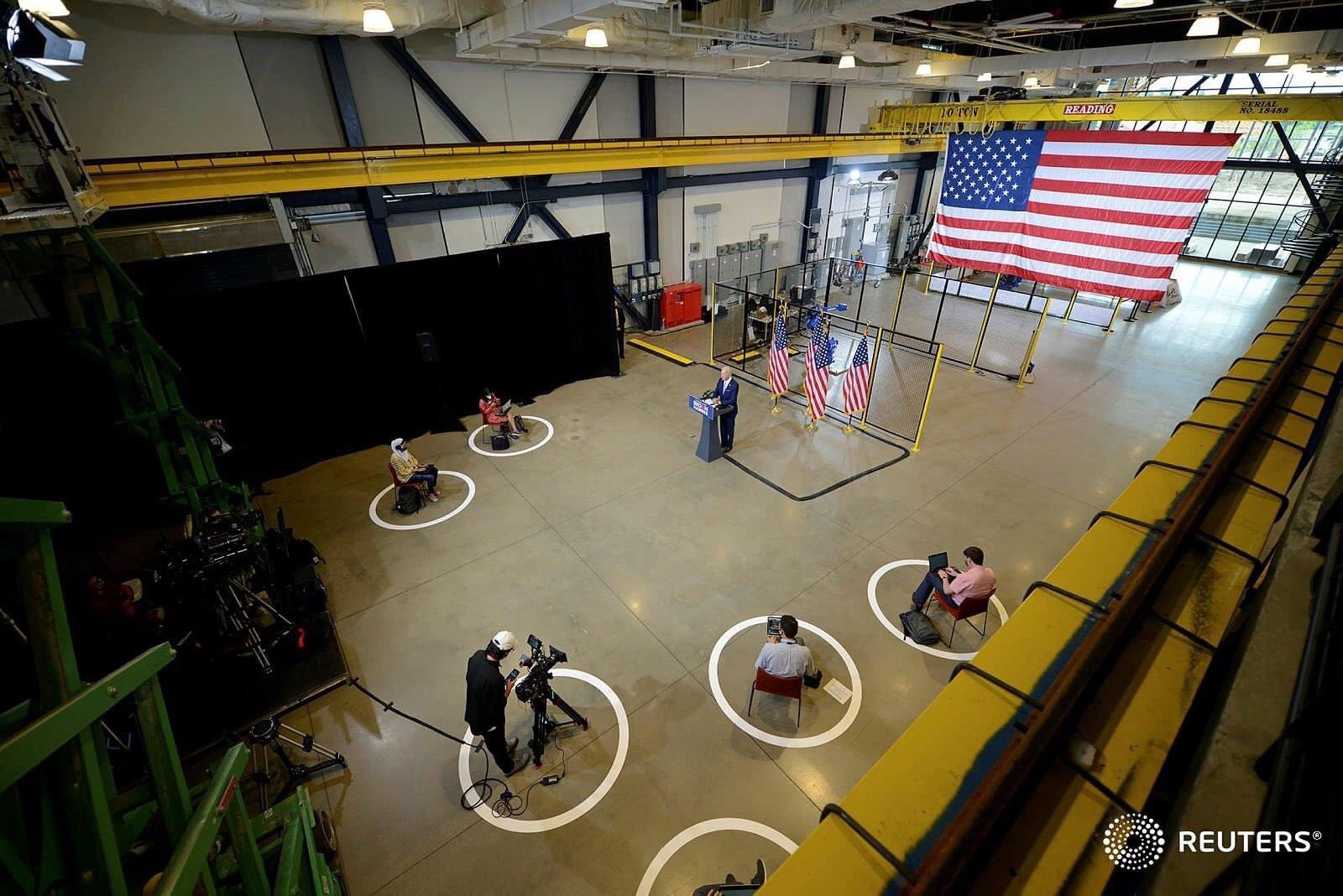 There's the fading, elderly guy, almost alone in a cavernous facility of some sort, speaking only to a handful of fake reporters who wouldn't dream of asking him a difficult question even if he agreed to take them. Not a single major media outlet showed this image or any like it to their reader or viewers. Not one.
Do you think the Trump Campaign would have received a similar courtesy from the media?
This is just one more of a million ways that our corrupt news media serves as nothing more than a support operation for the Democrats. The FEC should require the Biden campaign to report coverage like this as a campaign contribution in-kind.
That is all.
Today's news moves at a faster pace than ever. Whatfinger.com is my go-to source for keeping up with all the latest events in real time.