Is the Hidin' Biden strategy coming to an end? – That's what President Trump hilariously told an audience at a campaign rally in New Hampshire on Friday:
President @realDonaldTrump: Today it was announced that Joe Biden is coming out of the basement…in 10 days! pic.twitter.com/77MS7mj6DB

— Team Trump (Text VOTE to 88022) (@TeamTrump) August 28, 2020
"Joe Biden is coming out of the basement again," Trump said of the Democrats' Unfrozen Caveman Nominee, who did announce plans to hit the campaign trail after Labor Day. "Here's what I don't get: He said in 10 days. That's a long time. That's like an eternity in 'Trumpville.'"
Seriously, why in the world would anyone want to leave this?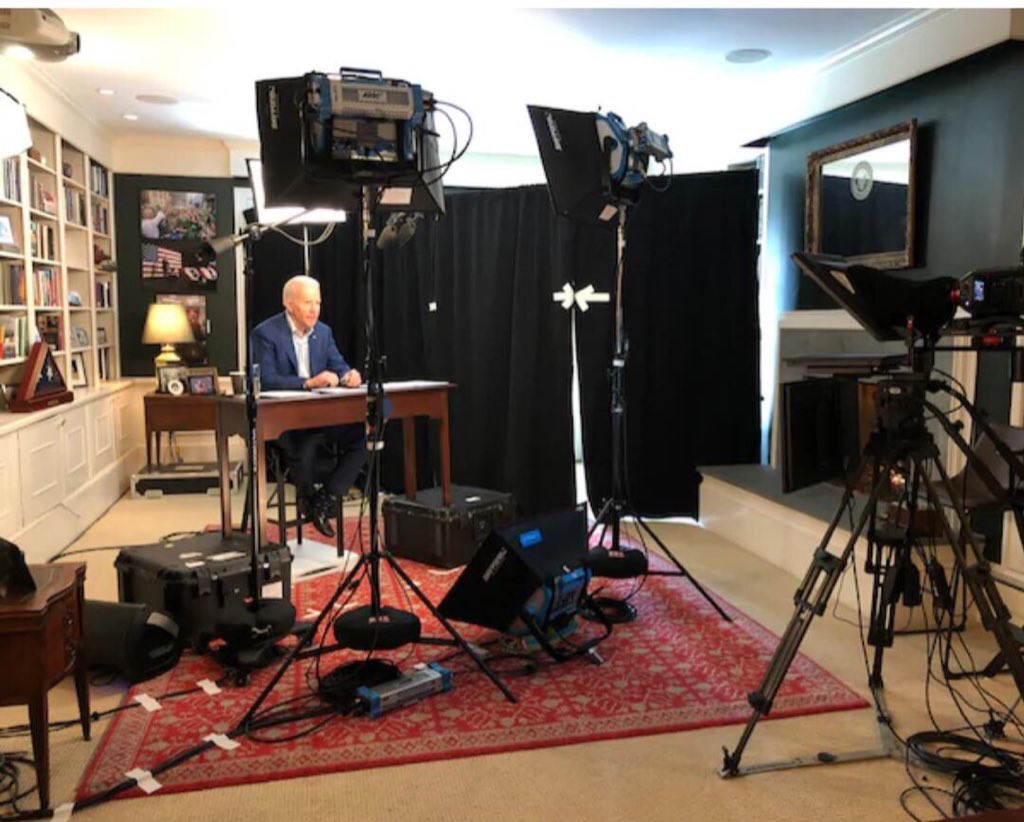 I mean, he's got his own klieg lights. He's got his own black curtain to keep away the prying eyes of his gardener and all the bird and lawnmower noise. He's got his own desk propped up on big black plastic boxes, and he even has his own high chair. What more could a rough, tough presidential candidate want?
Here's why Biden would leave his Hidin' hole: Because the polls are turning. Not the corrupt, public Trump voter depression polls, the real polls, the polls and focus groups the campaigns conduct themselves to gauge the state of the race and guide their campaign strategies.
I mean, c'mon, you didn't think the campaigns pay any attention at all to the Fox News poll or the RealClearPolitics average of all of these fake public polls, did you? Those are all for public consumption, for creating "news" stories out of whole cloth and for setting the daily Democrat/media narrative.
The campaign polls are the ones that matter, because they're the ones that the Democrats in particular rely solely upon to make their campaign and policy decisions. The Hidin' Biden strategy has worked quite well to this point, as it has allowed Biden's elder-abusing wife and handlers to keep their dementia-addled candidate mostly hidden from public view, insulated from public exposure. The strategy has also allowed them to prevent their mannequin candidate from having to interact with any real reporters who might dare to ask him tough questions, and limit his media access to leftwing activists like CNN's Anderson Cooper.
Let's face it: When you have committed yourself to presenting the public with a candidate who doesn't know where he is on any given day or how many grandkids he has, the smartest thing you can do is keep him hidden from that same public and press except under the most controlled of settings.
At the same time, the strategy has also kept the media spotlight on President Trump, allowing the media to focus all of its efforts on smearing him and creating an unending string of false COVID-19 narratives.
It's all been a great success. But now, the conventions are over and the public has caught onto the game. The public has also begun to become increasingly repulsed by the images of the violent, communist Democrat-sponsored riots taking place in Democrat-controlled cities around the country. The polls over that Democrat tactic have shifted dramatically in the past two weeks, and they, more than any other single factor are what will ultimately drive Biden from his high chair in the basement.
So, why wait 10 days, until after Labor Day? Well, think about it: Biden's elder-abusing handlers need every minute of that time to do their best to refine a strategy under which their Unfrozen Caveman Nominee is physically out of his basement for brief periods several days a week, but at the same time still as insulated as possible from any direct exposure to the public or interaction with reporters. We must remember that, until a week or so ago, these despicable brutes had seriously planned to keep Biden hidden away from the public right through Election Day, letting Kamala Harris handle basically all of the campaign's public appearances.
But Biden's no-bump convention and Trump's masterful show that is already producing a bump, combined with the frightful images coming out of Kenosha and the streets of Washington DC have shifted the equation in a big way.
One more thing the 10-day delay provides: Enough time for Biden's handlers to change their minds. They will obsess over their polls and conduct their focus groups each and every day until then, hoping against hope that the polls might shift back in favor of keeping their addled candidate in the basement. If they see the slightest movement back in that direction, then they'll just concoct some excuse to keep him sitting in his high chair.
Because these are communist Democrats, and these are the demented games that communist Democrats play.
That is all.
Today's news moves at a faster pace than ever. Whatfinger.com is my go-to source for keeping up with all the latest events in real time.