The communist Democrat Party must have just gotten some bad, bad, bad polling data about the riots it has been fomenting and funding in Kenosha, Wisconsin the last few days. That became obvious around mid-day on Wednesday as President Donald Trump sent out the following pair of Tweets:
…TODAY, I will be sending federal law enforcement and the National Guard to Kenosha, WI to restore LAW and ORDER!

— Donald J. Trump (@realDonaldTrump) August 26, 2020
So, obviously, the Dems are getting some really bad polling data.
CNN's despicable Don Lemon actually gave the game away last night during his handoff to the brother of mass-murdering New York Governor Andrew Cuomo:
"The rioting has to stop… it's showing up in the polling, it's showing up in focus groups." Don Lemon pic.twitter.com/xiFsowHbhb

— JohnWMarxII (@JohnWMarxII) August 26, 2020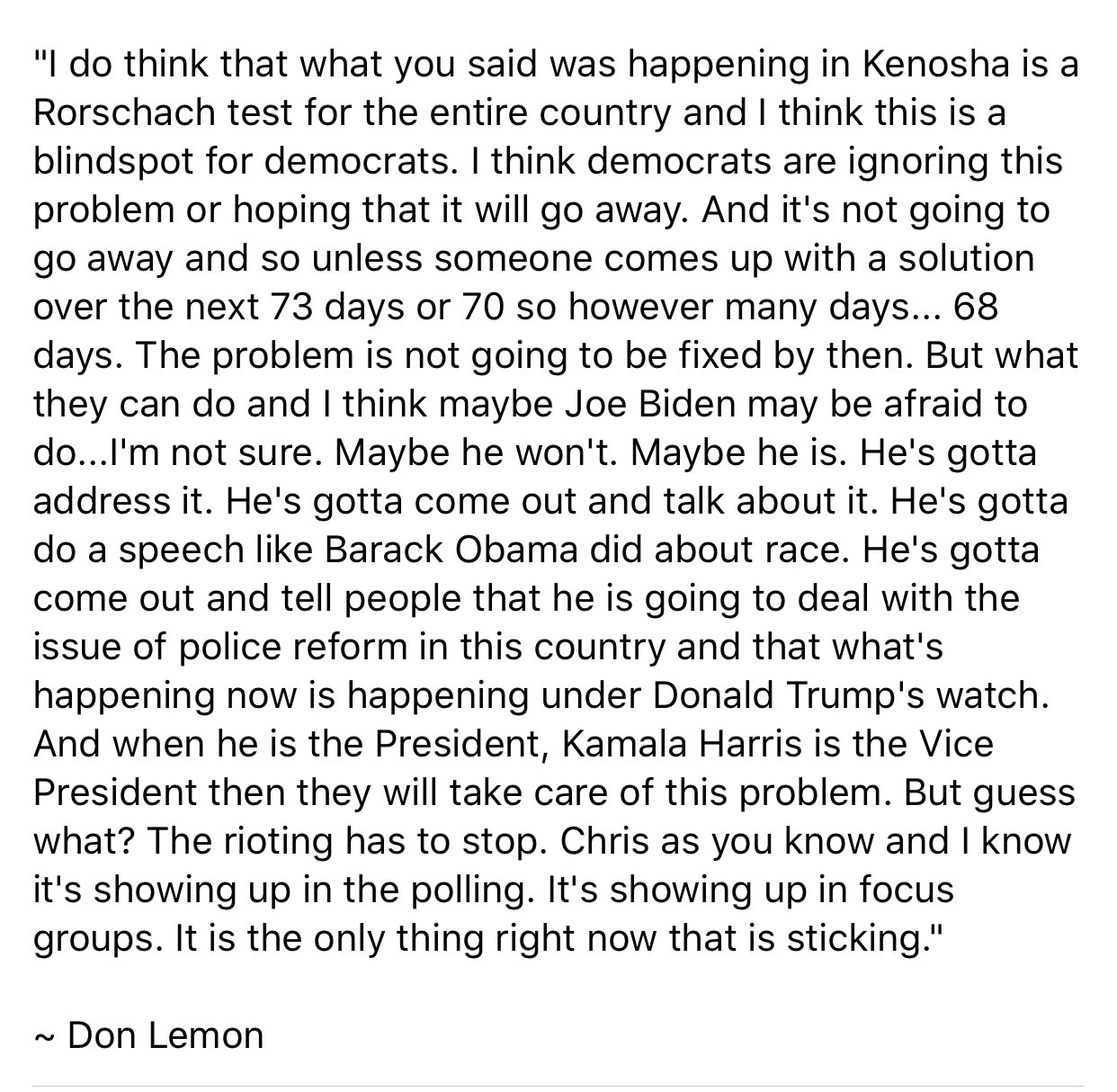 See, because the Democrat Party and its corrupt media toadies all speak with one voice, they also share all their polling data with one another. Because that's what they do.
In another Kenosha-related development, a 17 year-old idiot named Kyle Rittenhouse was arrested by local law enforcement this morning on evidence that he was the shooter who shot 3 people during last night's riots, killing two of them. Naturally, communist Democrat Lt. Governor Mandela Barnes leapt at the chance to label the kid as a part of some nebulous "white militia":
Wisconsin Lt. Gov. Mandela Barnes, who is Black, said in an interview with the news program "Democracy Now!" that the shootings were not surprising and that white militias have been ignored for too long.

"How many times across this country do you see armed gunmen, protesting, walking into state Capitols, and everybody just thinks it's OK?" Barnes said. "People treat that like it's some kind of normal activity that people are walking around with assault rifles."

[End]
So, this kid will give the Democrats and their corrupt media toadies a chance to shift the focus away from their paid Antifa/BLM rioters.
Thanks a lot, kid.
That is all.
Today's news moves at a faster pace than ever. Whatfinger.com is my go-to source for keeping up with all the latest events in real time.