Free at last! Free at last! Thank God Almighty, we are free at last! – The four-day hate festival otherwise known as the communist Democrat National Convention is finally over, and Americans are now free from the bondage of fright rhetoric, threats of continuing violence should President Trump be re-elected, and speeches from well-known pedophiles and woman abusers.
It's safe to let the wife and kids watch TV again.
Creepy Uncle Quid Pro Handsy Farty China Joe Biden officially accepted his assignment as the temporary face of the communist Democrats last night, competently reading a mean, dark, despicably dishonest speech designed to do pretty much nothing more than create more hatred for President Donald Trump and foment more violence on our nation's streets. That this obviously declining, elderly man was able to keep it together for half an hour and lecture us all about wearing masks as our patriotic duty while not wearing a mask himself is a tribute to modern pharmaceuticals.
The Democrat nominal nominee most likely did not know where he was while delivering the speech, and won't remember delivering it when he wakes up in a cold sweat this morning, but he is the nominee for better or – far more likely – worse. If he should win the election, his presidency will be among the shortest in American history. Presumably, the despicable party leaders would allow him to occupy the office for at least one day longer than the six and a half months served by James Garfield to spare Biden the ignomy of going down in history as the nation's shortest term in office. Or maybe not: These are despicable and depraved Democrats after all.
But the plan is for the job to quickly be handed to Kamala Harris, and if that doesn't inject cold fear into your heart, nothing can. The woman is a menace, a mean, ruthless, committed leftist who would not hesitate to use the presidency to punish anyone she considers to be an enemy, and has in fact stated as much on national television. We have never had a president remotely like her, and hopefully never will.
As this tawdry, mean-spirited convention comes to an end, the most striking aspect of it is the subjects that were not addressed. Here are some of the pressing matters that not a single speaker at the convention said a word about:
China. That's right: Freedom's most aggressive enemy on earth did not receive one word of mention from a single speaker over a span of four long, depressing days. Think about that.
Antifa. Not a single word from a single speaker about this domestic terrorist group, which is not at all surprising since Antifa – like the Ku Klux Klan before it – is a creation of the Democrat Party that serves as the party's armed terrorist support group.
Riots. Not a word about the looting, burning and killing that dominated our TV screens for a full two months this summer. Again, not surprising since the riots were organized and paid for by front groups for George Soros and, yes, the Democrat Party.
Defunding the police. The overriding driving goal of communist Democrat mayors and city councils across the country did not get a single word of mention as far as I can tell. Why? Because it doesn't poll well.
Islamic terrorism. Again, no surprise here. But hey, what could any Democrat say, given that the Trump Administration destroyed ISIS, which Barack Obama's administration created and funded, and has basically neutered Iran's Islamic Republic, which Obama and John Kerry had done their best to embolden.
The final image of the Democrat Party that was left for Americans to take away with them was this one: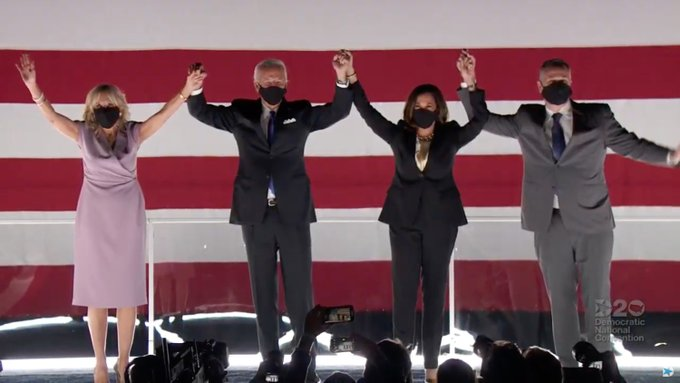 Watching in their homes, Americans all over the country responded with this:
— KimBerly Addison ?? (@SaucyMinx66) August 21, 2020
Seriously, is there any more perfect image for the 2020 communist Democrat Party, which has spent every moment since February selling restrictions to freedom and abject fear as some lunatic's version of "patriotic duty" than this? Especially since this one final virtue signal came immediately after Biden delivered his speech without wearing his own mask?
It's absolutely perfect. This is your Democrat Party in action, folks. Aren't all you communist Democrats proud?
That is all.
Today's news moves at a faster pace than ever. Whatfinger.com is my go-to source for keeping up with all the latest events in real time.